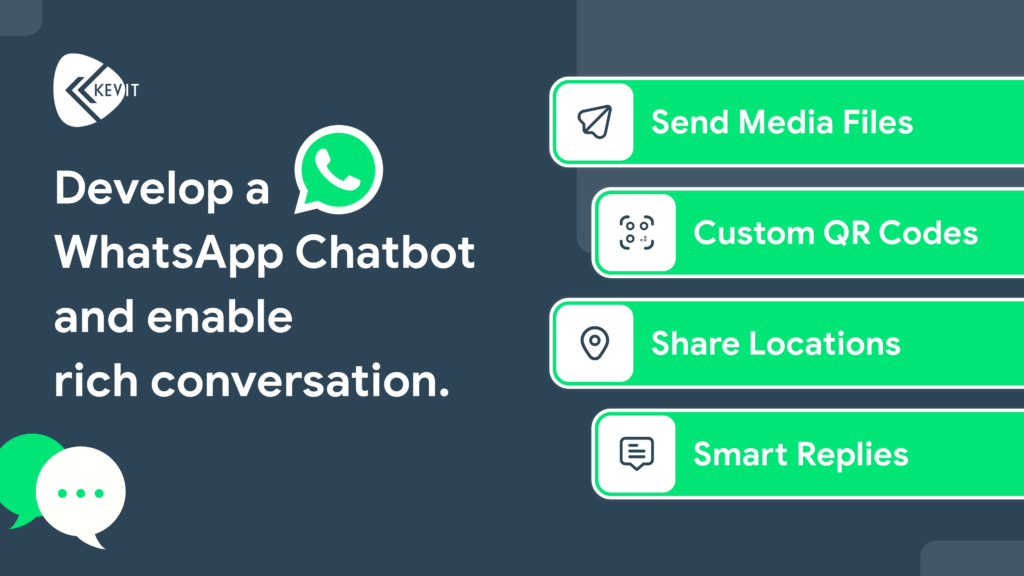 With about 2 billion users monthly in 180 countries, WhatsApp remains the undefeated leader of messaging apps. And you're wise if you have decided to leverage this dynamic platform to carry out your online business. This platform can be called a breeding ground for customer engagement, and it's an intelligent business idea to be where your customers are.
For the same, WhatsApp has two products- WhatsApp Business app and WhatsApp Business API. The WhatsApp Business App is mainly used by small-medium companies and its main purpose is to facilitate better customer support and for businesses to connect with the customers. But when the talks are about medium to larger enterprises, it's time to switch to WhatsApp Business API. API stands for Application Programming Interface. It is used to allow two software sets to form an integration. Much like two or more software to connect to each other.
LET'S START WITH WHATSAPP BUSINESS API  
We will understand how API integration is used to merge platforms and incorporated them into WhatsApp Business. Facebook launched WhatsApp Business API in August 2018 when it realized that there were large businesses, that weren't WhatsApp-first, they were WhatsApp-only. WhatsApp's Business APIs facilitate companies to converse with their humongous customer base. While a live chat-style solution like WhatsApp Business is useful if you have only a small audience who want to talk to you in real-time, you need something more robust as a large firm.
Since it's tedious to manually answer queries of customers at scale, WhatsApp Business API allow you to automate your conversations and send bulk notifications.
Medium and large size enterprises get the following benefits from API: 
No limit on the number of users and devices
Connection to a WhatsApp CRM is supported
Programmatic messaging like notifications is supported
Main use cases for WhatsApp Business API are as follows:  
You can respond to users within the time limit of 24 hours.
You can now create a Business branded presence on WhatsApp.
You can automate replies and answers to user's queries and notifications by using chatbots.
While talking about message automation, it's necessary to specify that there are 2 classes of WhatsApp API messages.
1) Session Messages- These messages are delivered within 24 hours.
2) Message Templates- These are delivered outside 24 hours.
APPLYING FOR A WHATSAPP BUSINESS API ACCOUNT
To apply for a WhatsApp Business API account, verification of your account from WhatsApp is necessary.
The process of getting the Business API can be broken down into 3 steps:
Choose a WhatsApp Partner
Give Company Information
Activate your number
This all said and done but what are the factors to consider to switch to WhatsApp API? 
Nature of business– First step is to decide what is the type of your enterprise- small, medium, or large. This can be done on the basis of the type of products you manufacture, geographical location, and the customer count.
Cost– Studies have shown that WhatsApp texting is relatively cheaper than a regular text message. And at the same time WhatsApp has proved to be lot more effective than any other communicative channel. But for API, businesses need to get a WhatsApp partner who can get them verified from WhatsApp. This means when the number of users get overwhelming, it's time to use paid-service. Therefore, small businesses may lack the financial resources to afford WhatsApp's APIs.
Customer count– Sending manual messages will become a headache for you if you have a huge consumer base. And so, answering each user's queries becomes a tedious task. Therefore, automation is encouraged if your customer base is huge.
Kevit has collaboration with authorized WhatsApp Business partners, so are you ready to get you started with WhatsApp automation? Contact us at coffee@kevit.io or visit our website at www.kevit.io.
More related articles for WhatsApp Business 
The modern way to engage customers.
Grow your business by improving your digital customer
experience.