6 Disruption that strengthens the root of Chatbot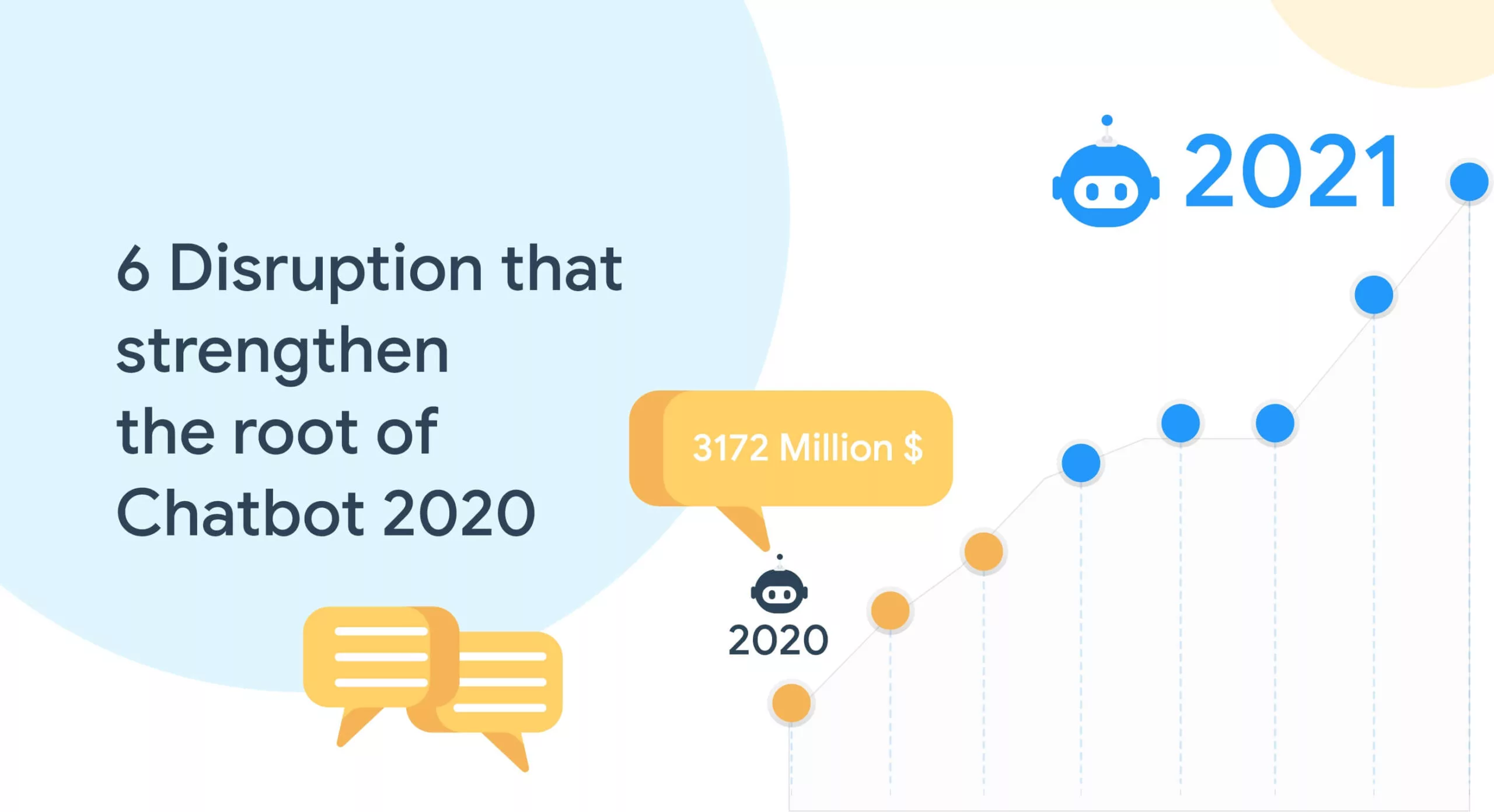 November 12, 2020

Priyanka Shah
Experts have predicted that before the year 2021, the Conversational AI market is about to expand its wings and grow to 3172 Million $. The majority of organizations are adopting this tech not because of its trending but due to its usefulness in automating administrative tasks. Chatbot technology backed up with Artificial Intelligence, Machine Learning, Big DATA & NLP-Natural Language Processing has become efficient in recognizing as well as adopting a situation for mimicking human behavior in providing support, guidance and actionable tasks for the respective audience. Chatbots have made working much easier, convenient, and responsive for companies and their potential audience. Let's dive into the disruptions which justify the efficiency and popularity of this technology in 2020.
Payment Gateway Integration
People are not just expecting them to be assisted by Chatbots, with demand in increased usability the AI technology is now having payment gateway integration through which users can successfully process their transaction. Through messaging or verbal chatting users are allowed to pay bills, how convenient it gets when you are not asked for all details and rather end up paying with ease through chatbot technology. On the company side, this integration has boosted their lead conversation rate as the user can checkout directly from the chat window.
Verbal Communicating Conversational AI
You can now observe the integration of voice searching functionality in almost all major eCommerce websites which states the popularity and dependency of voice communication in business. Chatbots too are now featuring the ability of verbal communication with users for assisting smart devices like google home, Alexa, echo dot, etc. This will be the pioneering feature that will takeover textual chatting in no matter of time. To upscale your organization and increase business it is mandatory to step up the game with advancing technology and Voice-Bots are one of the crucial puzzle pieces to growth hack a business in 2020.
Chatbots in Human disguise
Chatbot development companies are targeting their solution to sound and be presentable like a human being. The gap between machine conversation & mimicking human behaviors is bridged with AI technology, where chatbots are trained, tailored, and deployed for a particular business to serve their audience with utmost efficiency. A person on the opposite side can hardly differentiate between human or chatbot conversation.
Sentiment Analysis
Algorithms are being adopted by chatbots that help them to figure out the user's current state of mind and reply to them accordingly. It is highly required for a Chatbot to do the same for assisting effectively and responsibly. If an emergency is detected the chatbot will avoid asking too many questions and within less conversation provide the ultimate solution. This can sometimes save a life while getting chatbots deployed in medical sectors. Sentiment Analysis has been developed to such an extent where the AI gets an idea regarding the user's mood to be happy, aggressive, sad, depressed, or neutral and the conversational flow is adopted accordingly by the AI.
Being Multilingual and NLP Enabled
Right from disruption, it has become mandatory for every chatbot solution to support multiple languages and must have Natural Language Processing. NLP helps the company to serve their audience by communicating in respective regional language and inhibiting slangs that are they used in day to day life to communicate with other beings. Chatbots gives an appropriate reply to human queries that are asked in their language. This stands to be a mandatory feature to avoid going to and forth while handling customer support.
Self-Learning Chatbot
Progressive AI technology has made smart chatbots which are much like a human being and have their neural processing capability to understand, adopt, and serve a solution. If a chatbot is meeting with a user query which is impossible for it to solve then it is passed on to human personnel for resolution, but the chatbot studies the resolution and keeps it in the database for later reference to avoid monotonous tasks for the administrative team.
These are the driving technological disruptions observed in the chatbot industry which has a great potential to change customer handling procedures. Implementing a conversational AI on the front line will greatly impact your business value in the market. At Kevit.io we master in delivering a tailored solution that adds to your organizational value and helps in forming bonding with your audience. Drop us your requirements at coffee@kevit.io.
Automating business processes with Kevit.io is now just a click away!