Chatbot Can Help You Score A Customer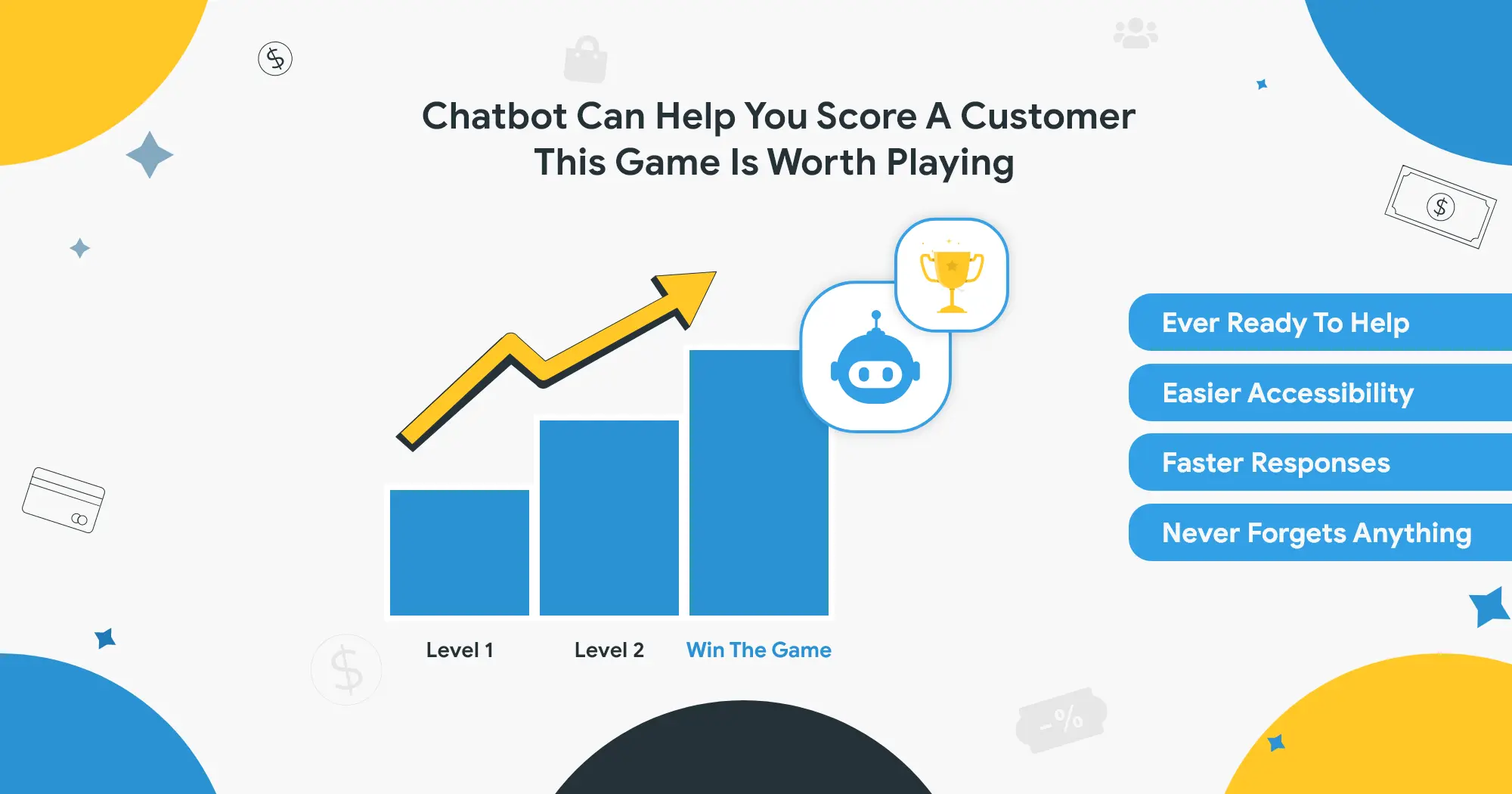 September 3, 2021

Priyanka Shah
We all are now a part of such a market where the customer is the King. And being in e-commerce, it's our duty to treat Your Highness the best way possible. One has to be the best in what it does to not only score a customer but have them for a real long time. Impressing your customer starts from the very first time he/she visits your website. And it's safe to say that, that foremost interaction not only gives them insights about your brand but makes them create an opinion about your page, your brand. And not to forget that every customer experience and review can leave long lasting effects.  
But you got nothing to worry cause we got your back- why not make this introductory meet automatic and have your best chances at winning your customers. 
Enters *CHATBOT*.  
A chatbot is an assistant that communicates with the user through text messages, that integrates into websites, applications, or instant messengers. It is used for ordering food, booking a taxi, booking a ticket, Banking, etc. there are several advantages of chatbot like it is automatically responds to your messages sent through an internet site or applications using information from databases or AI algorithms that learn through user experience over time. Chatbots are employed by businesses in dialog systems to accumulate customer information and supply service to them. 
CUSTOMER SCORE: 20/100
Along with all these automation blessings, chatbot's readiness, easier accessibility, 24X7 availability, faster resolutions, more than one choice available are some features that too make chatbots, customers' favourite. We'll discuss these advantages of chatbot in detail in the following segment.
Advantages of chatbot:
1) Chatbots Are Ever Ready To Help 
Not only does chatbot's readiness to help any person on your page sounds attractive but this along with round the clock availability……name a better combination, we'll wait. Chatbots are present to answer your queries 24x7x365 with literally no sick leaves. It's not necessary that customers going to have queries only in office working hours and this feature of chatbot makes sure that none of the customers have to wait with their problems anytime, anywhere.  
2) Easier Accessibility 
This section addresses the omnipresence of chatbots on your website. Every single page of your site should have a fixed spot so that customers can have its access with no hitch. Also, customers will not face any language barrier since the advanced chatbots are instilled with multi-lingual abilities. So, your customer can be from any continent and yet they're going to have a pleasant time. These two factors are what, accessibility is consisted of. This is salient cause receiving assistance from a chatbot not only improves a customer's experience but your metrics too.  
CUSTOMER SCORE: 45/100 
3) Instant/Faster Responses 
Rule-based chatbots help respond faster than any human agent could ever do. Chatbots are imprinted with replies for all the human situations which makes the response time almost negligible. Because of this, one cannot put a number on the queries that a chatbot resolves in a day and overall, in a year. This not only pleases your customers but also relieves your human agents from the high traffic that they have to answer to. This gives them space and time to attend to more complex problems. This too is an add on to your business metrics, all equating to better customer interactions. 
4)  Chatbots Never Forget Anything 
The time your customers provide their information, interests, or any data related to themselves, becomes the first- and last-time cause chatbots literally never forget anything. With human agents, every interaction will be a new interaction unless and until it's an old customer. But with chatbots, customers would never have to do mundane tasks of giving the same information again and again. And this is true for all the customers- a one-time customer or a regular customer.
 CUSTOMER SCORE: 70/100 
CONCLUSION 
CUSTOMER SCORE: 100/100 
It's a perfect 100. Congratulations, your brand can get a full score on your customer practices and promised gain on your customer metrics. At Kevit.io, we are ready to help you with the same and more. Check out our services at Kevit.io or mail us at coffee@kevit.io for a perfect score.
Automating business processes with Kevit.io is now just a click away!