Chatbot during Festive Season!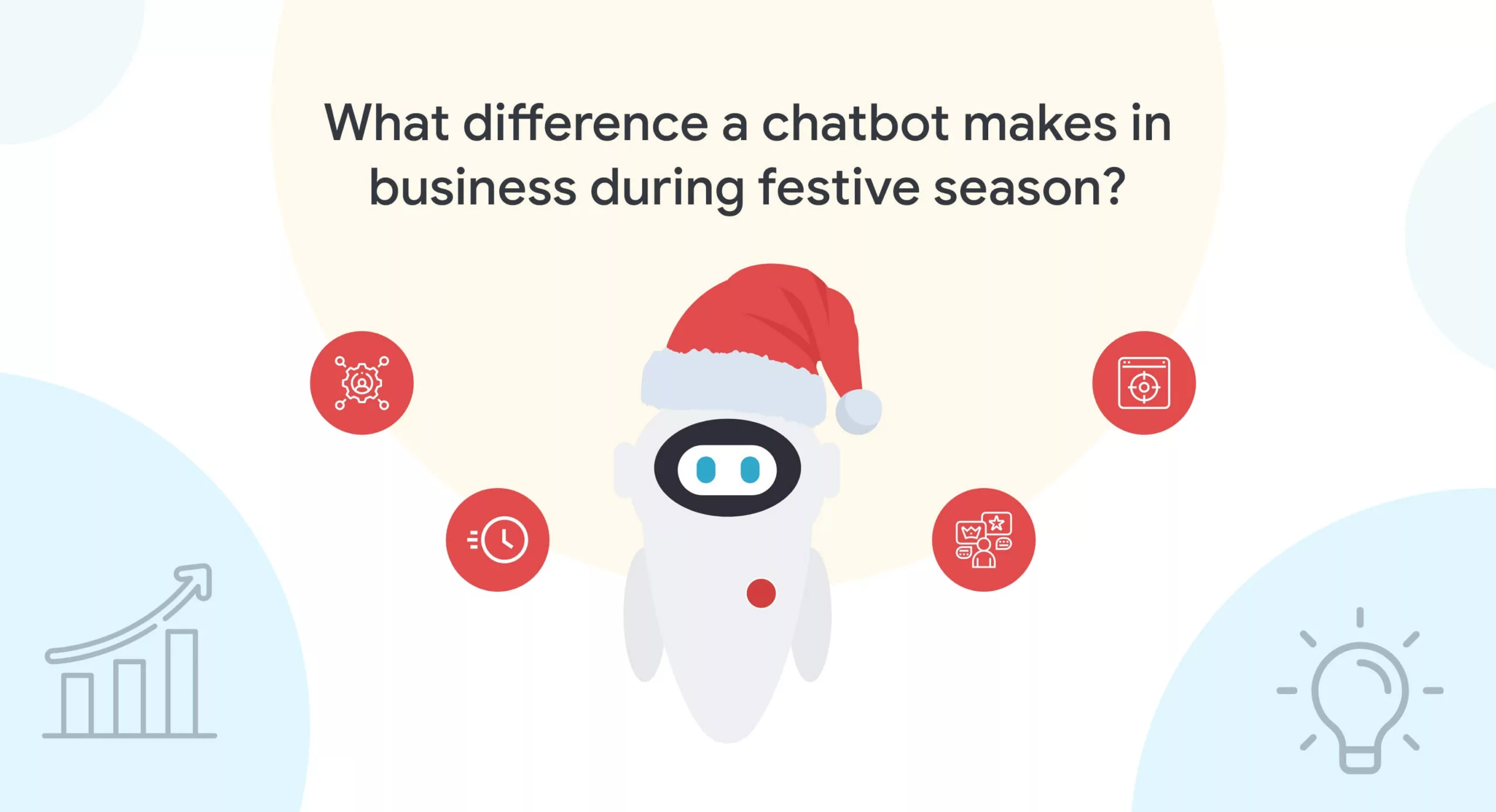 November 23, 2020

Priyanka Shah
At any given time around the globe, there are festivals at some of the other places. With these major and minor festival intervals, the business traffic on your website may spike. A company that is preparing for an international platform for serving business must keep its resources intact for efficiently serving such a huge number of inquiries and business opportunities. As of now, Christmas is on its way and you must be prepared for meeting a high business demand along with a satisfactory customer experience.
Here chatbots can be very much useful that can handle general and frequently faced issues by your customers. During festive seasons around 20% of business is lost due to mismanagement and dissatisfactory customer services, but with the assistance of advanced AI-based Chatbots, you can integrate excellent customer support on multiple platforms to serve each and every audience with utmost efficiency, even during peak seasons.
Personalized Customer Service
In this fast-paced world where everyone is busy in their hectic working lifestyle, it is quite rare for a business to provide a customer experience with what they are looking forward to. But having representatives for customer assistance limits the business capacity to actively serve such a huge amount of traffic. On the other hand, Chatbot helps you in delivering customized service internationally for every region's festive scenario. You can have offers, deals, customized warm festive greetings, and much more which are nowadays crucial elements for having a recurring audience. Having a great festival like Christmas nearly ahead, Chatbots will help you in experiencing a high audience retention rate with a seasonal charm that other businesses are depleting of.
Chatbots are the online Santa clause
Conversational AI is developed to be smart for collecting real-time data like visitor's location, taste current sentiment analysis which leverages a business for providing better-personalized service. This personalization aspect is key towards growth hacking your online sales with better lead conversion. This Christmas having a chatbot will make a huge difference by letting your audience have their own digital Santa which is giving warm wishes along with gifts for spreading happiness on this festival around the world. On festive seasons buyers and service seekers are browsing through numerous businesses but to leave an impactful impression your chatbot must provide a unique customer experience with consistent assistance to acknowledge visitors in what your business is dealing with along with the competitive pricing and festival offers. This explicit communication helps in delivering a positive phycological pulse in the audience's mind that also serves your business with referential traffic.
Being Fast and Accurate
After a user landed on your online web entity you hardly have a couple of minutes to secure the lead and not letting the visitor drift towards another available option. During festive seasons when there is a lot of online rush in every business sector, which are bombarding their customers with exclusive deals what will make you stand out and grab every possible opportunity? Speedy and accurate visitor management with Chatbot implementation will make you stand out in every situation.
With manual assistance, you might have a chance to keep your visitor waiting but with advance, conversational AI traffic can be served instantaneously. With peak business season like Christmas, no business wants their audience to wait or end up in a blunder offering due to monotonous administrative working situation. This can be effectively handled by automation which will be your first line of defence to accurately serve your audience for a smooth experience.
Gamification based rewards
Right from corporate human resource management to exclusive malls, gamification has been creeping in every aspect to indulge fun for making tasks more exciting. Allow your organization's festival offer to have Chatbot based gamification in the same fashion for the fun-loving visitors to play for getting lucrative deals. Get your web entity to stand out from the rest with much lively concept which is specially designed for your business offerings and audience.
Festivals are a great opportunity to boost up your sales and business reach, don't let administrative burden be a dropping factor for your business. With Kevit, you can have a tailor-made chatbot solution that best suits your business needs and customer demands. Step into the future with chatbot technology for leveraging every festive season to be an opportunity grabbing spike.
At Kevit.io, we specialize in these technologies and provide an accurate and feasible solution. Contact us for more information on this at coffee@kevit.io or visit us at Kevit.io.
Automating business processes with Kevit.io is now just a click away!