Chatbots and Facebook Ads: Your Next Marketing Strategy!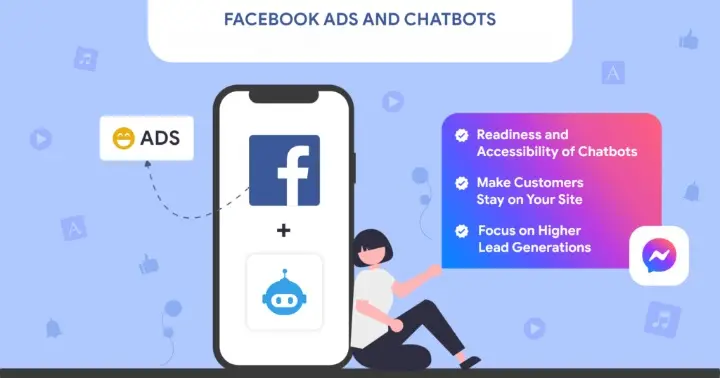 September 6, 2021

Priyanka Shah
Let's all recall that Facebook ad that almost made you buy something off the internet. Or maybe you already have it resting on your coffee table. Don't worry, we are guilty too. Although we might not need anything, it is impossible to resist buying something when advertisements are so appealing and accessible. And ever questioned that why do we see certain types of ads only on our social accounts? This can be called the current social media scenario. Primarily, social media like Facebook, Instagram, WhatsApp and many others were used only for personal use and to maintain personal interactions but now brands are onboard with them to convert these platforms into a valuable tool for building a customer community and better market reach. One such platform we will discuss today is Facebook.  
Why Facebook? With more than 2.7 billion monthly users and an amazing messaging platform like Facebook Messenger, it's no brainer to say that Facebook is a breeding ground for brands.  
What are Facebook Messenger Chatbots? 
Facebook Messenger Chatbots are programmed to understand and respond to user messages. They are automated chatbot bots that can interact with users on the Facebook Messenger platform. These chatbots are programmed in such a way that they can understand natural language, including words, phrases, and sentences. They can also provide response to user messages using artificial intelligence (AI) algorithms. Facebook Chatbot can provide customer service, process orders and payments, give information about products or services, and even help in marketing campaigns. With AI-powered Chatbot technology, businesses have the chance to reach out to customers quickly and effectively. The ultimate goal of a Facebook messenger chatbot is to create an engaging experience for users while helping businesses achieve their goals more efficiently.
What is Chatbot Marketing? 
A chatbot is a marketing tool that automates personalized conversations between a company and a customer on websites, messaging services, SMS, or apps in order to increase sales and close deals more quickly. A chatbot qualifies leads in the background, so that staff won't waste time on leads that won't result in sales. The required information would be gathered by a chatbot by asking a few questions of the person. A lead's contact information will also be sent automatically to CRM if your bot is integrated with it.  
Paths for incorporation of messenger bot to Facebook ads 
There are two paths by which chatbot can be incorporated in Facebook messenger ad.
1) Sponsored Messages: 
The Ad can be created that will appear in Messenger inbox of user who have already engaged with your brand. Thus, these types of messages can be known as Sponsored Messages. Moreover, these messages does not includes any special headings or labels by which message do not look very professional and also user does not get scared. Additionally, these messages allows users to communicate automatically with chatbots.
2) Click-to-messenger ads:
These chatbot are used as destination point by the Ads. For instance, a user might see an advertisement for a nearby store offering a discount coupon that includes CTA button. When a user responds to this advertisement by clicking on the button, a chat in Messenger with a message from a chatbot is opened right away. This enables your company to communicate with both current and potential customers directly. 
Why Messenger Chatbots on Facebook Ads? 
Talking about Facebook ads without messenger chatbots is like getting a cake without any icing. Both are incomplete without the latter ones. Instilled with chatbots, Facebook ads offer a great way for a customized conversation between a brand and a customer. Rather than linking an ad from Facebook's feed to other websites, now Facebook Messenger becomes the end point of the ad where the customer is redirected to. This Facebook feature enables users to instantly communicate with your business by clicking on your ad. Users can have a chat or ask query about any product or in general about your brand, just like they would chat/talk with a human agent.  
Coming back to the question asked in the earlier part of this blog about seeing particular ads on your feed. This is so that a certain audience can be targeted by brands in order to view a specific advertisement. There are online surveys that help them for the same. Once you segment your audience, they can see the ads on their feed and if interested then they can contact the brand by clicking on it. Usually, these ads have Call to Action (CTA) buttons that redirect the customers to the brand's messenger page. Here the role of the chatbot starts from. Instead of making potential customers wait for responses, brands incorporate their messaging page with automated replies using chatbots. Chatbots increase the chances of finalizing the deal with its readiness and not making customers wait.
One more attribute of chatbot that is customer's favourite is that chatbots never forget anything. They are pre-installed with Customer Relationship Management (CRM), which gathers all consumer input and stores it in a database. So, information about a lead will automatically be sent there.  
Facebook Ads + Chatbots = Boon for your Brand. How??!!!  
Key Benefits of using Facebook Messenger Chatbot for your Business 
There are various benefits to connect your bot on messenger. Let's look after some of that: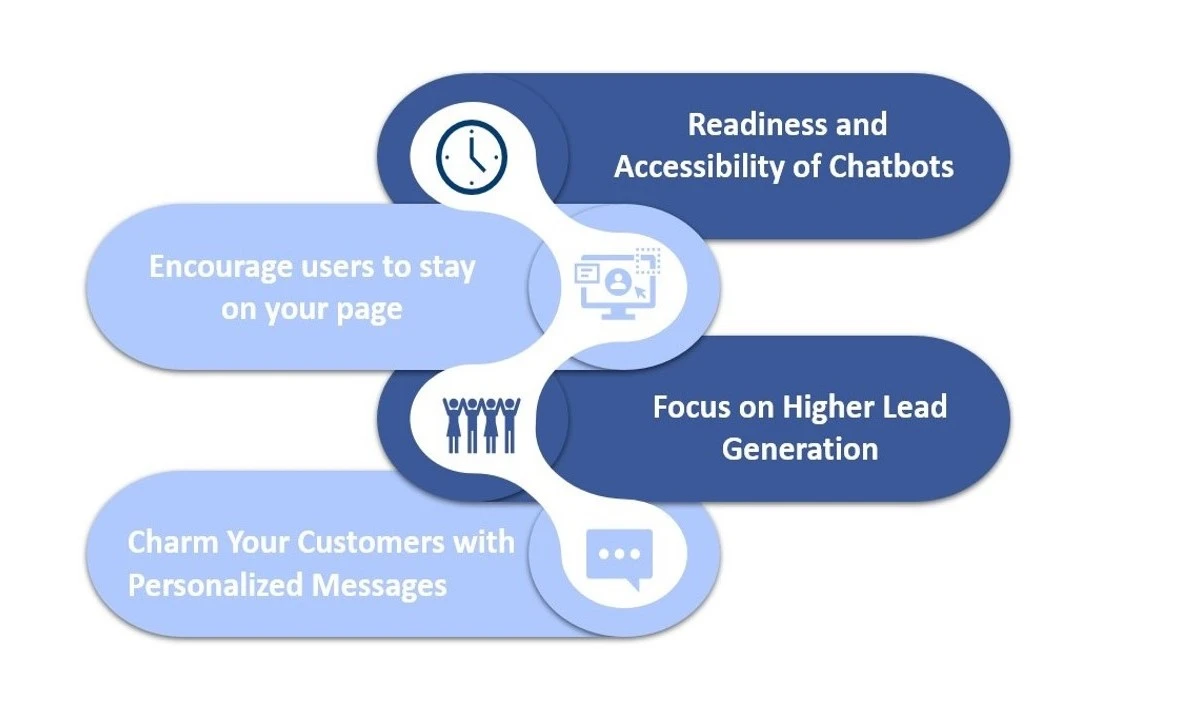 1) Readiness and Accessibility of Chatbots 
It's not necessary that customers are going to click on ads during office hours only. So, to avail services anytime, anywhere chatbots are opted for. Not only this 24x7x365 availability but its instantaneity is also adored by the users. Rule-based chatbot helps to respond faster than any human agent could ever do. Chatbot are imprinted with replies for all human situations which makes the response time almost negligible. Because of this, one cannot put a number on the queries that a chatbot resolves in a day and overall, in a year. This not only pleases your customers but also relieves your human agents from the high traffic that they have to deal with. And in this fast-paced life, there is no one who likes to wait for replies, so quick replies are going to increase lead conversion and eventually more sales. Close deals with quicker and on point replies.  
2) Make Customers Stay on Your Page   
In web analytics, Bounce rate refers to the number of users that exit your website after viewing one page, rather than navigating to subsequent pages on your site. Keeping a check on your bounce rate helps you know the effectiveness of your content and design and whether it's attracting further interest in your site or not. What chatbot do is that they reduce this bounce rate. Chatbots themselves ask questions related to data input to the customers rather than redirecting them to other landing pages to fill out various forms. The aim is here to not lose the customer's interest at any given time, or they might for some other website or brand. Chatbot help to avoid the latter one by their spontaneity and witty replies. Their round-the-clock availability too plays a key role.  
3) Focus on Higher Lead Generations  
Lead Generation is the process of identifying buyers from crowds of people only there for queries and then cultivating them into potential customers for business services. Chatbot do this by guiding customers through your website and helping them at whatever stop they stand by. Facebook states that 53% of consumers are more likely to buy from you if they can message you. Also, Facebook Messenger has trusted and bother-free payment services too. Hence, that area is handled too.  
4) Charm Your Customers with Personalized Messages  
One more silver lining of using Messenger bots is getting in touch with each individual customer with personalized messages that can help you start messenger conversations with buyers and can lead to the end. Many can question that they already use E-mails for the same and why to put extra effort into getting a Messenger bot. But studies have shown that Messenger open rates range from 70% to 90%, much higher than the 15% to 25% open rates you experience with email. These numbers are enough to justify why we have sided with Facebook ads and messenger bots instilled along.  
To Sum Up: 
The value of having genuine, natural conversations with prospective customers cannot be overstated. Combining Facebook ads and chatbots expands the range of potential strategies for effective marketing and advertising. One cannot now imagine their life without social media and hence targeting this necessity is definitely a smart move that businesses shouldn't delay. One more essential element for brand promotions and eventually success is to manage these social accounts and to build relations with customers. At Kevit.io, we are all ready with our team of messenger bots to help you. Get a look at our services, Book A Demo or mail us at coffee@kevit.io for the same.
Automating business processes with Kevit.io is now just a click away!