Chatbots for Media and Entertainment sector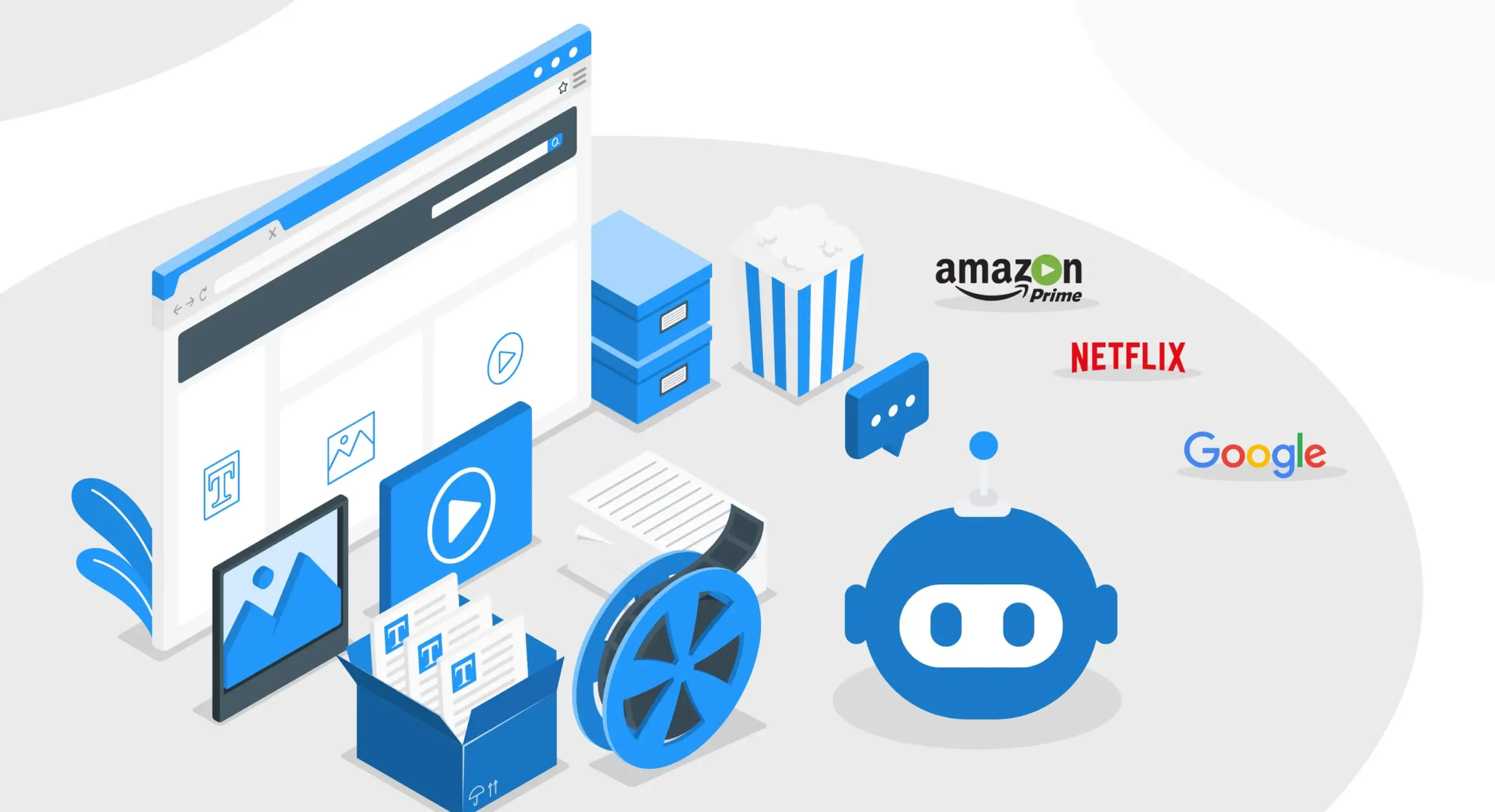 September 4, 2020

Priyanka Shah
In today's contemporary digital world, media and entertainment companies hold the power of digital technologies while engaging with customers and provide them innumerable channels of consuming information. The media and entertainment industry are at the end of rapid transformation pertaining Artificial Intelligent which is taking centre stage across all sub sectors. The media industry is focalized around the audience as the audience has become more powerful than ever before. Globally, organizations are acknowledging that audiences is indeed the potentate and cannot be ignored, to that they know that if they wish to sustain & grow, they have to keep the audience needs at the foreground while taking any major decision.
Digital transformation is pushing businesses to be customer-centric and today, consumer AI in e-commerce, retail, and other areas is largely focused on driving a better experience.  The Indian M&E industry is gauge to thrive at 14% you till 2021 with advertising revenue expected to increase at a CAGR of 15.3% during the same tenure of the era.
Content devouring behaviours are becoming increasingly complex and evolving more rapidly than ever. Data science, machine learning, and AI in media and entertainment represent huge opportunities for companies who are prepared to invest in long-term, viable solutions.
For instance, just look at the way that companies like Google, Amazon, and Netflix affected the media and entertainment space with their data-driven business models. Using advanced data science and AI allows them to understand and create value for customers by proffering content that they might like and that might be relevant to them.  But this change doesn't happen overnight; full potential comes through gradual transformation into a truly data-powered organization.
After all, Artificial Intelligence and Machine Learning are technologies that process boundless of data to realize the business outcomes. What could be more natural than putting them to work in businesses where data itself which is in the form of written and audio-visual content is the product offering? An AI-powered chatbot can raise the effectiveness of communication on any platform in an epoch where chiliastic viewership across digital channels has been taking precedence as the primary engagement metric. While they can even help over audiences pinpointing the information they are searching for swiftly and effectively complete the tasks.
The media and entertainment sectors have been dealing with data – ratings, subscription numbers, etc. But making data-driven decisions is no longer about just analysing previous data; it focuses more on high quality predictions based on real-time input from all data sources across the organization.
Use cases for AI powered chatbot:
Elucidated are the use cases for AI powered chatbot in the Media and Entertainment industry:
Exhilarating targeted advertising:
The fluke of combining data from different sources in one place can allow companies to look at their audiences as a whole and deliver unique, hyper-targeted offers. In TV and advertising, this has been evoked in the concept of addressability: the ability to interact with consumer based on what their specific choices reveal about their interests and preferences. Henceforth, because AI media and entertainment companies can predict churn rates more accurately, place advertising at the right time and in the right place, and have more appropriate, personalized offers to increase conversion.
For example, some streaming platforms and leading film studios are already assessing with ML based personalization of movie trailers that emphasizes on specific elements that they know a given target audience would like to, delivered on the platform that they most recurrently use.
Predicting Real Time for anticipating demand and segmentation:
Media and entertainment sector are constantly evolving. Real-time prediction based on current trends and behaviours from the data sources is the key. Predicting will avail media and entertainment companies not just by allowing them to react to consumers in real time, but also will anticipate their behavior, influencing long-term investments, for instance, what genre of movies in which consumer micro-segments will be popular two years down the lane. In addition, companies can make predictions about which customers are more likely to view a given type of content, and what device they will be using when viewing it.
Recommendation is been used extensively in the media industry to predict what sort of information or content customers would be most likely to be used. Companies can combine structured and unstructured data and machine learning methods to match people and content, thus improving the relevance of content recommendations and efficiency of content distribution.
With leading tech media players such as TikTok and Netflix venturing more and more into AI-based interactive and smart content, we're likely to see a shift from simpler content recommendation systems to an entire AI-driven personalized content experience
Example of AI chatbot for media and entertainment sector:
It is an invigorating juncture for AI in the media and entertainment space. Back then in the past, IBM's Watson seamed together the movie trailer for the horror film Morgan, the first to be entirely created by AI. Now, Netflix advances its thumbnails to cater to each viewer, filtering what is displayed based on the content being consumed. Like romance? You'll most likely see couples laughing or looking at each other in a lovey dovey way. Prefer action? You'll likely more of action, fighting & running or jumping. Individual Biography? Noble & solitary figures. Heart-warming dramas? Families laughing together.
Envisage this on an utterly weekend evening, you sit down with your partner to watch an interesting movie or a web series. Since been a hectic week, and you look forward to chill out with your loved one. But post what feels like hours of back and forth, despite your multiple subscriptions and the veritable cornucopia on offer, you still haven't been able to decide one that you both are in the mood to watch. At last, you just give up and end up picking something you've already watched a like hundred times.
Somehow, with unprecedented access to content in this "golden age of television" and streaming services, 'what to watch' has become a common conundrum. In Disney's Jungle Book, the vultures with their Beatle-like mops of hair spend a few minutes volleying whatcha wanna dos and I don't know, whatcha wanna dos back-and-forth.
Today that conversation runs something like this:
"What do you wanna watch?"
"I don't know, what do you wanna watch?"
The great thing  is that with evolution in Deep Learning and Cognitive AI, and rich media chat platforms, insightful bots capable of picking up context cues and learning from conversation can now help you figure out what to watch (What are you in the mood for?). We now have the capability to develop an affable, intelligent bot with the sophistication and adaptability to help you narrow down your broad preferences.
If you are looking to build an AI powered services for your Media and Entertainment business &  need and to evolve your business. Contact us or mail us at coffee@kevit.io also visit us at Kevit.io.
Automating business processes with Kevit.io is now just a click away!