Chatbots For Travel Industry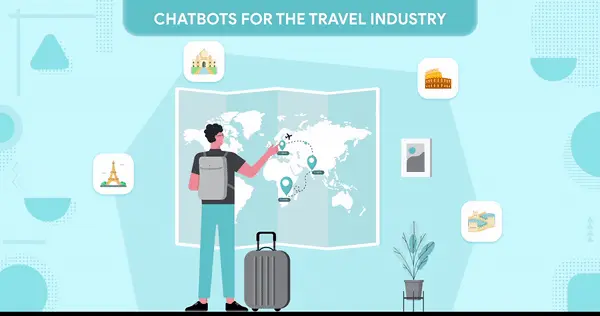 December 24, 2021

Priyanka Shah
As beautifully quoted by Stephen Covey that- "Live your life by a compass not a clock." But that can be quite a task for travelers as it requires meticulous planning and despite the best efforts of the travel industry, not always a delightful one. 
Planning leads to the list of frequently asked questions that's going to bombard your mind: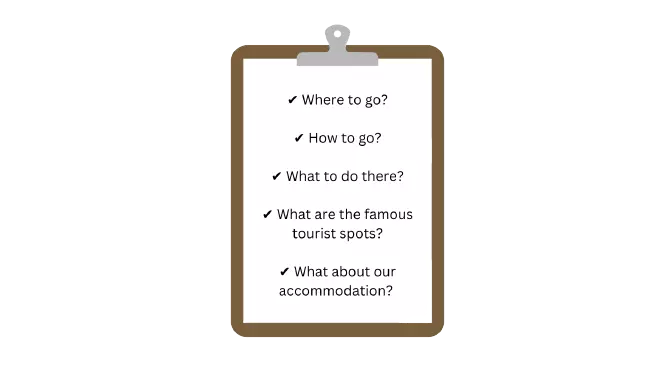 These are just a few mentioned ones from the array of questions that travelers think of. Now the answers to all these questions are scattered all over the Internet or else you must depend on someone's recommendations. While both the options are dubious, there's a way where all your questions can be/ are answered.   
The only solution can be Conversational AI: 
*enters* 
TRAVEL CHATOT
Along with all the buzzing industries like Ecommerce, Healthcare, Banking, Travel Industry has seen the transition from being manual to automated chatbot. The digital revolution has greatly disrupted the travel industry, and online bookings, check-ins, travel Wikipediaes are proof of that.
What are travel chatbots?
Right from booking towards handling queries in a real-time journey, local guidance, and refunds, AI (Artificial Intelligence) powered Travel Chatbot is enhancing customer support efficiently. Pro-active assistance with a chatbot for booking airlines, hotel rooms, car rental, monument & park tickets is trending due to its anytime availability and ease of access. A survey has shown that 87 % of users would interact with a travel chatbots if it could save them time and money.   
There's a lot that chatbot can do to make life easier for customers and travel service providers alike.
What

a bot can

do for your travel industry?
Here, are some successful use cases of chatbots: 
Travel Planning Consulting
Online assistance becomes much of a requirement for the tourists who are planning their holidays for a relatively new place. This chatbot can provide helps them figure out best deals and relevant information according to their preferences (i.e. to book a hotel or to select an appropriate place to visit and many more activities). The online market is getting tougher, with around the clock assistance businesses can jump up their conversion rates.  
Sentiment Analysis 

 

Suggestions 

 
On-the-go Helper 
These simple Chatbot can help travel companies in many ways, one of which is being the local e-guide for tourists. It will help the tourist navigate into a pristine environment, search for famous nearby monuments, eatery, shops, medical assistance, and help to make their travel experience ease and have a pleasant time.  
Real-time assistance 

 

Location-based suggestions 

 
Monetary Transactions
Integrated with the payment gateway, a travel chatbot is capable of handling all the bookings as well as a cancellation by accepting and refunding the money online. These operations are carried out by simply conversing with the bot on the customer's favourite messaging platform.  
Easy refunds and bookings 

 

Multiple platform support 

 
Cost Optimization
When a tourism dedicated company opts for a travel chatbot, it eliminates the need for a dedicated team for customer support which decreases the company expenses and team management. Travel chatbot with FAQ database will address most of the queries instantly and there will be less human intervention needed.  
Require fewer employees 

 

Centralized management 

 
Features of Travel Chatbot:
Customer engagement and personalization are becoming increasingly important in the travel industry. Chatbots are a great way to provide an enhanced customer experience, offering travelers personalized service when they need it.  
1. Chatbot Sensitivity 
User-friendly and personalized chatbots make sures better customer support, making space for greater opportunities for companies to generate leads through chatbots. For example, in case of GReaTa, chatbot utilized by GRT Hotels & Resorts exchanged over 175,000 messages within 2.5 months of its launch. This resulted in:   
84% people shared their contact details after communicating with the chatbot  

 

40% of the customers had booking intent           

 
2. Chatbot's prompt responses
Chatbots are known for their readiness and instant responses with round the clock availability. These same abilities of bot across different communication channels, with hand over facility to a live agent if needed is what is the reason behind the success of travel chatbots. When around 50% customers expect businesses to be online 24*7, real time responses are of utmost importance.
Along with the waiting time, what matters is how engaging the chatbot is. Monotonous conversations will drive away leads because of boredom. So, it's necessary to have chatbots that understand and use human humor. Here's where Conversational AI plays its part.   
3. Reliability
How much a customer can rely on a chatbot depends on its capabilities of Natural Language Processing and Understanding and its deep learning based on each customer interaction. Having an up-to-date training dataset about travel prices, destinations, packages, and comparisons ensures travel chatbot reliability and makes it a treasure trove of data.  
Difference Between an AI Chatbot and a Rule-Based Chatbot
Chatbots are computer programs designed to simulate human conversation.  
They can be divided into two main types:
1. AI chatbot
2. Rule-based chatbots
AI chatbot use artificial intelligence to process natural language input and generate responses and can provide more natural conversations than rule-based bots, as they are capable of understanding the context of a conversation and responding accordingly. while rule-based chatbots rely on pre-programmed rules to interpret user input. AI-powered bots could also learn from past conversations and apply that knowledge in future interactions. On the other hand, rule-based chatbots are limited by their pre-defined set of rules, which means they cannot respond dynamically to new inputs or learn from experience. However, these bots are easier to develop than AI bots due to their simpler architecture. In summary, both types of chatbot have distinct advantages and disadvantages; it is up to the developer to decide which type is best suited for their needs. 
Kevit.io's Travel chatbot stands out from the crowd to be the best multiplatform and multilingual chatbot with easy integration to your web entity and smart training sessions. This ensures a high satisfactory level in travel enthusiasts who are planning their holidays. Know more about travel chatbots at Kevit.io and mail us at coffee@kevit.io for the same!  
Happy and Safe Travelling!😊 
Automating business processes with Kevit.io is now just a click away!