Conversational Commerce: Build an Organic Relation with Clients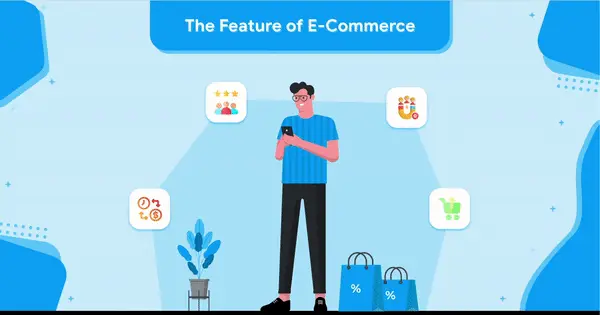 October 25, 2021

Priyanka Shah
Redefining Ecommerce, Conversational Commerce is the communication source that fills up the gap between businesses and customers through AI-enabled assistants, i.e., chatbots, voice bots, or voice assistants and live chat representatives. This is to aid in the process of exploring products and offers, making transactions, and sending help to customers in case of need. Going through these parameters, one can tell with no trouble that conversational commerce targets acing the customer support game so that your customers never feel unattended at any stage of this sales process.
It's always about maintaining a real connection with the customers by providing responsive and personalized advices and services which better satisfy them. It's always said easier than done but our experience at Kevit clearly puts us on the side of artificial intelligence handling customer support because once used, you realize that its easier not only on the business's side to collect and hold on to information but equally easier for consumers to get access to that information.  
Brands sell more because of the dynamic change that conversational commerce brings in the business-customer relation, which is established at the moment. Just imagine this- Every sector of your customer services is personalized for each consumer of yours. This optimizes the best outcome for lead generation and eventually turns to profitable relationships. We are talking about the Cinderella moment here, with Conversational Commerce being your "fairy godmother". 
Further conversational commerce was best defined by the Hashtag inventor Chris Messina in his Medium article in 2016. The article defined it as:  
"Conversational commerce is about delivering convenience, personalization, and decision support while people are on the go, with only partial attention to spare."  
Conversational Commerce: What is it? 
It is the process of buying and selling products and services through conversation-based channels such as chat, message, live chat, chatbots, messaging apps, voice assistants and chat apps. It is becoming increasingly popular amongst consumers as it provides an easy and personal way to shop online.  These AI chatbots are used in conversational commerce to provide personalized overall customer experience – for example, Alexa from Amazon or Google Assistant from Google. Popular messengers apps like WhatsApp, Messenger and Siri can also be used for conversational commerce. This form of online shopping helps customers feel more connected to the brands they purchase from by allowing them to have a personalized experience while they interact with the AI-powered chatbot. As conversational commerce continues to grow in popularity, more types of conversational commerce will emerge – all aiming to provide a better virtual shopping experience for customers and drives sales opportunities for businesses.
Advantages of Conversational Commerce 
When Commerce is Conversational, Businesses go Up:  
While the prime reason for this hype of conversational commerce is that it makes businesses accessible and convenient, below is a list of factors that can also explain the rise in conversational commerce.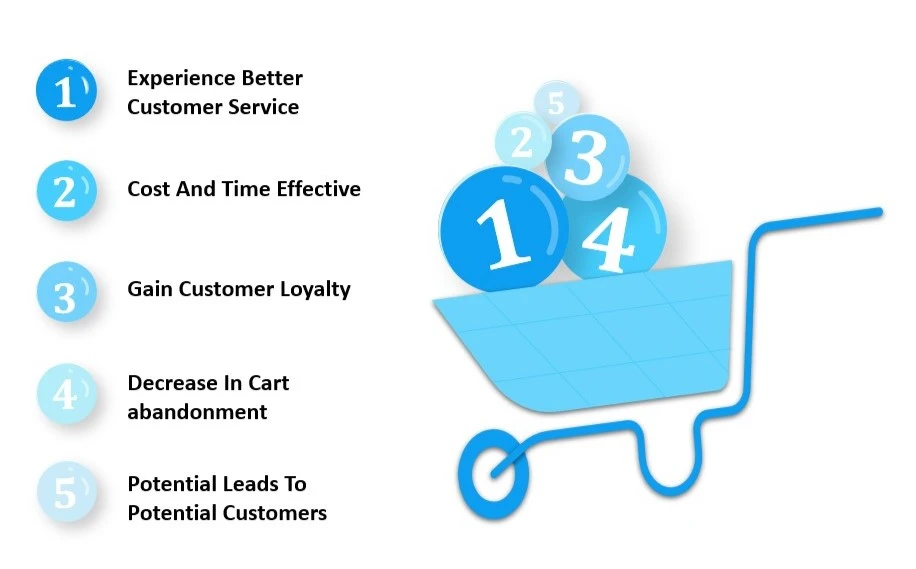 1. Experience Better Customer Service
Whether it's a new customer or a regular one, conscious efforts in customer service are always a big yes-yes! If it's a newbie, then you need to make sure that the first impression is good enough for that customer to return to your business page. And if it's one of your regular customers, then that means they have already found a reason to stay and your business needs to continue doing what they like. If all these sound like way too much, then chill cause conversational commerce is ready to take this case into its hands and by providing easy searching options, quicker responses, personalized recommendations, reorder previous orders, omnichannel presence, and a lot more to all your customers.  
2. Cost And Time Effective   
Time is money and it's only sensible for a business to save this money as well as some actual bucks too!! Automation has already proved how cost-effective it is with round-the-clock availability but saves time too by addressing all repetitive queries and multiple queries at the same time so that the business agents can focus on other complex issues.  
3. Gather Feedback And Gain Customer Loyalty   
Enabling the feedback feature is one of the best things a brand can do to gain its customers' loyalty. This is because they're going to feel heard and that their opinions are valued. Feedbacks suggest that there is someplace that can be addressed, whenever there is a point of complaint. Except this, personalize your chatbots and voice bots by giving them an identity so that your customers almost feel that they are referring to a friend. This makes them feel inclusive and has memorable interactions.  
4. Noticeable Decrease In Cart abandonment
Cart Abandonment is when a customer adds items to their cart to purchase but then leaves the business page instead of progressing towards the payment option. When emailed about the same, only 35% open the links and complete their payment. Using conversational commerce, you can improve this ratio.  Sending proactive greeting messages and cart reminders can help. Facebook Messenger App lets you send abandonment cart messages via Messenger. These little reminders have already proved quite effective in offering support to consumers to complete their orders.  
5. Potential Leads To Potential Customers  
Conversational commerce helps not only in generating leads but also in closing potential leads. When 71% of customers say they will continue with brands that message them instead of calling, you know that conversational commerce is a great way to support customers considering a purchase. Basically, automatic messages, chatbots, voice bots, all are the best conversational commerce tools to drive in more customers.  
How Does Conversational Commerce work? 
At each stage of this journey, conversational commerce allows interaction between businesses and customers, strengthening the bond and raising the possibility of customer satisfaction.  
When a customer realizes they have a need for something, whether it be a product or service, they enter the first phase of the journey and start looking to fill that need. They learn about your product or online store during this process and may decide to connect with you or request your direct business inquiry. 
Since 59% of shoppers prefer to purchase goods from brands they are familiar with, it is crucial to develop relationships with customers and increase brand recognition. By getting ahead of this trend, you can increase familiarity and offer a better customer experience. Customer retention and conversion rates are likely to improve as a result of increased consumer confidence in your brand when you demonstrate to customers that you understand their needs through a personal, 1-on-1 conversation. 
After deciding on the good or service they require, the customer will start looking for information to figure out which option is best for them. By addressing their specific queries and issues and giving them knowledge that a website or forum can't, conversational commerce increases the likelihood that customers will choose you over a rival. The trend of online shopping moving more and more toward mobile platforms—79% of smartphone users have made an online purchase using their device—and the easy connection that can be made using chat apps on those very same devices only serve to exacerbate the problem.  
After gathering information about the goods and services they are considering, consumers will assess their options based on a number of important factors, including but not limited to price, quality, benefits and performance, and brand trust. The likelihood of gaining a devoted customer rises when a brand speaks directly to a customer at this stage, immediately boosting brand trust. This also offers chances to close the deal or even cross-sell by presenting various pricing options, outlining features and specifics, and assuring them of the value of your good or service through a conversation that comes across as genuine and personal. 
The journey does not end when the customer makes a purchase. Buyer's remorse is a very real concern that can affect your brand's credibility and overall visibility. As a result, it is important to ensure that you instil confidence in your brand through communication with customers in order to increase their satisfaction and foster brand loyalty through positive reviews, personal testimonials, and word-of-mouth conversational marketing. 
With conversational commerce, you can more effectively make sure that your customers and clients feel satisfied when they reach this stage, which can have a huge impact on your revenue. Giving your customers special attention can help you save time and money in the long run because, according to Harvard Business Review, keeping an existing customer costs between five and twenty-five times less than finding new ones. 
To Sum Up: 
While Conversational Commerce is a growing strategy, opting it is the best-optimized solution at the moment to not only bring in customers but also for keeping them around for a long time. Transform your business landscape and witness a huge impact on your customer base with Kevit's E-commerce and Conversational Commerce offers. Serve your customers in a better way using chatbots and know all about it at Kevit.io , contact us and mail us at coffee@kevit.io. 
Automating business processes with Kevit.io is now just a click away!