Education Chatbots: Virtual Classroom Teachers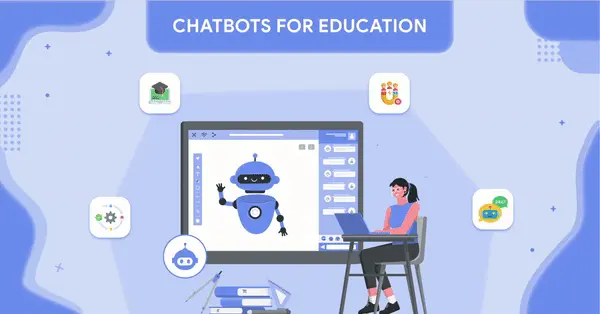 November 11, 2021

Priyanka Shah
The pandemic has forced us to sit in front of our TVs and mobile phones. Everything became online and the education sector did not remain untouched by this. Education, being one of the oldest industries when shut down due to Covid-19 and lockdowns, found its way through messenger apps and video calls. Online educational sessions became our normal life and they still continued to do so. Despite all this going fine, introducing Educational Chatbots can do better implementation of these newer systems. Chatbots for Education, the new heroes of EdTech can be used for students so as to make it easier for them to collaborate and interact with equal amounts of educational gains.  
 
What is Education Chatbots?
Education chatbots are conversational bots, or computer programs, designed to help teach students and evaluate their progress. Schools and universities can use these chatbots to increase efficiency in delivering their educational services. Education chatbots are able to respond to questions from students in a conversational manner, much like how a real assistant would interact with them. They can also be programmed to assist with evaluations of student's progress in the course material. Because of this, chatbots can provide a great resource for learning institutions and instructors that want to maximize the amount of time spent on teaching students rather than spending time evaluating them. By providing quick and accurate feedback, this chatbots can help make the process of teaching more efficient and effective for everyone.
Use Cases of AI Powered Education Chatbots in Education Industry
The world has moved beyond paper and pen and one can clearly say that there is no turning back now. Here is a list of the most prominent use cases of Chatbots for education.
1. EdTech= Students + Technology
The student generation is always seen glued to their phones. Since this is the case, then why not make educative sessions so interesting that all that time now is spent on attending lectures. Now longer lectures can be sent as recorded videos or audio notes or in the form of text messages. Plus, the chatbot can answer all the things that students need to search for in the blink of an eye. So, now instead of asking fellow students or teachers, students can directly message their virtual assistant or instant messenger. That's not only going to save a lot of time for the students but for teachers too!!! 
2. Managing tasks like a PRO
With Chatbots for education, students don't need to spare time to schedule lectures and assignments. Your chatbot will do that for you! These educational chatbots will arrange lectures based on priority order and remind you every time a lecture is about to start. But the good stuff does not stop here. Your students will get daily reminders about assignment submission dates, tests, exam dates along with membership alerts for the library, fees payment, and a lot more. Now students don't need to check e-mails every day but just trust their chatbot friend!! 
3. Tutoring for 24*7
We all agree that every student has a different approach and pace when it comes to studying. Some of them might have erratic schedules to study but what hinders the process is the unavailability of teachers or teaching staff. Educational chatbots make sure no student has to stop studying and the unavailability of a tutor should be the last reason for it. Be it any time, guidance on any subject can be provided by educational bots and help you pass with flying colours. 
4. Lead Generation
Lead generation in the educational sector is all about providing the right information at the right time. Having an omnichannel bot on your website or app is one of the best ways to gain a lead because there will always be parents and students visiting your site. A FAQs bot can address all the queries they might have related to any educational course or your institute. Help them navigate through your website and you are golden. 
5. Qualifying leads
Generating a lead is one thing and then qualifying one is another. Taking user information can be done by these chatbots in a very natural flow which is personalized and sounds humanly. 
6. From registration to enrolment
Yes, skipping longer queues is as easy as skipping a lecture now. Since, we prefer skipping queues and reducing waiting time, we design chatbots as such that your bot buddy can handle tasks like registering yourself submitting application forms, and enrolling yourself, all can be handled by your bot buddy. Relax, let your students carefully decide their courses cause now it's all a click away. 
7. Easier access to learning material
From textbooks to external material, from important questions to sample question papers, everything is available on the net and these educational chatbots can help look it up for you. So, if kids have already started preparing for your exams or are going to prepare on the night before, at least your study material wouldn't be something your students would be worried for.
 
What are the Benefits of Using Education Chatbots in Education Industry? 
Does this chatbot can really benefits the education industry? YES, here is the list of areas it benefits the education industries: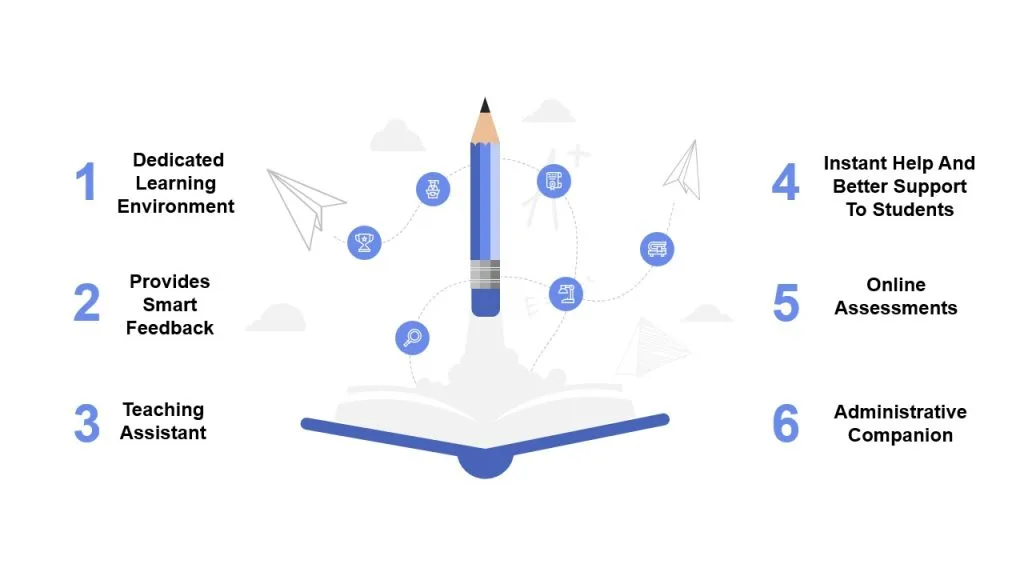 1. Medium of Learning 
The most useful and desired after application of AI is the automated, intelligent tutoring system that provides a dedicated learning environment to study in and then analyse student's responses and their patterns of interaction with the artificially intelligent learning content.  
After the application of most useful and desired AI which is NLP automated intelligent tutoring system which tends to provide dedicated learning environment to students and also analyses responses and pattern of interaction of students with artificial intelligence learning content. These Artificial Intelligent Chatbots, through a series of messages will help to teach the students like a regular chat made out of lecture.  
Colleges, schools, and many educational institutions are now adopting and implementing AI bots because of their benefits. 
Educational Chatbot can help students to learn through audio, images, videos, or document files for specific topics.

 

It can also be used to provide students the required learning material

These chatbots are designed that way that they can take tests or quizzes and send the results to the concerned teachers. 

 
2. Provides Smart Feedback
Feedback is crucial whether it is Negative or Positive as it describes the performance of pupil as well as the areas of lacking and requires efforts by their respective teachers. It also helps the teachers to figure out areas to improve their teaching abilities. 
However, students usually opt for online or printed forms for submitting their feedback, whereas the teacher gives impromptu feedback on the test conducted. Here, enters Educational Chatbot which had made this process very fascinating and easier.  
 Platforms like Kevit.io provides these conversational AI chatbots which is a great way to collect feedback from students. It helps to collect survey from students such as: 
How their course could be improved, 

 

How did they like the previous lecture or overall quality of their learning experience.

 
3. Teaching Assistant
Chatbots helps to reduce the cycle of tasks aligned for the teacher for them as these chatbots act as a virtual teaching assistants:
These chatbots are created to answer queries students repetitive ask like lesson, course modules, plans, assignments, and their deadlines.

 

It can also record and supervise student's learning progress

 

It helps to provide students with personalized feedback individual for their areas they lack.

 

These chatbots can also provide and recommend learning content from the analyses of their skills and abilities to learn.

 
4. Instant Help and Better Support to Students
The Young Generation nowadays needs everything instantly whether its food, shopping, sending an email searching for assistance with assignments, it needs to be done in a matter of a few clicks.
So, why education industry steps back, they had also arranged to provide students with a better communication process with the administration and teachers. Additionally, using chatbots, students can do their all the works from admission processes to class updates to assignment submission deadlines and also gets updates on everything.  
5. Online Assessments
It is undeniable that this educational system has several advantages that have expanded the scope of online learning. Many students are taking advantage of it, but all you need is a laptop and internet connectivity to get started in this sector. In addition, consider the advantages of engaging in this mode of schooling.
Provides ease of learning through AI

 

Conduct online assessments

 

Enhance engagement with personalized chat flows

 

Education counselling

 

Cooperation

 
6. Administrative Companion​
For students, education bots can act as their administrative companions. Texting via chatbots can better option to resolve queries instead of visiting the office and waiting in long queues to find some answers. 
It can help to provide information about questions that first come in mind of students such as:
Course details and enrolments

 

Fee structure and other financial aid

 

News about the institution

 

Campus guide and school events
3 Reasons To Include AI Chatbots In Education System Is Important:
Along with being best supporter for teachers and students, there are many operational benefits that can be obtained by deploying education chatbot in educational institution.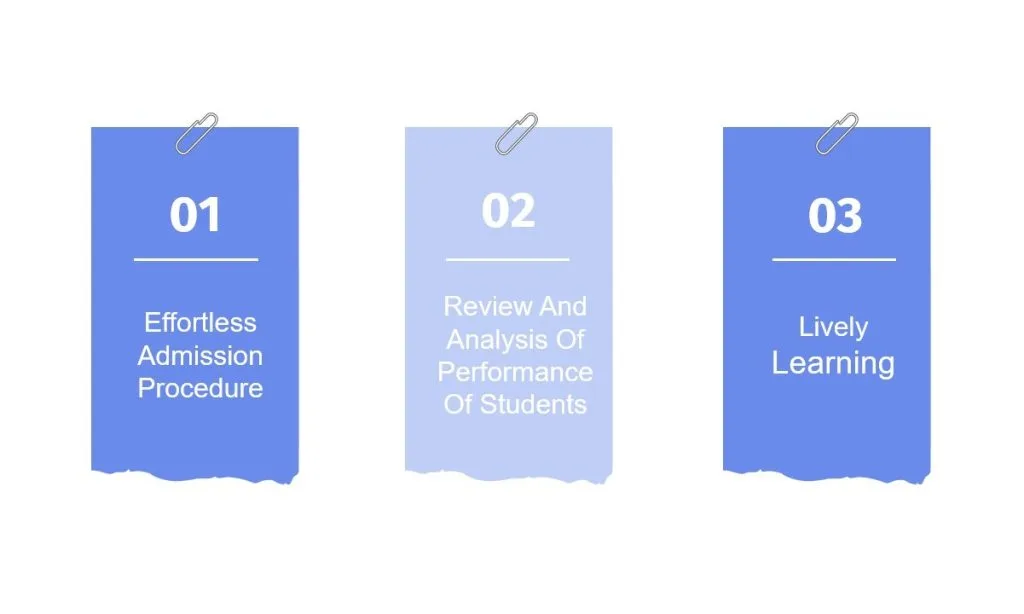 1. Effortless Admission Procedure:
As all the administrative procedures are difficult and time consuming in all the educational sectors, computerization is becoming essential. To give admission to hundred of students with varied fee structures, course details and specializations can be a task for the administrators. Also with so many variations, there is a scope of human error in the process. With AI enabled chatbots the complete process of enrolment and admissions can be smoother and more streamlined. Administrators can take up other complex time-consuming tasks that need human attention.
2. Review and Analysis of Performance of Students:
Feedback is crucial whether it is Negative or Positive as it describes the performance of pupil as well as the areas of lacking and requires efforts by their respective teachers. It also helps the teachers to figure out areas to improve their teaching abilities. 
However, students usually opt for online or printed forms for submitting their feedback, whereas the teacher gives impromptu feedback on the test conducted using NLP. The speed of a these chatbots is so high for analysing and generating reports that it can save lot of time and bandwidth for teachers.
 
3. Lively Learning:
Generally, students find difficult to hold on for many days or months in respect to get results or feedback for their performance. So, with the implementation of artificial intelligence personalized learning environment they can learn by engaging with the course material through various activities such as discussions and role-play. With lively and personalized learning, student can gain better knowledge instead of mugging up all the theoretical material which can be helpful to bring a revolutionary change in the education system across the world.
 
CONCLUSION 
The best things that educational institutes can do is to be there where their students are. The automation revolution is going to completely sweep the education sector and enabling educational chatbots on messenger sites becomes an optimized solution. Kevit, with its team of chatbot specialists is ready to help you design chatbots for your institute to facilitate teaching and enhance the learning experience. Connect to us at Kevit.io or mail us at coffee@kevit.io for your institute process automation.
Automating business processes with Kevit.io is now just a click away!