Exploring the Benefits of WhatsApp Chatbot for Tiles Industry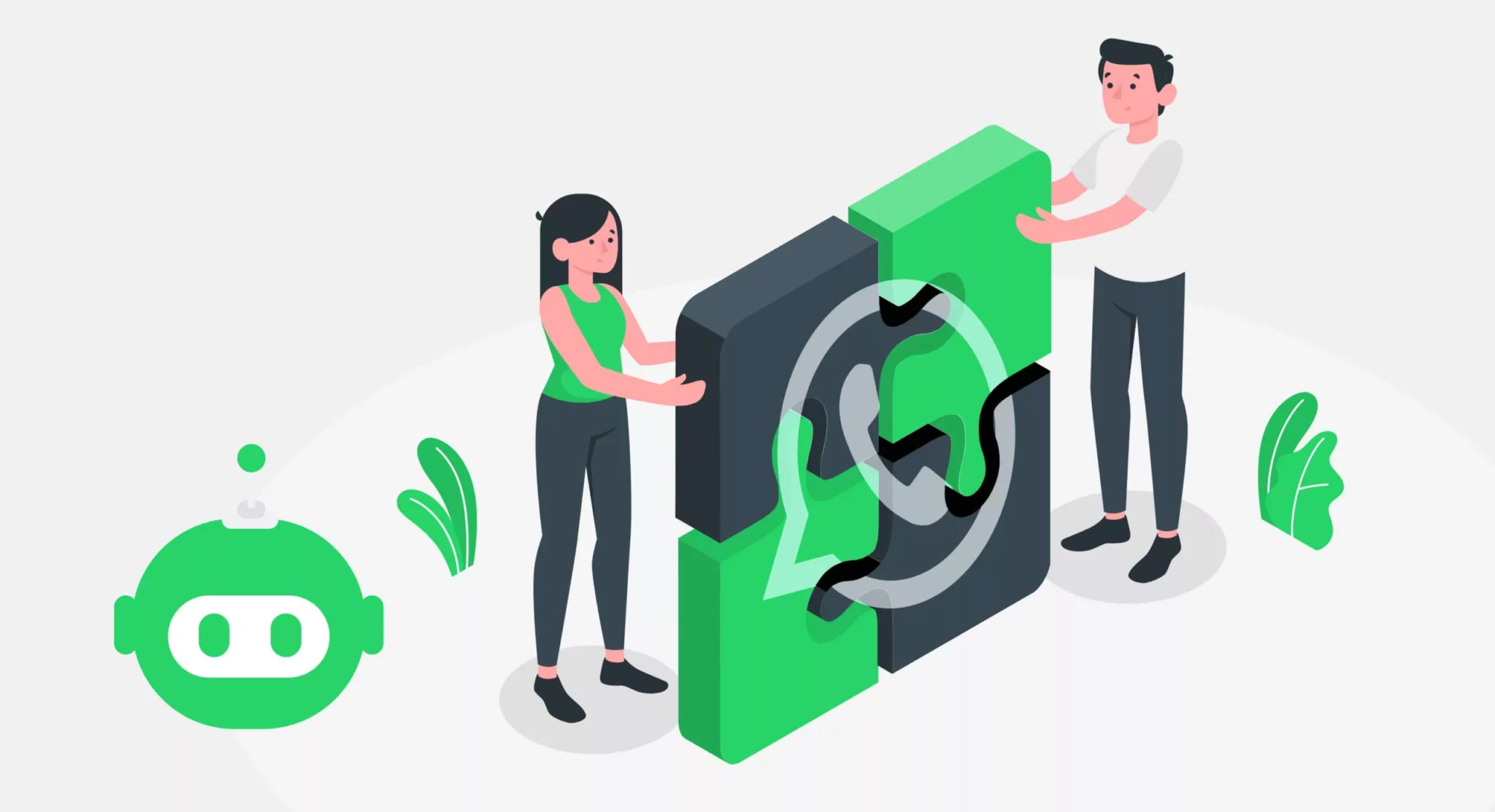 August 8, 2023

Chirag Sanghvi
The ceramic manufacturing industry in India boasts a century-long history of remarkable growth and development, evolving into a modern, world-class sector with cutting-edge products and innovative designs. The tiles and ceramics industry are witnessing significant growth, driven by infrastructure investments, urbanization, and shifting consumer preferences. The real estate industry's expansion and government initiatives are projected to raise demand for sanitary equipment by up to 15%, further highlighting the industry's importance in shaping India's development and economy. The sector stands at a pivotal juncture, offering ample opportunities for growth and contributing to the nation's progress.
Amidst the growth observed in the tiles and ceramics industry, it faces a set of challenges that demand careful attention. Despite its apparent robustness, various impediments hinder its overall progress. Notably, adapting to changing consumer preferences and adopting technology at a faster pace are significant challenges. While the industry has incorporated advanced technologies to improve product quality and competitive edge, there remains a gap in adopting new automations to fully meet customer demands. Addressing these concerns is paramount for ensuring sustained growth and success in the constantly evolving market scenario.
Reaching new heights with AI powered Chatbots in 2023
The utilization of Automations by WhatsApp Business API in marketing has reached new heights, providing substantial benefits to businesses. WhatsApp's features have facilitated streamlined communication for sustaining enterprises, yielding promising outcomes. Particularly, incorporating WhatsApp Business for marketing and customer support purposes has the potential to significantly enhance the growth and scalability of the Ceramics -Tiles Industry.
Here are some of the ways how AI powered WhatsApp Chatbots can be leveraged by businesses in this Ceramics – Tiles Industry:
1. Product Catalogue and Inquiries:
Businesses have the option to set up an automated WhatsApp bot that offers customers a comprehensive product catalogue featuring various tile types, designs, and patterns. Through WhatsApp, customers can inquire about specific products or request additional information effortlessly.
2. Automated Pricing and Quotations:
The WhatsApp bot has the capability to generate automated price quotes tailored to customer specifications. This simplifies the quotation process, delivering customers instant and precise pricing information.
3. Customer Support and FAQs:
WhatsApp bots can manage frequently asked questions (FAQs) related to products, delivery, installation, and other pertinent topics. This eases the workload on customer support teams and offers immediate responses to common queries.
4. Automate find nearby Dealers / Branches:
Through the implementation of a WhatsApp Bot, prospective customers can effortlessly locate nearby dealers directly within the application, eliminating the need to make phone calls or conduct abrupt searches on Google. This seamless and user-friendly feature enhances the customer experience and streamlines the process of finding suitable dealers for their requirements.
5. Language Localization:
India is a linguistically diverse country. Businesses can incorporate language localization in the WhatsApp bot to provide support in various regional languages, making it more accessible to a wider audience.
6. After-Sales Support:
The WhatsApp bot can provide post-purchase support, addressing customer concerns and aiding with installation and maintenance.
Case Study: Check How India's Leading Brand Kerovit by Kajaria Ceramics Has Automated their operations with Kevit. Io's WhatsApp Chatbot
Kajaria Ceramics, the leading producer of ceramic and vitrified tiles in India established in 1985, operates seven plants across the country. The firm showcases its tiles throughout India through its large and well-established dealer network, providing clients with the broadest assortment of tiles at all price points. It will take place. Kajaria manufactures Kerovit Sanitaryware, a segment of their business, in Morbi, Gujarat; a brand made in India. Just the way technology has revolutionized every aspect of bathroom and sanitaryware, Kerovit, have grown and established with changing the perspective of its customers.
Kerovit by Kajaria, a leading player in industry, boasts cutting-edge technologies. Nevertheless, they face challenges in managing operations, customer relations and dealership queries effectively.
With WhatsApp Business Solution, we have outsourced all-in-one solution for Kerovit.
Multilingual WhatsApp Chatbot
Manage high volume dealership queries
Customer care service
A. Multilingual WhatsApp Chatbot
The incorporation of a multilingual bot has proven to be an asset in fostering smooth and effective communication between companies and clients. By enabling clients to express themselves and comprehend information in their respective regional languages, the bot enhances overall clarity and ease of understanding during interactions. Given India's linguistic diversity, businesses can strategically adopt language localization within the WhatsApp bot to extend support in multiple regional languages, thereby ensuring greater accessibility to a wider audience. This approach underscores the importance of catering to linguistic diversity and inclusivity in client engagement, ultimately contributing to improved customer satisfaction and successful business relationships.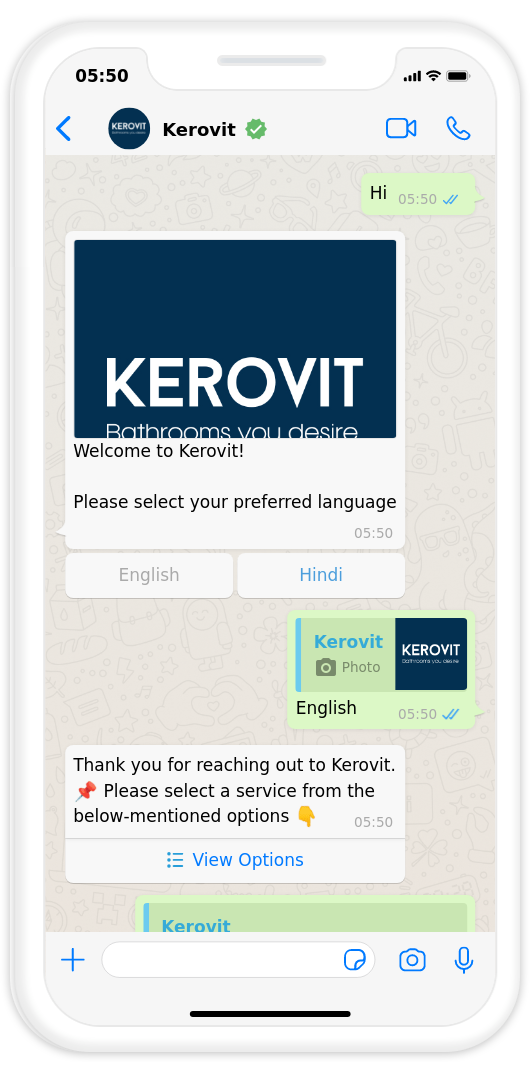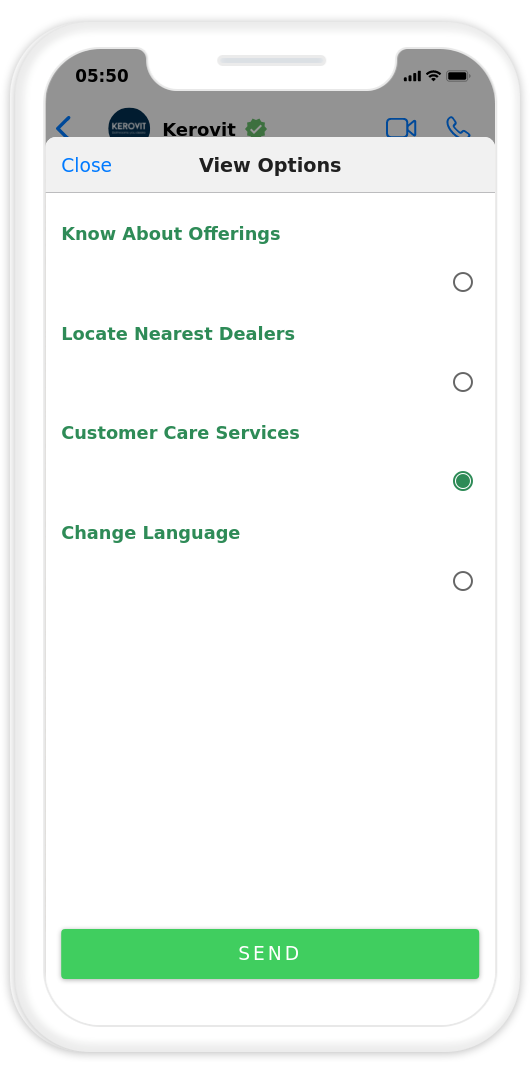 B.

Manage high volume dealership queries

To effectively manage the high volume of dealership queries, we have successfully deployed a WhatsApp chatbot. This centralized platform efficiently gathers all incoming queries, enabling our agents to promptly follow up with customers and attend to their specific needs. This streamlined approach has significantly enhanced our query resolution process and customer service capabilities.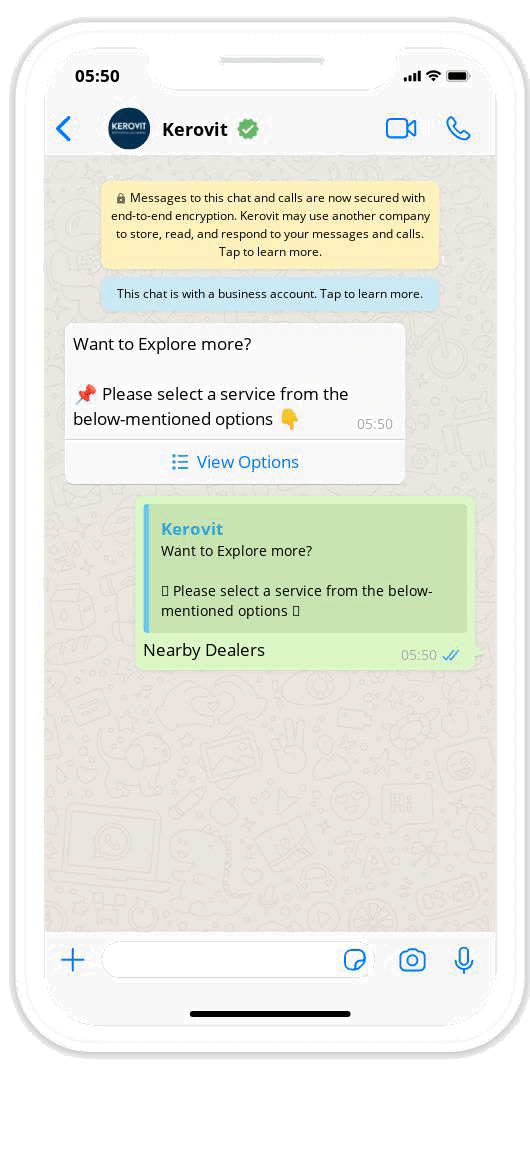 C. Customer care service
We have assisted Kerovit in integrating their customer care services into WhatsApp, enabling their team to access essential information proactively prior to engaging with customers. Moreover, we have implemented a categorization system, distinguishing between their product line Faucets and Sanitaryware, which allows for more in-depth and specific responses to customer queries.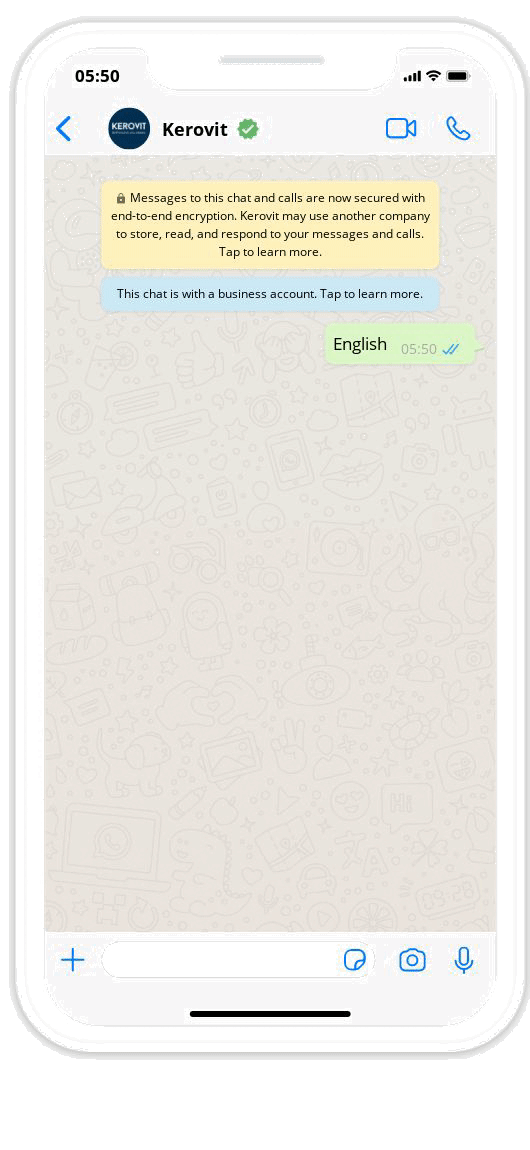 Following the successful implementation of the WhatsApp Chatbot, Kerovit has observed a notable improvement in customer satisfaction, characterized by swift and efficient responses to Customer Care queries. This enhanced responsiveness has contributed to heightened user satisfaction. Moreover, customers now find it effortless to locate nearby dealers, a feature that has significantly bolstered customer loyalty and overall satisfaction levels. The incorporation of the WhatsApp Chatbot has proven to be a pivotal step in streamlining customer interactions and fostering positive customer experiences, solidifying Kerovit's commitment to exceptional service and customer-centricity.
Why Kevit.io?
Kevit. io offers a comprehensive AI-driven bot; by implementing WhatsApp automation in the ceramic and tiles industry in India, businesses can enhance customer engagement, improve operational efficiency, and increase sales. Among its features, Kevit. Io's WhatsApp chatbots employ advanced AI, Natural Language Processing, and Machine Learning technologies, ensuring consistently excellent customer support. These chatbots are highly customizable, enabling the configuration of welcome messages, away responders, and responses to frequently asked questions. Moreover, they support interactions in multiple languages and provide valuable customer engagement metrics for further insights.
Automating business processes with Kevit.io is now just a click away!