How AI Chatbot can be a lead magnet for business?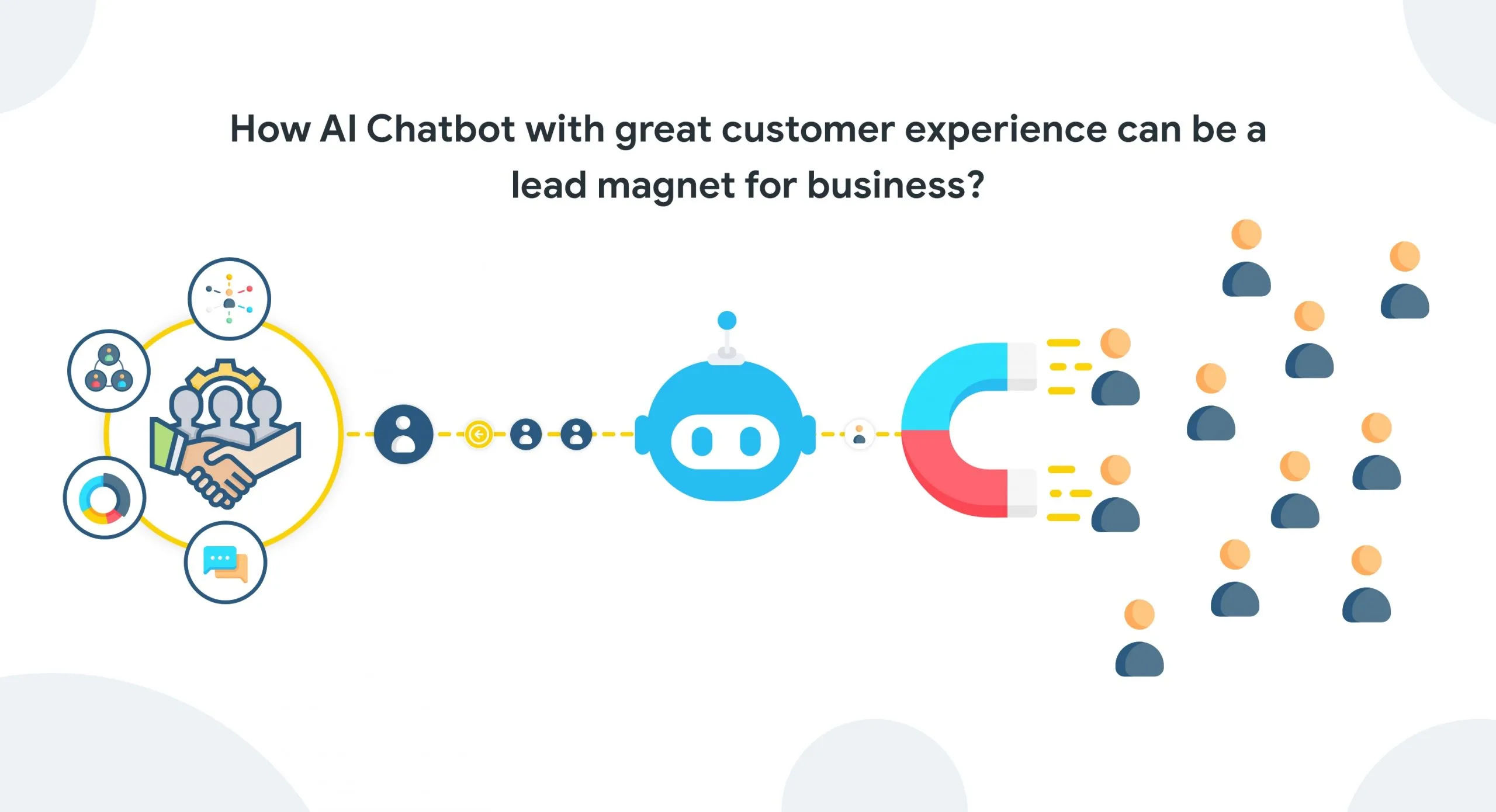 December 16, 2020

Priyanka Shah
"Technology, through automation and artificial intelligence, is definitely one of the most disruptive sources." - Alain Dehaze 
Automation has radically changed the foundations of how customer support used to be a daunting task for the administrative department. Support staff used to face repetitive similar queries which spike the level of work being monotonous and less interesting. This makes the support team demotivated and often leaves the client unsatisfied resulting in a loss for the business. 
Powering up your customer support with AI Chatbot will nurture the administrative work environment as personnel will be motivated to handle new user queries every day while the chatbot deals with monotonous FAQ's. Humans need to be leveraged for solving big problems, for repetitive tasks businesses must adopt automation. 
Customer Experience 
For customers it is not at all a hard job to avail products or services, what makes your business stand out from the crowd is the overall buying experience that you provide with pre & post-sale support. The core mantra for growth hacking in any business domain is to be superior in delivering a memorable client experience. This allows your business to observe a stagnant growth in conquering new customers as well as recurring ones. 
Are you an entrepreneur seeking enrichment for your customer support? At Kevit.io, we master in meeting AI-based business automation requirements. Nestle a well-known food brand, read its case study where we delivered WhatsApp chatbot for awareness of its healthy baby products. 
Customer Service Chatbot – A necessity of online business enterprises in 2020. 
Elevating your business to an online platform provides international coverage where worldwide exposure makes 24 X 7 customer assistance mandatory. AI Chatbot integration helps businesses to address audience concerns in a faster and more satisfactory manner providing a much smoother experience. This is possible with a readily available database of FAQs and training sessions which every AI chatbot is passed from on a regular interval, keeping them updated for advance queries and situations. 
A business must answer the following question to find out its necessity for AI chatbot implementation: 
– Is your online web entity experiencing an audience from diversified locations?  
 With Chatbot's Multi-lingual make sure to answer all your visitors in their preferred language.  
– Is your administrative department finding it hectic to serve on various channels?
Conversational-AI, the ultimate customer support that can be deployed on multiple platforms like website, mobile app & social channels. 
– Are you able to entertain all the leads generated on your website 24X7? 
If No, then this is the biggest loss you can dodge with chatbot implementation which will serve your web entity around the clock. 
– Considering administrative costing how do you maintain it with excellent customer support?
The fact is without chatbot automation you can't. No matter how much staff you recruit, it cannot outrank the chatbot's efficiency in serving the audience at the right time.  
Chatbots – Not a replacement  
A business fails if they prioritize automation for replacing personnel as experts must always be present to take over the situation where AI is not able to derive a conclusion. AI Solutions won't replace human assistance but provides the following advantages with proper training.  
No Waiting Queue: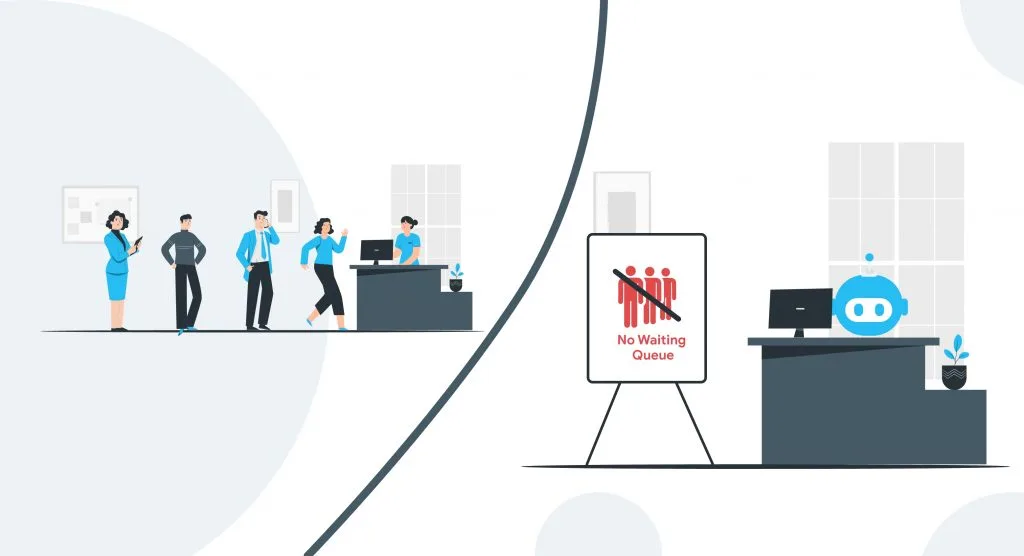 Businesses with a chatbot as a frontline warrior never keeps a visitor's query in a waiting queue, it is answered instantaneously which keeps the user engagement high. Unlike manual support, chatbots can handle huge traffic simultaneously. Sectors like Healthcare must definitely have a conversational-AI which will make sure resource availability is helpful during critical emergency situations. 
Interactive Message Support: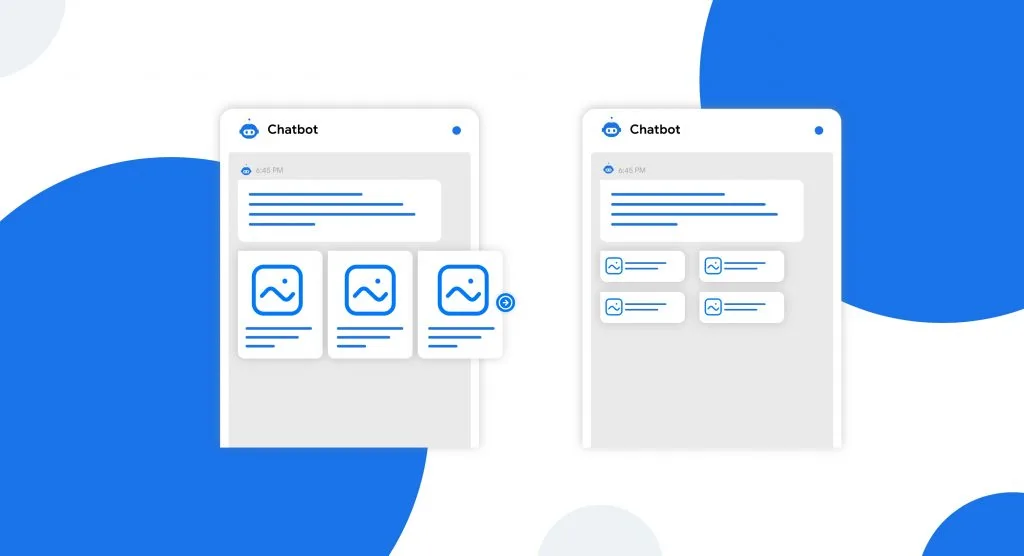 Chatbots are the best way to be presentable in front of your potential customers. With a carousel of product & services, USPs and features you get good exposure which escalates the chances of lead conversion. Business can also flaunt their offers and new arrivals in the chatbot window with interactivity at its peak.  
Time-Saving Tactics: 
Chatbot caters options to users from which the selection can be made and time is saved without manually writing down the query. These options can be customized as per the situation and business requirements. AI keeps the track of user queries and leverage this data for providing suggestions to users and also auto-completing their query & provide a guaranteed solution that worked with the past similar user's query.  
Around the Clock Conversation Support: 
The support department in a business is not cost-feasible when it comes to providing 24 X 7 customer assistance. This is a situation where chatbot technology becomes handy and cost-efficient to be adapted for providing a solution for all the worldwide traffic which arises at diversified GMT. On your business website, there always needs to be someone for greeting and guiding the visitor towards the product or service which they are seeking for.  
Action Automation:  
Chatbots have taken user experience to a whole another level where tasks like appointment booking, registration payment, feedback, signup, subscription, or document downloading are handled by them. This prevents the possible time and effort lag that arises in manual management over the call or personal visit. This makes chatbot a perfect example for Digitization & Automation running parallelly for business solutions.  
Diverting the ticket: 
All preliminary user requirements on a website can be satisfied with chatbot integration but there might arise some scenarios where the user is not satisfied with autonomous assistance or the chatbot fails in understanding the user's problem. This is the situation where the chatbot transfers the assistance process to a live support team. 
At Kevit.io we build automated AI-solution which are specially tailored for deploying on a respective business domain and making a significant difference in lead generation & support management. Our expertise revolves around delivering AI-Chatbot that provides a great  customer experience.
You can visit us at Kevit.io or mail us at coffee@kevit.io for availing a free chatbot demo for taking 1st step towards growth hacking their business! 
Automating business processes with Kevit.io is now just a click away!