How Conversational Commerce is evolving the way we shop?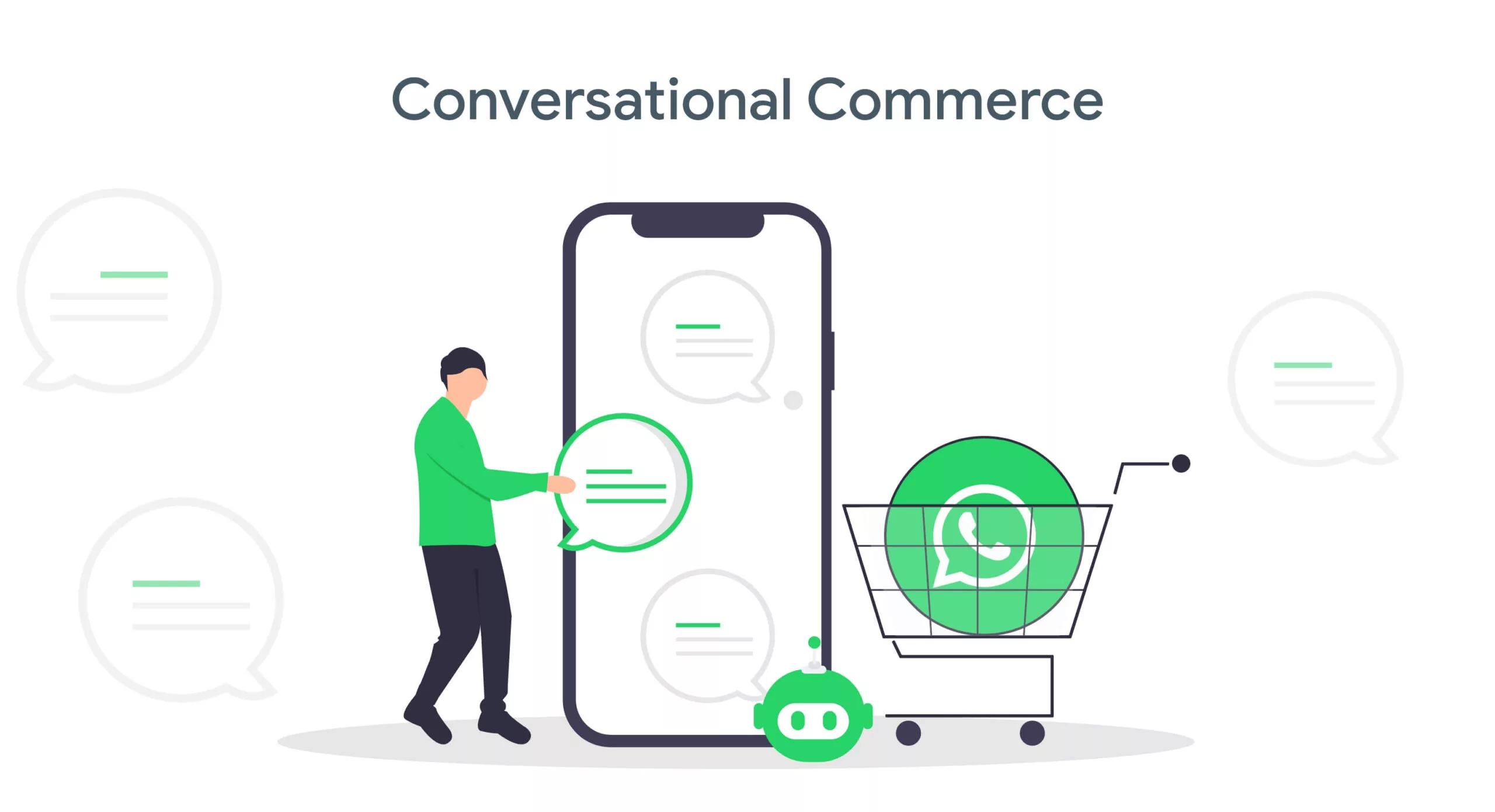 November 12, 2020

Priyanka Shah
Could you just imagine if your business was an actual human with emotions & thoughts, and most importantly which use to communicate with customers. Well, that is how WhatsApp Chatbot automates, it pretends to be a human that we can interact with through a chat. Wherein we can talk to bots, much like we would with any other contact in the list, to get the  updates or even to get something done, more it facilitates brands to coordinate with their customers instantly, at ease and in a customized way without making their audiences to mislay on their comfort zones.
Bot lets you harness the power of customized product suggestions to boost more sales. Why does this work so well? First, a bot converses in a friendly, back-and-forth style with prospects. It makes shoppers feel comfortable like they're chatting with a friend, in a way which results low-pressure situation where the customer is receptive to product recommendations.
Initially, conversational commerce made its emergence back in 2007. During the time, Joseph Jaffe wanted to learn marketers' ways to re-engage with their customers via dialog, community, and partnership. Through the power of community, dialogue and partnership, marketing can be a conversation. He stated, "There are literally millions of alive, flawed, human, passionate, influencer and authentic conversations going on around you right now: isn't it the time you join?"
How conversational commerce changed throughout over the years? 
Previously, while interacting with consumers, these conversations drive in person and further we transfigured to digital interactions. Do you see the difference among the same?
User behavior changes when interactions are meaningful. What this means is, the customer journey isn't as deep, when the interaction between the customer and the business can shape a relationship. In doing so, the customer will establish loyalty because they feel they can trust the brand and they feel like the company cares about purchase consumer made or the services they're using.
Buying journeys feels that happened, whereby the customer enters a store and been greeted by a customer service representative. Rather entering through a doorway, consumers are now tapping a single click. WhatsApp bots are greeting them in a similar way and giving them that warm gesture they may be familiar with before and, by engaging with the user. Also, bot uses back-and-forth style to question users on their needs. Which can find out more about their preferences, budget, etc. So, by analyzing the preferences bot shares the products that will best fit a particular shopper. Customers indeed are sharing their interests, issues, and what they want bots to help and complete every stage of their buying journey.
Let's understand by an instance.
Envisage strolling to the store, eyeing for a cute dress, in a manner sales clerk will understand your preferences regarding styling, size, range, etc. and present you with the options that are available at the store which meet your requirements.
Sales clerk will even recommend dresses that they feel you would like, based on how the conversation drives. Once you've found a nice dress you like, they'll utmost do their best to convince you to make the purchase.
Eventually, if the sales clerk does their job right, you walk away a happy & satisfied customer with a cute dress you like, and the store closes a sale. Everybody wins!
Now, imagine the same scenario being portrayed through a WhatsApp Chabot, to be precise what conversational commerce is all about.
Besides, virtual shopping assistants bring a human touch to any eCommerce transactions which tend to be highly process-driven.  When guided by an assistant whose helpful & have much knowledge that sound alike human goes a long way in improving wide customer experience with the brand.
The rapid advance of conversational commerce
Customers are always impatient they seek to get answers to their queries quickly, on fast-moving environment, no one has time to be on hold. "Fast and versatile" – what more could you want?
According to Facebook survey, 53% of the respondents say they are more likely to shop with a business they can connect via chat medium.
Over the years, conversations have become the most favorable way of getting things done especially among Millennials, who spend ample amount online than any other age group and represent a combined $200 billions of buying power in the United States alone. Hence conversational commerce is not just a trending, but in fact an essential for future brands, and retail brands.
83% audience contact businesses to find out more about their products or services.
76% of buyers write or speak to businesses to get support with their purchases.
75% get in touch at some point to make a purchase.
Up to 44% of consumers have used bots, and almost 50% of them are open to buying items during their interaction with the bots.
80% of businesses say they already use or plan to use chatbots as a contact service for customers.
Let's take a closer look at the ways your conversational commerce can benefit from WhatsApp bot which improves in customer experience.
1. Greet potential customers and ask if they have any queries
2. Remind customers about abandoned carts
3. Engage more customers and extend On-Page time
4. Collect first-party data from prospective customers
5. Provide content and products to customers according to their interests
6. Provide quick around-the-clock customer support
7. Notify customers about promotions and deals
8. Humanize your brand
If you haven't been engulfing WhatsApp bots onto your conversational commerce business, you're missing out. There is truly a lot of scope for strengthening your businesses as well as driving your sales with WhatsApp bots. Prospect with whom you seize well are easier to retain. Employing a WhatsApp bot could truly be one of the best investments you could make for your business.
Know more about how you can integrate this technology into your business by getting in touch with us via coffee@kevit.io or you can visit us on Kevit.io.
Automating business processes with Kevit.io is now just a click away!