How our dear "WhatsApp" made a great leap over voicebots?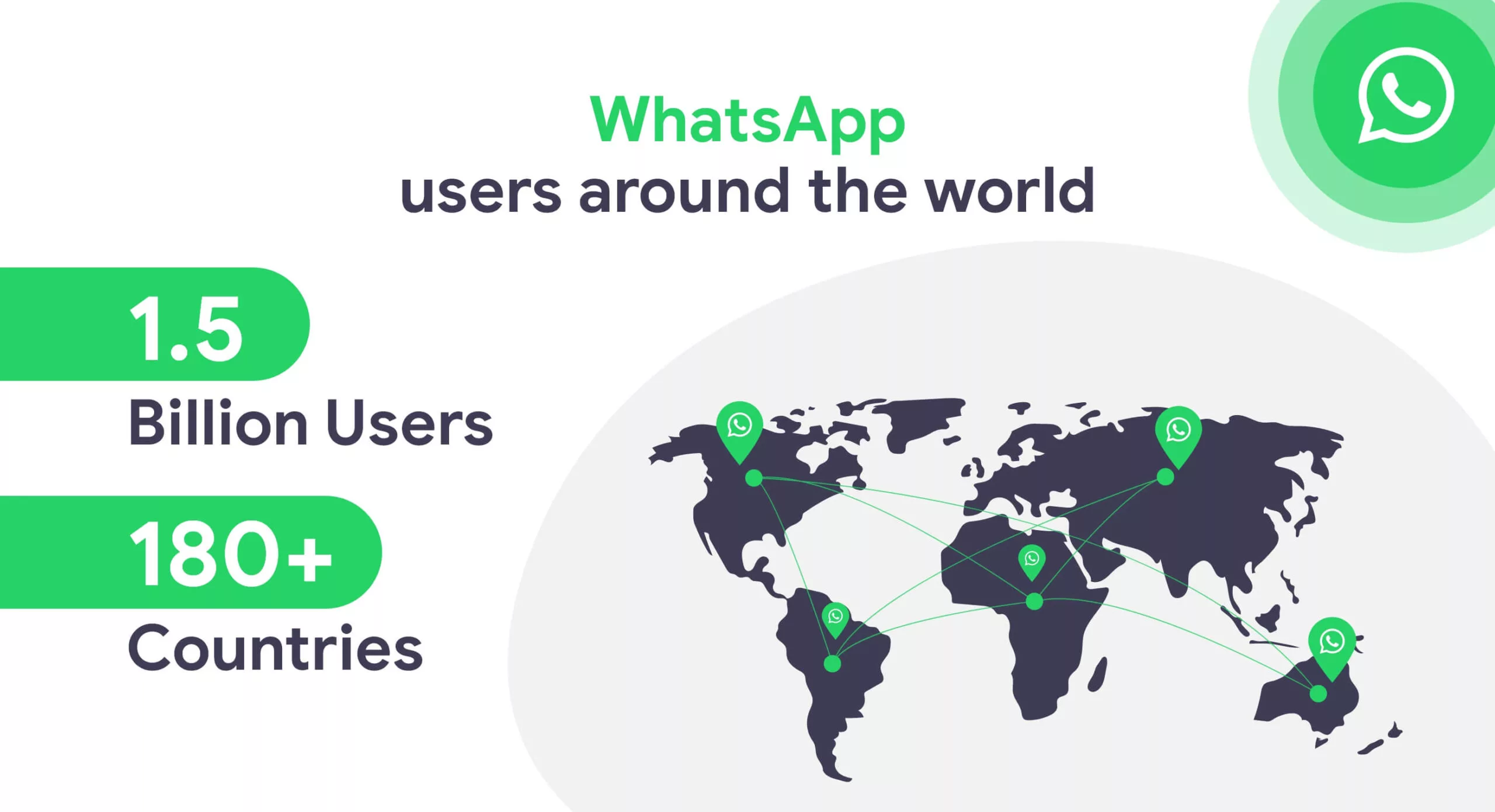 November 12, 2020

Priyanka Shah
Introduction to the chatbot world
The emerging scenario of chatbots flooding in our lives, which we are observing for a decade is due to the necessity of avoiding human intervention in repetitive tasks. We as a human race see ourselves to be built for doing smart work rather than being unproductive in monotonous tasks. The motive behind any machinery & technology is to reduce human efforts and archive a high standard of living and operating in the corporate world.
When e-commerce got trend, online business entities always had service delivery the most critical and weakest point. This was made strong by the integration of Conversational AI which took stands for delivering the best customer experience around the clock and became a basic need for any e-commerce business which wants to span their wings in the online market. Deloitte market analysis suggests that this is just the beginning of the AI era and in near future, all conventional marketing strategy will be overtaken by conversational AI.
Is WhatsApp the chosen one?
Having its roots in more than 180 countries and hearts of 1.5 Billion people, no one has doubt regarding WhatsApp being the chosen one. WhatsApp's simple operating, lightweight interface, and multimedia support made its popularity grow over these years as the best platform to integrate your chatbot too.
The best practical way of bridging the business-customer gap is to get down to a mutual platform where the presence of your audience is easily acquirable. Globally 68% of people had shown their inclination towards preferring message chat over oral, which is why chatbot assistance became a key concept in converting your potential consumer into successful leads.
WhatsApp over Voicebots -
1. Easy Adoption
An urge towards constantly seeking for evolution has made mankind climb to the top in the food chain and come out as the ultimate species, this implies on chatbot too. An application made around the concept of easy adoption will obviously be trending and will become hard to substitute. That's the reason why WhatsApp Bot is preferred more in customer support as our voice-bot technology is still bound to language, accent recognition, and limited to bookings or searching for particular operation trained for.
2. More Control over a conversation
We all understand that voice-bot is still a developing tech which has a long way to go, on another side textual chatbot deployment on platforms like WhatsApp have boon the business industry to drive customer through particular predefined pathways which ultimately leads to goals predefined by the business. Being in charge is the main aspect of the business which makes a chatbot's reliability in CX development.
3. Personalization touch
When seeking for customization while implementing conversational-AI you drastically run out of option in the voice-bot segment. On the other hand, WhatsApp featured chatbots will flourish you with populated customization options like business profile, customized greetings, use of graphical emojis, and many more. Connecting with a customer in real-time is the necessity of any business and while chatbot has sentiment analysis it should also unveil the sentiment of support too; chat makes it easier than an audio communication.
4. Unlimited Applications
Statistical research by SalesForce stated that 58% of users have confirmed that relying on a chatbot for customer support was the best decision as compared to voice-based assistance. When dealing with such a generic approach the simplicity makes WhatsApp applicable in every business domain. No matter it is the healthcare industry, a boutique, or a flower shop WhatsApp Chatbot got your back for delivering satisfactory customer experience. On the other hand, voice assistance is still a privileged tech that needs a hard introduction to new business sectors and comprises lots of efforts and training.
5. Enhanced prospect analysis
Data mining is the key necessity to track your business growth for aligning goals in the right direction. The chatbot will be your compass in this journey guiding you in the right direction. Customer feedback, contact details, personalized requirements, and many more are the crucial insights catered by WhatsApp chatbot which is nearly impractical for a voice-bot. Pooling data will allow you to trace patterns and crack the code of growth hacking your organization and shooting up the business in no matter of time.
6. Notification through broadcast
Broadcasting is the facility provided by WhatsApp Chatbot for acknowledging your followers regarding offers, new stock arrival, any even or news. This helps in seeking attention and getting sales which are not possible in voice bot. Is every herd Alexa proactively speaking regarding offers? No. Adopting the widely preferred WhatsApp chatbot platform will unleash the real potential of sales that your business has to outperform in the respective domain.
Top 4 Brands leveraging WhatsApp for their customer assistance: 
This is the brand that is the most trending digital TV service provider. Recognized as one of the best sellers in India for setup box the SKY and TATA collaboration has made record-breaking sales figures which were possible through efforts made in improvisation of customer support. The key player here was 24X7 chatbot assistance for providing details like balance, current plans, and offers to their consumers. WhatsApp was the platform chosen by a visionary company like TATA for deploying their chatbot on to.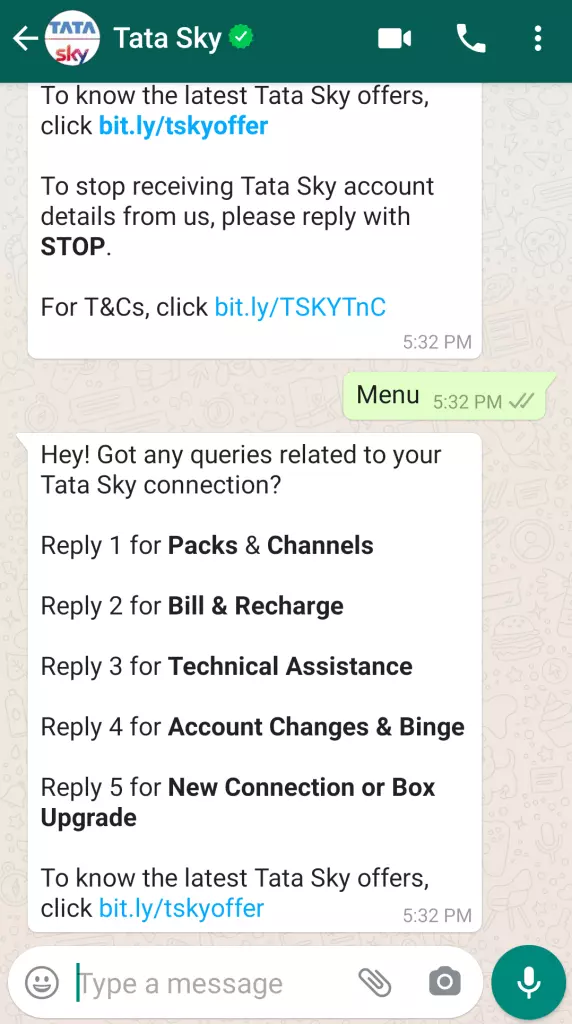 WhatsApp has always been the only choice of entertainment lovers and when it comes to movies, events, and seminars this app serves to hold the most potential. With this market analysis BookMyShow, one of the most used online movie booking apps integrated WhatsApp chatbot functionality with their existing email and message assistance. They observed a significant increase in the number of satisfying customers through serving details like venue location, ticket, QR code, and confirmation on the WhatsApp platform.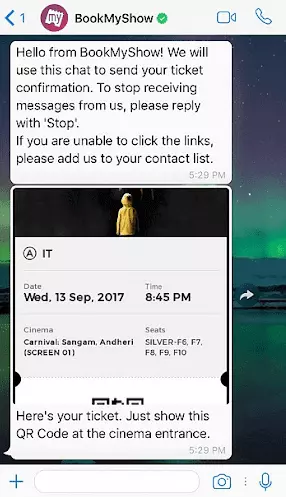 Groww – A Mutual Fund Investing App
Businesses having their feet in investing domain are the one who requires best customer support for obvious reasons. Monetary investing is a task which is accomplished by making a customer trust on your suggestions for their future gains. This business is a no joke and requires a monotonous plan explanation to every other customer, mental fatigue is prominent when going with human intervention for support. Integrating the WhatsApp chatbot for these tasks has relived the support team of Groww for focusing on most complex queries and training the bots for new schemes.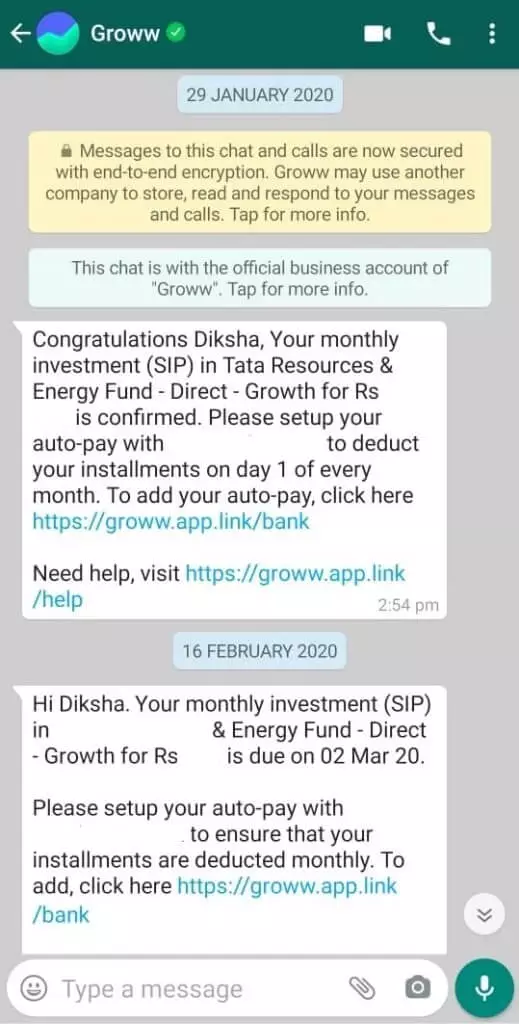 One of the foremost brands in mobile manufacturing is Oppo, the first to release their dedicated chatbot for assisting mobile users with their requests for service, accessories, availability, and much more. Their chatbot is named Ollie, which is based on the WhatsApp platform for serving their large customer base. It is confirmed by them that most of their consumers are preferring WhatsApp over other messaging applications.
Being a self-concluding article it is obvious to go with the chatbot platforms which are ruling the heart of people, none other than WhatsApp. Chatbot implementation is for the sure necessity of your business, and after affirmation of this integration being present on WhatsApp is the nested necessity of chatbot integration.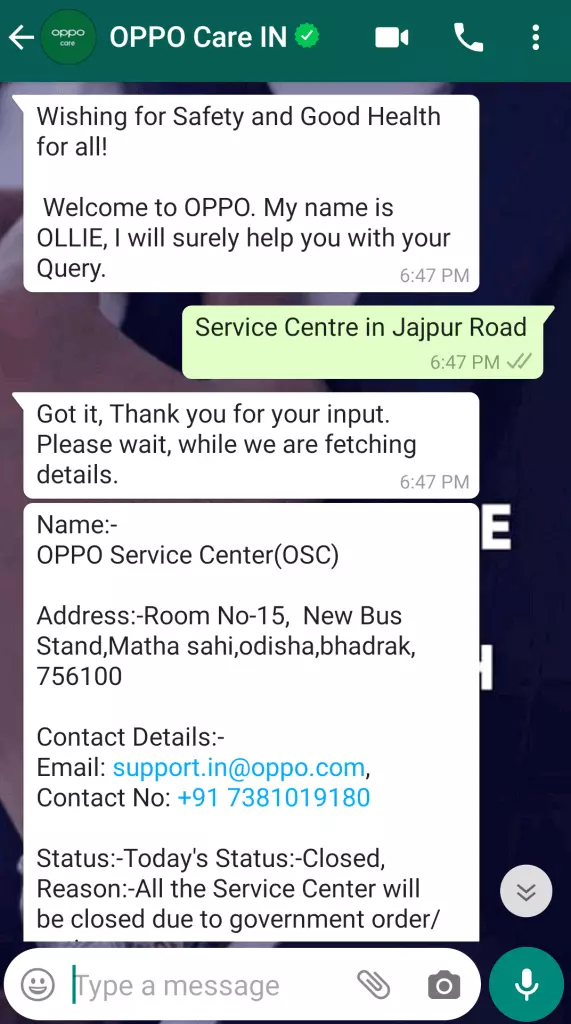 No matter what platform you choose, if you are not going with WhatsApp you are preventing your business from the most app having 5,000,000,000+ downloads currently in the google play store. The smart company makes practical choices, with  Kevit.io  you will be catered with a chatbot that not only meets your expectation but also your customers. You can also reach us at coffee@kevit.io.
Automating business processes with Kevit.io is now just a click away!