Benefits of WhatsApp Chatbot in Hospitality Industry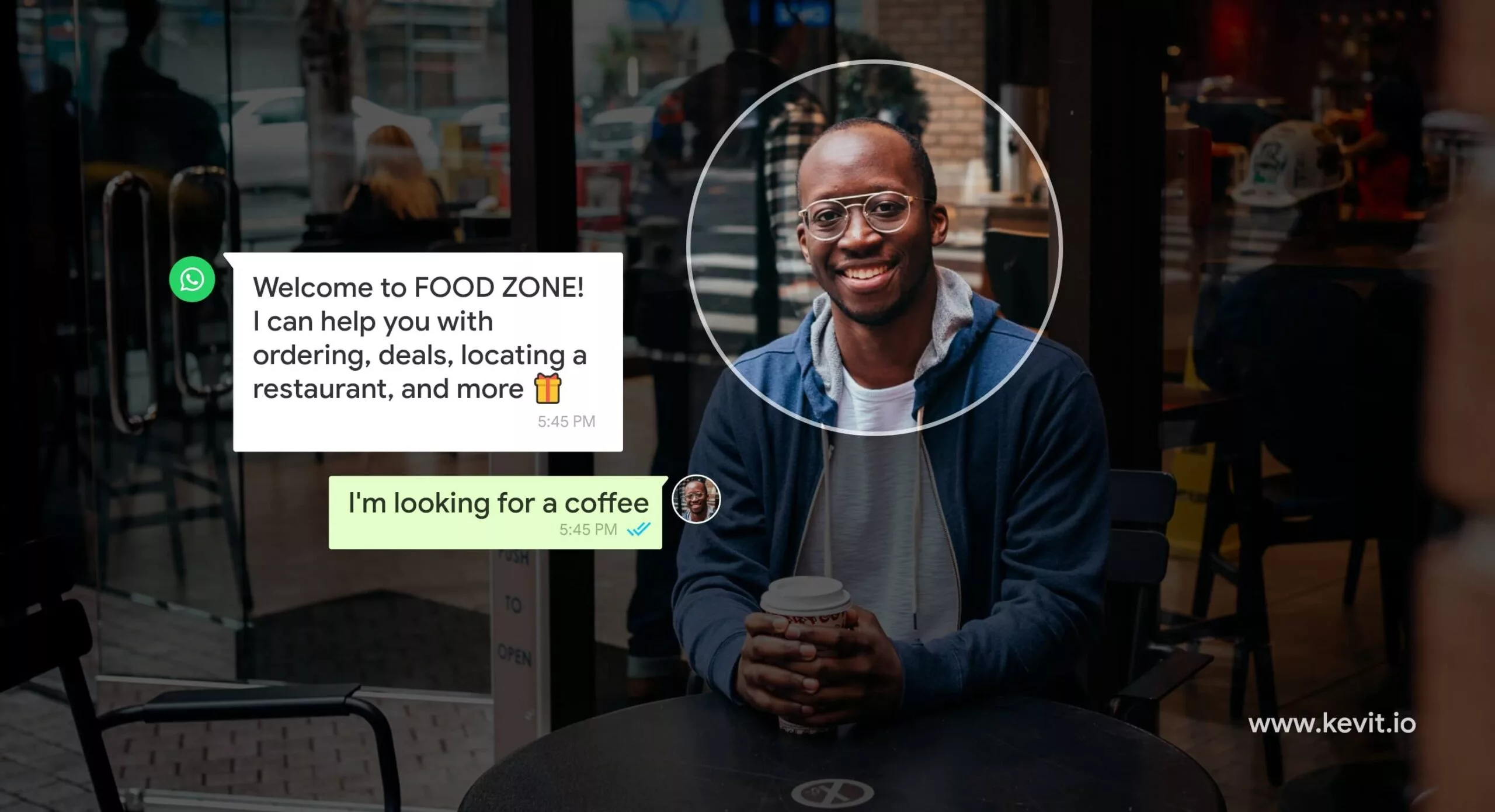 November 12, 2020

Priyanka Shah
Gaming in the market is cool, knowing the market too but being one step ahead of the market is the deal-breaker. And by the transfigure of digitalization, specifically in Hospitality industry does nothing but just that. With technological advancement, the way people now plan their trips, and their staycation have been changed. With the latest technological implementation that has made an impact over businesses from various verticals is WhatsApp Chatbots and it is most doable solution for attracting today's user. WhatsApp chatbot in hospitality industry provides just that, and it has been immensely booming and being utilized.
WhatsApp Chatbots have become one of the most compelling trends of Hospitality Industry which allows that businesses to simulate the behavior of humans within a conversational environment.
Recently a report from Gartner states that it is predicted that 15 percent of all customer service interactions across the globe will be handled by AI support by 2021. In fact, more than half of consumers prefer businesses that use chatting apps.
The hospitality industry is one that bloom on excellent, personalized services, efficiency, and customer experience. Without these factors, businesses in this industry are constrained to struggle.
While hospitality has a very fascinating side, such as the friendly staff and ease of use, there's also the tedious side that a lot of people can find frustrating. Some of them include rates and special inquiries, curation and cancellation of bookings or orders, check in and check out processes, room service at unusual hours, and so much more.
If your guests are not aware of these things, they may end up having an awful experience, which would, in turn, bring a dent to your business. These outdated processes require resources, which can be prone to an error. A WhatsApp chatbot serve hoteliers information faster than a human customer agent does.
Let's discuss how hospitality brands can use WhatsApp chatbots for their business
Accommodation & Online Booking
When the internet delegate people to look up for information on their own, planning holidays became a largely independent venture. Conventional travel agencies lost a great deal of their value for customers. Though, while the affluence of information provides travelers the power to choose the best and most customized options, the decision process has become a more stressful event filled with doubt and indecision.
By enabling clients to start conversations on the web and transfer them through to their favorite messaging app, agents can respond when they're available without losing leads because of awful waiting times.
Many companies are already taking an edge of WhatsApp chatbot. Let's understand by an example,
SnapTravel, a Toronto-based startup in the hospitality sector which is one of the finest & first among messaging-first companies that put conversational commerce to their core value.
Users can choose hotel deals via text, Facebook Messenger or WhatsApp options post sharing deets like city, dates, and budget preferences with SnapTravel's chatbot.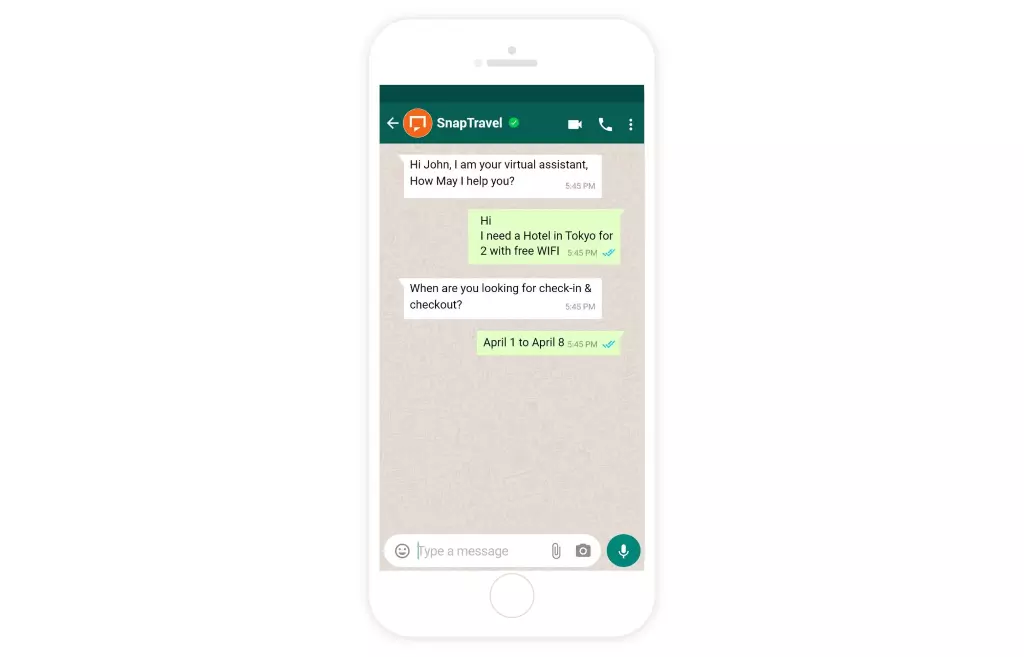 While hunting for Travel, Hotel Booking and Accommodation deals and getting booking confirmations are quite much haste, completing bookings directly via messaging app is still relatively uncommon.
Companies were reluctant to exchange and pass sensitive personal information via channels that lacked end-to-end protection or made payment authentication difficult.
However, the situation in China is very different. There, the most popular messaging app, WeChat, allows travel and hospitality businesses to drive direct bookings across Asia using a special feature called Mini Programs.
In the west, WhatsApp chatbot is soon the game changer. Besides the end-to-end encryption that allows for the transfer of sensitive information.  So, while you can quite yet process transactions via WhatsApp chatbot outside India, the feature is likely to go live globally in the coming months. Today, your users' step outside WhatsApp to complete the payment but not for long.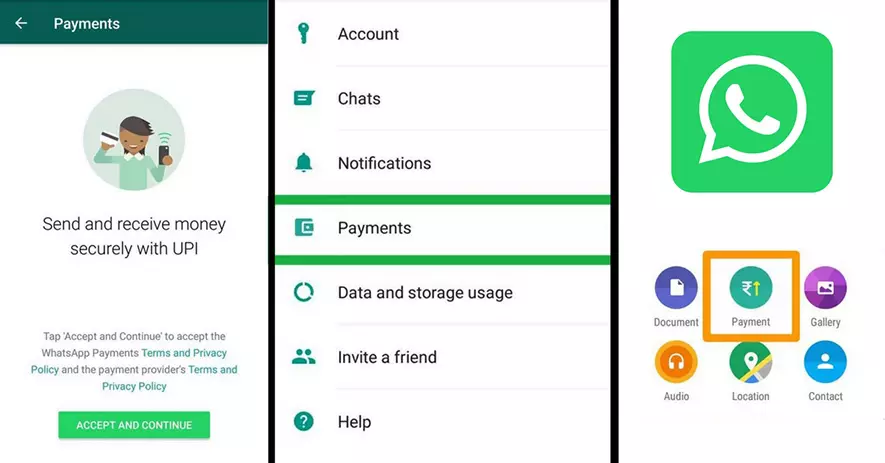 Architecting the Itinerary
Besides choosing accommodation, booking flights and arranging rentals, people spend hours looking for authentic activities and experiences to make their trip much memorable.
From searching for top sights, guided tours, thrilling local activities to the best restaurants, bars, clubs, and cafes, digital travelers leave little to chance. After all, nobody wants their long-awaited holidays spoiled by mediocre experiences.
Hence, itinerary builder/designer/concierge is most definitely on top of the list when it comes to WhatsApp travel use cases.
For instance, asking for traveler's basic preferences, your WhatsApp bot or agent can recommend (and even proceed to book) tailored activities, things to do and places to eat in the chosen destination…
My SWFT, UK startup build its business concept on the messaging-based itinerary designer. The company focuses on helping people organize group trips through WhatsApp or Messenger.

Not all use cases of WhatsApp Business hospitality sector have to be fancy and complex. Providing a fast and convenient way to answer the most common doubts is the best you can do to keep them happy.
You can use the WhatsApp integration to design a simple FAQ bot that answers the most asked questions. But you don't have to stop there
Space to Keep Friends & Family Up to Date
WhatsApp Bots not only allows you to create group chats to connect unknowns. It creates private WhatsApp groups for your customers.  For instance, KLM airline offers a successful example.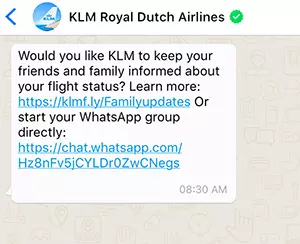 Upon purchasing flight tickets, KLM creates a private group for the traveler. Once the traveler clicks on the invitation link, he or she becomes the admin of the group and can invite family and friends to receive updates about her flight. Such a group is gold for parents whose child is traveling alone.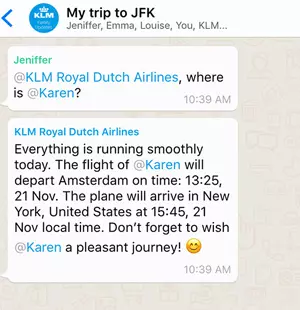 However, this concept is relevant in a multitude of scenarios. Imagine similar groups for cruises, agency-organized road trips or hiking trips. Or any organized holidays that stretch over a longer period and cover different location.
Getting feedback is hard, especially the positive one. Hospitality sector can benefit greatly from designing their WhatsApp service to collect feedback after the fact.
Imagine that instead of clicking on a button inside the email, waiting for a page to load and filling in an often-lengthy online form, all you need to submit a review is a reply to a text message? Plus, the WhatsApp interface also makes it incredibly simple to add images to go with that review and so collect user-generated content by default.
Into this digital era, customers have got many variant options at their fingertips. It is undeniable that today's hospitality sectors need have to adapt to technological advancements to run the hospitality business with increased profit and revenue.
Additionally, since your chatbots will be providing your potential customers by answering all the queries almost immediately, your chances of upsells and conversions will also increase.
To Sum Up:
Flawless bots are potentially filling up gaps into the customer experience for hospitality sectors. At Kevit.io, we work upon your business needs and develop WhatsApp chatbots which suit up your needs in matter of hours. Get in touch with us at coffee@kevit.io or visiting us on Kevit.io. will help you learn more about how you can incorporate this technology into your company.
Automating business processes with Kevit.io is now just a click away!