How to deliver the best CX on WhatsApp Chatbot?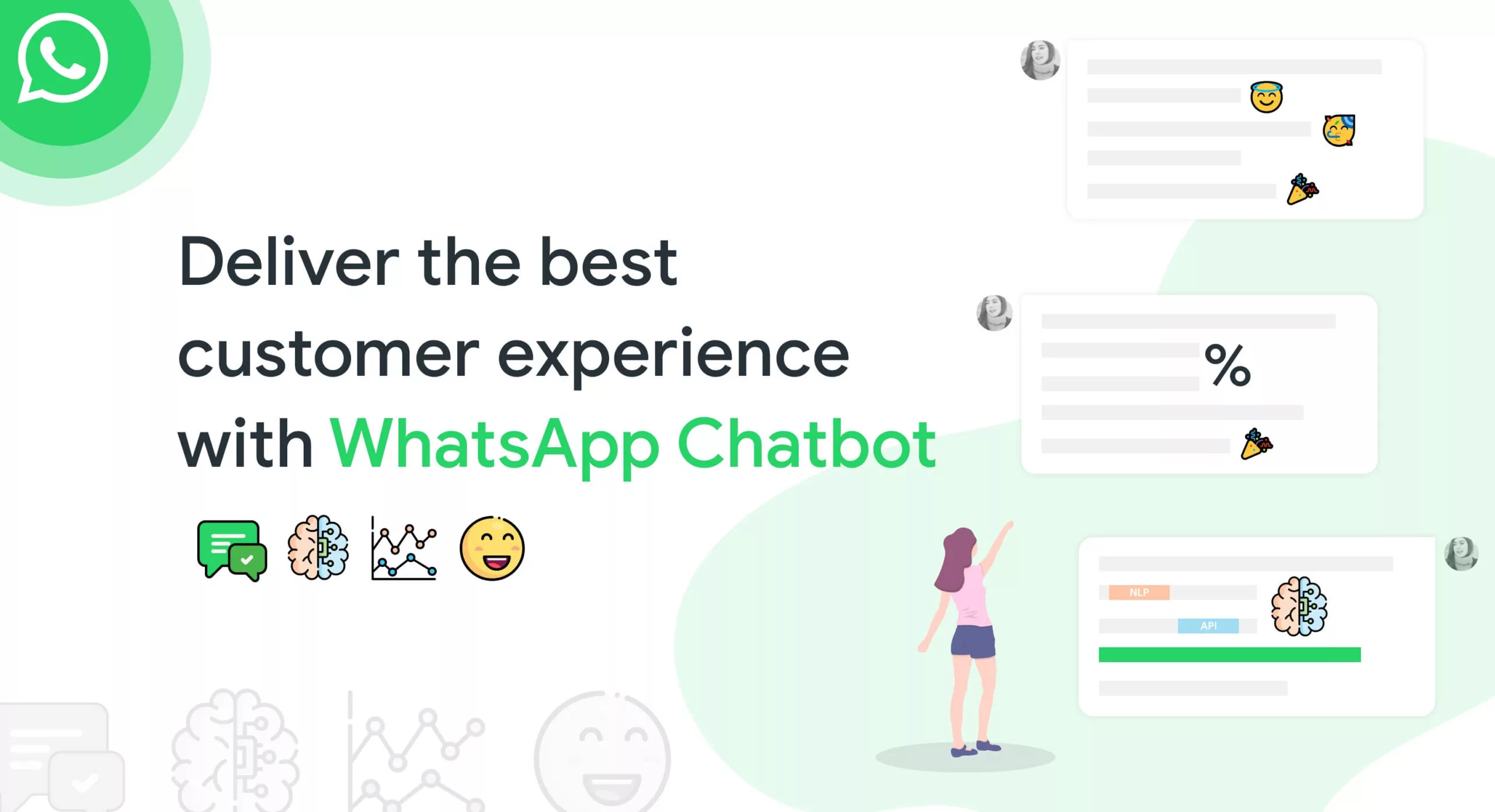 November 12, 2020

Priyanka Shah
2 Crucial decision of any company for better customer experience through a chatbot.
Customer acquisition in 2020 has become a great challenge for businesses around the world as most of the population are preferring to have an online path for availing goods and services. In this race of digital commerce if a business prefers to be primitively inclined towards manual sales channels then it is being deprived of traffic coverage that their competitors are taking benefits from.
After the business accelerating decision of adopting a digital portal, one has to implement the most effective way of customer management around the clock which is Chatbot. It brings a significant difference in optimized conversion rates, creating brand value, and delivering utmost customer satisfaction. Although that depends on what platform you are leveraging for your chatbot to be deployed on? After you have a platform, the next set of nested aspects which have importance in delivering outstanding customer experience are, what all functionality or tactics your chatbot must feature for delivering desirable outcomes?
These are two vulnerable points we will be covering along with justification for the mere company to understand which platform to choose and what functionalities to nurture for a better CX than anyone in their business domain.
Which platform to go for?
After the affirmative decision of chatbot implementation, you might think about which platforms to integrate with. Here, just focus on what your end-consumers are used to. Undoubtedly the best platform for all business domains is WhatsApp chatbot, the only app preferred by more than 1.5 Billion peoples around the world. This platform will definitely cover most of your potential audience for which the assistance would be much easier and user friendly.
What tactics must be adopted for enhanced CX?
Tailormade Chatbot Implementation:
The basic definition of a chatbot suggests that it mimics human behaviour and to do so it must have that human touch while conversing with the end client. This is possible only through a tailor-made chatbot which is designed keeping in mind all conversational aspects as per your business, location, and audience type. The procedure includes populating the database with most raised queries and answers to them along with situational actions by which the existing administrative work gets drastically reduced. Your administrative people can be utilized to handle unanswered or new queries, training the bot, and other productive work which will be deprived of any monotonous tasks.
Leveraging the creative side of the conversation:
When you are facilitated with WhatsApp like the platform it is beneficial to leverage all of its functionality. On of such functionality is the support of emojis, do you know daily 10 Billion emojis are being sent globally. This also gives a personal touch to a natural conversation with a live human being for deployed chatbot technology. Make sure the conversational templates which you are designing are equipped with an adequate amount of emojis which will also add a humorous flavour to the chat window.
Recognition of human chat patterns:
A normal human being when seeking help under pressure or some kind of mental tense is more likely to make typo & grammatical mistakes. This needs to be perfectly handled by the chatbot and must recognize what the opposite person has a query about. The user must also be privileged to send audio clips which is the most effective and fast way to communicate problems. WhatsApp chatbot on the other hand is equally capable to handle all these functionalities with utmost perfection and efficiency.
Self-service integration:
With the evolution of internet technology, the world is more inclined towards getting things done wirelessly. It has significantly reduced the number of customers that used to arrive at a branch for little things like knowing current balance, submitting an application, filing a report for any kind of fraud, and many more, which not only consumes time but delays the expected outcome. Make sure to integrate self-service workflow in your chatbot's conversation for avoiding visits to your premises for work which can be executed by a couple of messages.
Transfer of thread during unhandled query:
It would be a lie if we say chatbots are replacement for humans, the fact is chatbots are just a mere replacement for doing a repetitive task that was executed by humans. We must understand the real calibre of the human race and appoint them to do more of an interactive task like handling queries which a bot is unable to successfully resolve. This will teach it a new perspective and future reference for the same type of queries. If a user objects to not being satisfied after bot's couple of resolutions then it is more sensible to transfer it towards a live experienced person for further problem solutions.
Analytics and Constant Evolution:
Many companies make the mistake of relaxing themselves after the implementation of chatbots in their online domain. The real work starts thereafter, a constant observation of how a chatbot is handling customers is necessary which gives us analytics regarding the satisfied ones and the non-satisfied ones. It is necessary if we want to evolve our chatbot for fulfilling almost every customer query and that too with satisfactory conversions. Keep an eye on data mining which is done by your bot for studying the audience and conversational AI and based on that having sensible changes as well as necessary improvements.
Chatbots are the new face of customer support and efficiently bridging the company to the consumer gap. Stay ahead of your competitors with Kevit.io's personalized chatbot services developed especially for your business domain. Get your WhatsApp chatbot now for your business, you can mail us on  coffee@kevit.io or visiting us on Kevit.io. will help you learn more about how you can incorporate this technology into your company.
Automating business processes with Kevit.io is now just a click away!