Conversational AI: Smart move for the Healthcare Sector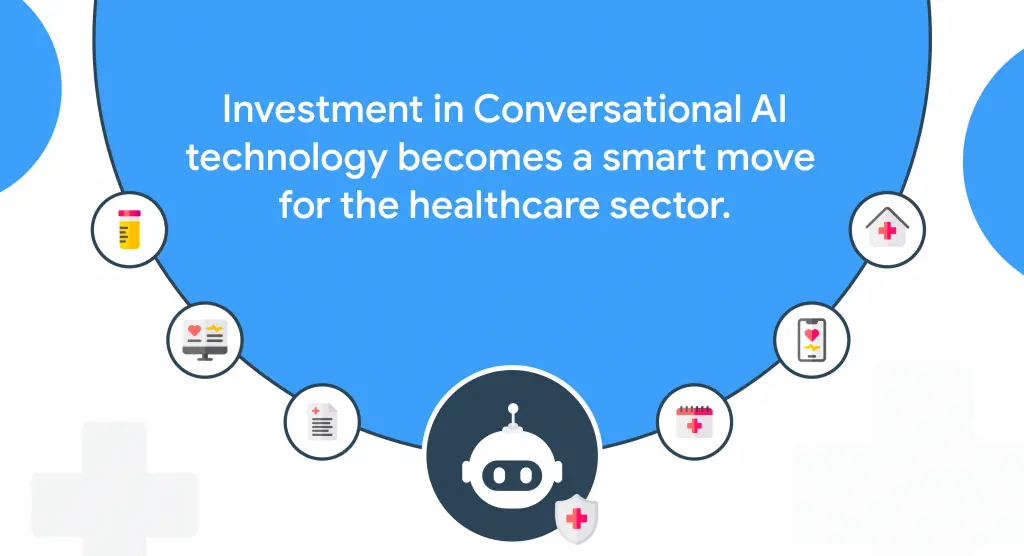 December 7, 2020

Priyanka Shah
The burning problem around the globe that has been faced by entire civilization is lack of access to healthcare facilities and consultation. With the help of economical, political, and technological support this problem is getting addressed. A major part of this crisis can be easily solved with the adoption of technological advancement which is favouring health management and patient handling to be done in an automated way. In this generation, it has become mandatory for every healthcare sector to leverage automation technology and serving this large amount of population. 
Every corner around the world is densely populated and to make sure every person gets adequate medical facility and proper healthcare advice implementation of conversational AI for self-serving most of the preliminary procedures is a must. Family physicians, clinics, and hospitals can get a lot of benefit in reducing administrative workload by having a chatbot for handling their patient's needs and related services like appointment booking, bill generation, online diagnosis, and also issuing a prescription. These are going to be the revolutionary changes that will be benefiting the healthcare sector to save around 150 Billion $ annually by 2026 as predicted by Accenture. 
The patient needs to be at ease 
A person having some health issues is already tensed and, in that situation, they must not be bombarded with long forms, complex calling procedures, or any mundane task. With Chatbot, healthcare services are handled with sentiment analysis where the bot is quite aware of the patient situation and provides resolution respectively. With Conversation AI the user with a simple question can get its desired result with much lesser to and forth steps. This eliminates the long waiting duration period and frustration which comes along with it. Chatbots are designed to have empathy which reduces miscommunication and achieves total satisfaction for health institutes as well as patients. 
Emergency Situations 
Healthcare's emergency administrative are handling very crucial queries and their availability can be a life questioning situation. To ensure only critical and emergency calls are being diverted to them, Chatbot or voice bot implementation becomes unavoidable. These AI technology handles patients queries and other administrative tasks which are not having any requirement of critical attention thus leaving the emergency personnel vacant to serve situation which requires immediate attention and response. Appropriate resource allocation is necessary for the healthcare industry as patients will always outnumber the medical staff. 
Enhanced User Accessibility 
Apart from any kind of pandemic situation, with our workaholic lifestyle, people are getting less time to take care of their health which increases the number of patients suffering from diabetes, depression, cholesterol problem, etc. For these people surviving in a world where time is money, accessibility to proper consultation and scheduling visits become a tedious task. Chatbot here is more useful with their 24 X 7 availability for appointment booking and also providing preliminary advice to user problems till the next scheduled visit. With an accurate description of the problem, an online prescription can also be availed after a doctor's online diagnosis. This purely saves time and people from remote places can also get professional expert treatment without concerns for long traveling. 
A proactive healthcare solution 
Having a big dedicated administrative team tends to be a costly investment and not all healthcare units can afford it except the pioneering health organizations. With the alternative solution to this issue, Chatbot deployment can be an assistant to your patient for reminding them regarding their medicines, timely check-up visits, self-monitoring their health variables, and auto-scheduling their appointments. These proactive steps from advanced technology are saving millions of lives every year and making the patient meet their health goals. 
What Makes Kevit.io – A perfect Healthcare Chatbot? 
Triangle for selecting a trustworthy healthcare chatbot consists of majorly three aspects which are modularity, situational adaptability, and data integrity. Our solution covers all of the aspects to be one of the best healthcare chatbots, where its modularity makes integration with any platform easy and acceptable. Chatbots are smart but during a critical situation, Kevit.io's Conversational AI can transfer the thread towards a live agent which will address the situation more efficiently. Data security is a concern which must not be taken lightly, our chatbot deployment comes with end to end encryption for defending any sensitive information from possible data theft or hack. 
The majority of lifestyle business domains are leveraging chatbot technology, but why healthcare sectors are not? Being one of the most important pieces of our civilization's survival, the healthcare sector must be privileged with advanced tech. At Kevit we deliver the ultimate healthcare chatbot solution to meet the 360-degree demand of any medical organization for their patient's administrative activities. For more details visit Kevit.io  or mail us at coffee@kevit.io .
Automating business processes with Kevit.io is now just a click away!