All About AI Chatbot That You Need To Know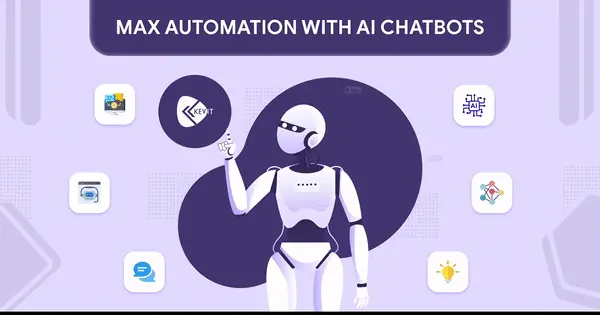 December 21, 2021

Priyanka Shah
Chatbots and AI are nothing new, even to the school-going kids. While Chatbots are known to start the digital revolution and got the ball rolling, credits go to AI to keep the ball rolling. If you want to know about AI chatbots, then you're on the right article. Read along with Kevit.io and know how we set an AI chatbot for an American Health Organization. AI Chatbot is the way now and you'll know why soon.

What is an AI Chatbot?
AI Chatbots or Intelligent Virtual Assistants- are all about chatbots making decisions, recognizing human language and translating into computer codes and continuously learning. On the other hand, rule-based chatbots only follow the predefined guidelines and no more outside those written texts, while AI chatbots are Natural Learners who can provide a more interactive and personalized experience to your customers.
What AI Chatbots are composed of?
What makes AI chatbots the best propeller across the spectrum of automated communication is a healthy combination of the following factors:   
Machine Learning
Natural Language Processing
Deep Learning
MACHINE LEARNING   
Consisting of data entries, datasets, algorithms and varying features with continuous improvements and updates in them, Machine Learning (ML) can be defined as a sub field of Automation or Artificial Intelligence (AI). Although, with user inputs and experience, these mentioned algorithms and features get better and better and there is no going back. Hence, betterment in predictions and customer support is what is targeted and eventually can achieved over the years.  
NATURAL LANGUAGE PROCESSING 
he current method to analyze language along with ML is Natural language processing (NLP). We can trace the progress of ML back from linguistic processing to computational processing to statistical NLP. But the future holds space for deep learning and how it will contribute to the advancement of Natural human language processing capabilities, chatbots includes 4 steps:  
Input Generation   
Input Analysis   
Output Generation   
Reinforcement Learning  

 
Input generation
:
Any input from the users like their personal information on websites or for creating an account on any platform is considered under Input Generation. However, input can either be voice or text.  
Input analysis
:
All the data gathered from input generation is processed and analyzed, mainly to understand each user and to be able to answer their needs. Text-based input will be evaluated using the natural language understanding (NLU) to decode the meaning of the input to our AI buddy and to get what its intention is. However, on the flip side, speech-based input will need a healthy mix of automatic speech recognition (ASR) and NLU to analyze the data.  
Dialogue management:
Here we discuss the automatic conversation that the chatbots will have with the users. Therefore, after analyzing the user's query, Natural Language Generation (NLG), a component of Natural Processing, helps formulate a response.
Reinforcement learning:
ML algorithms refine responses over time to ensure accuracy and clarity.  
DEEP LEARNING  
Deep Learning again targets learning from experience. So, every new user is responsible for improving the bot and ensuring more efficiency. Additionally, it's also on AI experts to keep chatbots and voice bots updated for finer performance. 
How

do

AI chatbots work?
In a nutshell, it involves artificial intelligence (AI) and NLP to simulate a conversation with humans. Through ML algorithms, the conversational AI can recognize patterns in user input and respond accordingly. Therefore, this makes it possible for computers to understand actual language as spoken by humans, as well as return appropriate responses. Below is the process which explains how it works in a simple way: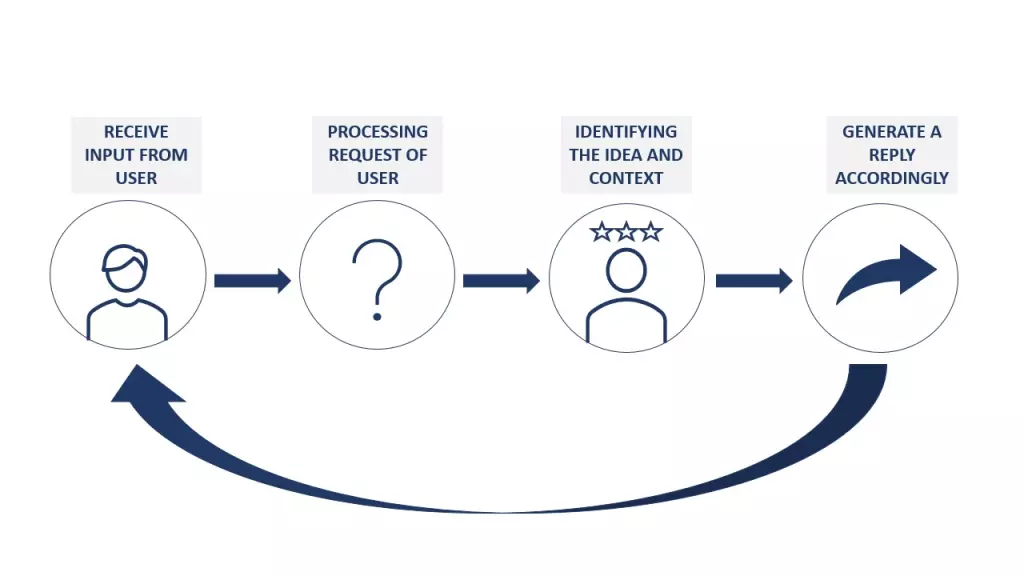 Benefits of AI Chatbots:
You know you need to face this question when your company has to hire additional human help or human resources for solving customer queries and needs help maintaining an interactive environment. But the downside of this includes tons of costs like hiring and training costs. We will pay employees' monthly incomes after all this.Comparing all these costs with the investment of installing an AI Chatbot will tell you how much of a smart and cost-saving plan is the latter one.  
So, a better approach? AI chatbot solution. Some of the advantages that AI chatbots provide are: 
1. 24*7 Availability:
Whether in working hours or non-working hours, AI chatbots make sure that no customer is left unattended, and their queries are answered all day, every day. So, this allows brands to share a constant support experience.  
2. Engaging and multilingual content:
Any content that is personalized and meets the user's requirements will always sound engaging. Smart media like audios, images, videos, reply buttons and list messages too can make your content enthralling. Also, AI chatbots are smart enough to adapt to multiple languages and hence customers can expect responses in their favored languages.
3. Reduce x3
:  
          Reduce Average Resolution
          Reduce Average Handling Time
          Reduce Operational Costs with AI Chatbots.
4. Commerce is Conversational

:
Experience better customer service which is both cost and time effective and also gather feedback to gain customer loyalty with these smart bots.   
The Evolution from Chatbot to Conversational AI Assistant: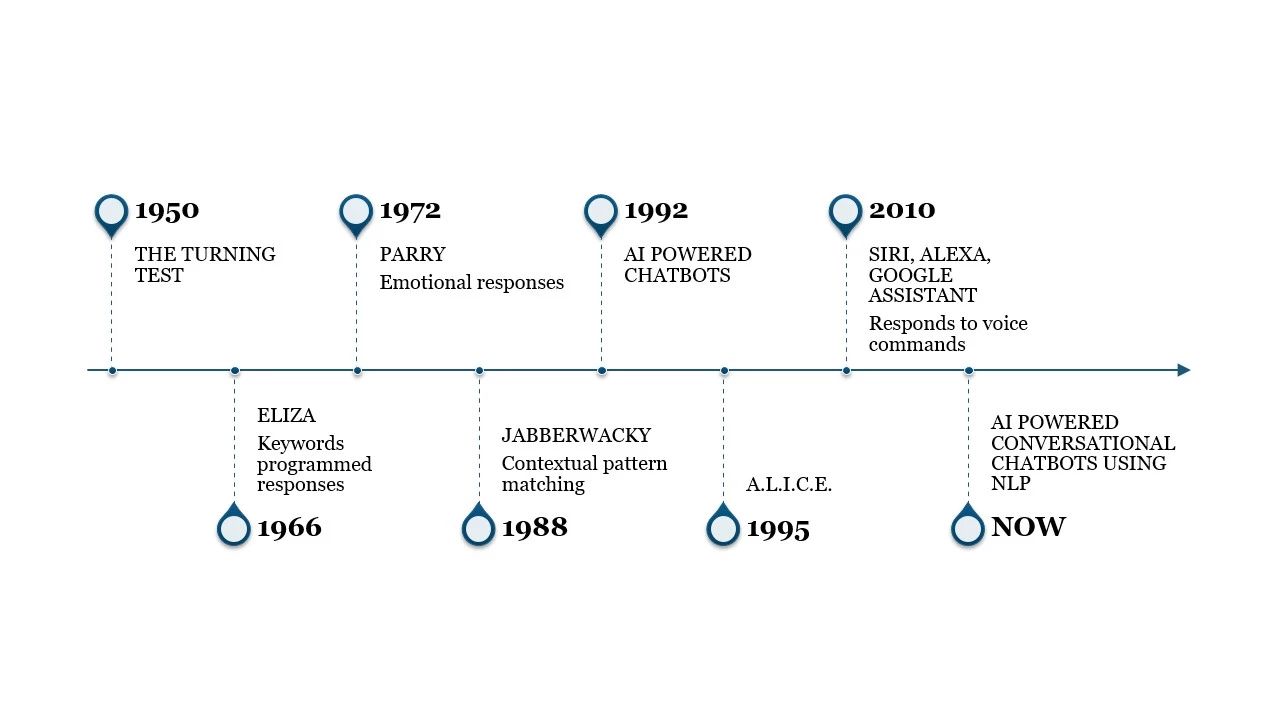 Kevit.io's

Solution with AI Chatbots
Kevit.io's automated customer support automation for R3 Stem Cell, which is an American health organization that offers therapies that harness the body's regenerative capabilities to bring patients hope and options. However, the organization is popular for its Stem cell therapies.  Thus, for this treatment, they have been receiving a huge number of questions each day.  
The key objectives of this platform included:  
Handling FAQs 

 

Booking appointment with the experts 

 

Lead generation

 

24/7 Availability

 
The AI-powered chatbots provide awesome customer care services on multiple channels – Facebook and Web. Therefore, a single bot is handling the work of multiple live chat agents, plus now it has some more capabilities too –  
Automation in daily customer questions  

Customer insights with Analytics  

Admin panel with bot training capabilities  

Human handover  

User Chat transcript 
Kevit.io is here to build journeys and streamline conversations with AI Chatbots to help you reach your customers on multiple channels with interesting and engaging content. Therefore, mail us at coffee@kevit.io and check our services at Kevit.io for more cognitive AI solutions.
Automating business processes with Kevit.io is now just a click away!