Shopify store with Chatbot: A powerful transformation!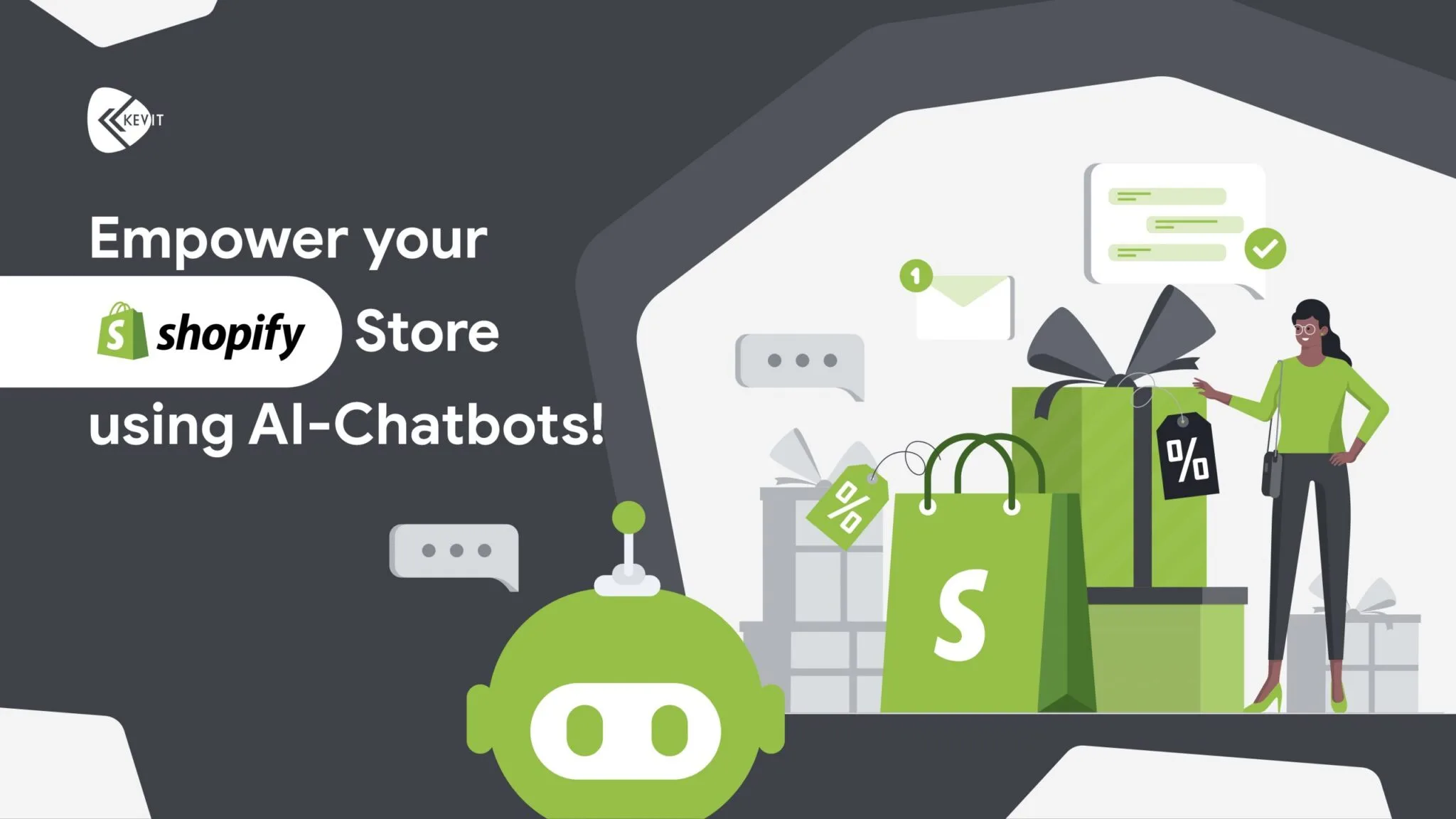 March 26, 2021

Priyanka Shah
In recent years, chatbots have come a long way. Businesses are getting attracted towards ways to automate operations and chatbots are one of the favourite tools to get the things done in a complete automation. But the great thing about chatbots is they didn't let you lose the human touch in the rase of automation. They are not just the best helpers but have evolved the way businesses used to communicate with their customers.  
E-commerce industry was growing as expected up until the COVID-19 pandemic head up and give the incredible boost to the industry's growth. The pandemic highlighted e-commerce advantages in more convenient and realistic way which was never presented this way before. Shopify is one of the most popular e-commerce website platforms. It let businesses to create their own e-commerce store in one of the easiest ways and it's also easy to manage and go live. Currently, more than 500,000+ e-commerce businesses are using Shopify. 
Shopify also provide many plug-in options to integrate third-party apps and automation tools. Chatbots have proved to be of quite a help in evolving the future of customer support and automation. Creating chatbots for Shopify can be exceptionally useful for assisting customers.  
Here are some of the Top benefits of using Chatbot for your Shopify store – 
1. Recover Cart Abandonment 
As per the research, 70% of customer don't buy the products after adding them into cart. The reason may vary, but to reduce any percentage of this rate can be very beneficial for your business. And to motivate your customers for completing the checkout process with that cart, chatbots knows the job very well! A chatbot can help guiding your customers through their shopping journey and make sure that customer find what they want and buy. It simply feels the gap between users and your store which was missing from terminational e-commerce. 
Sometimes user can get distracted by something and forget to place the order after adding item to the cart. Chatbots can send them reminders to remind them about their cart abandonment.  
Sometime navigating through e-commerce store is difficult for user and they don't find necessary help at the right time. Chatbots can be there to help the user 24/7 and help them through their journey, so they don't leave the cart due to leak of knowledge and help. 
Customers may leave the cart abandoned at the last minute after seeing the high shipping cost or additional costs. Like physical store, chatbots can motivate user to checkout by offering extra discounts and exciting offers. 
2. Customer Service combining Human touch 
Chatbots are here to take care of customers and business owners as well. They are great with queries, routine tasks, and customer service. Considering all these features, chatbots can be the best tool for customer support at your Shopify store. By taking care of common customer inquiries, chatbots can empower you to use valuable time for more complex tasks that require a human touch. They are not here to replace human but they are here to help business owners to reduce costs on repetitive tasks.  
So, automating customer inquiries at your Shopify store & answering customer questions immediately is the best thing a business can do for their customers as well as for themselves using Chatbots. But sometimes a bot fails to answer these questions because we cannot guess unexpected questions a user can ask and user end up getting irritated. For situations like this and sensitive issues like payments, chatbots can handover the conversations to you or live chat agents so the customer get proper solution. 
3. Marketing and Sales – Hit the right spot 
Chatbots can improve a part of business that never quite carried over sales and marketing. They offer more engaged and private communication on multiple channels. That makes them one of the best platforms for businesses to explore conversational commerce as an added channel for attracting new customers, selling your products and supporting customers directly. 
Unlike other marketing tools, chatbots are not only good at keeping their customer engage for long time but also great for retaining them. They catch visitor's attention and engage them by delivering relevant information regarding the brand, products, and services. By serving on multiple channels including social media platforms, they can reach to wide audiences. So, whether they visit your Shopify store or not, you can still attract them on a platform where they are already present.  
Interacting with this much wider audience, chatbots can help you collect important demographic analytics which can help you create great marketing strategies that never fails, which initially helps opens new opportunities for you to increase sales. 
4. Products browsing & Shipping updates 
Not only answering customers' questions, but chatbots for your Shopify store can help your users to easily explore the products, their categories, subcategories and more. A well-trained chatbots can also let user find the specific products by just writing names, and also answer product related questions. Chatbots can display on going discounts, offers and deliver discount coupons seamlessly. This way chatbot delivers delightful shopping experience with user-friendly conversations.  
Chatbots can use cards, carousel and buttons to display your products which makes it easier for your users to find the right product. And no need to mention, if a customer can find the product that they want right away, it can ultimately lead to conversion. 
When customers shop online, they prefer to get shipping updates. You can use chatbots to send shipping updates. Your customers don't need to open emails and click on the tracking link and enter tracking number to know the update, it's all automated.  
AI-powered chatbots can seamlessly integrate within your Shopify store alongside live human agents. At Kevit.io, we are known for empowering businesses with AI managing the simple queries and frees up your human agents to focus on more complex questions. Get higher customer satisfaction, lower resolution time and reduced customer service costs using Kevit.io's conversational ai for your business. Let's discuss your idea! Schedule a Demo now or mail us at coffee@kevit.io or visit our website at Kevit.io.
Automating business processes with Kevit.io is now just a click away!