The What, Why And How of WhatsApp Automation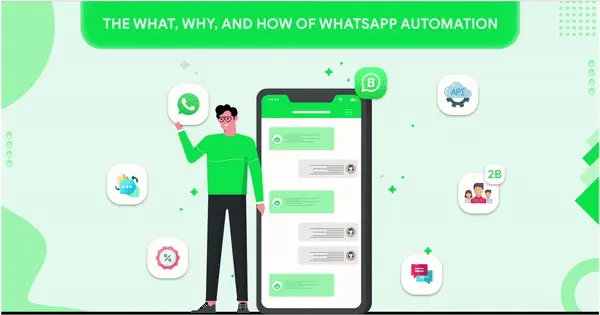 October 5, 2021

Priyanka Shah
"Lack of speed" is something every company is dreaded of and tries to avoid as much as possible but once your firm is associated with this term, it will always tag along with your brand name. This can come from losing a customer too. A brand can always lose a customer because they didn't respond back in time. This loss in numeric form can be expressed as an expensive one because attracting a new customer in today's time has proved to be 7 times more than clinging to an existing customer. 
It's actually a chain that starts when you provide slow services. Slower services are followed by customer's anger and frustration, which swiftly translates into unhappy customers and a bad customer experience after which 51% of the customers will never do business with that company again.  
But the question that now stays rent-free in every brand's mind- Is there anything we can do or is this situation inevitable? Positive! If you have already started looking for new ways that can bolster your customer services, then there is quite a storm brewing right under your nose — brought to you by WhatsApp.  
What is WhatsApp Automation??
WhatsApp Automation is a procedure that enables companies to use the WhatsApp Business App or WhatsApp Business API to automate their customer communications. Businesses can send WhatsApp messages in bulk, schedule messages, and quickly respond to customer inquiries by using the automated message flow, which can be created using the WhatsApp Business App or WhatsApp Business API. Businesses have the chance to enhance customer service and raise the rate of customer engagement through automation. The WhatsApp API enables functions like customer conversation tracking, grouping contacts, and sending mass messages to many contacts at once. Your business can save time and become more efficient by automating communication on WhatsApp, freeing up your time to work on more crucial tasks. The collection of APIs collaborating with WhatsApp messenger running with the help of an Android emulator is WhatsApp Automation. This allows developers to automate messages, sending the same messages to multiple contacts and adding new contacts.
The project uses Selenium, Appium, Python, and Android Virtual Device Emulator.  
Why WhatsApp Automation??  
WhatsApp statistics are the answer themselves here. With 2 billion active monthly members from 180 countries, WhatsApp screams incredible reach to customers worldwide. We gave 100 options to use but WhatsApp sounds the easiest one and everyone knows why. Along with being the breeding ground for customer interaction, it's possible to automate your business entire conversations and flows on WhatsApp using WhatsApp Business, WhatsApp Business API, and instilled chatbots.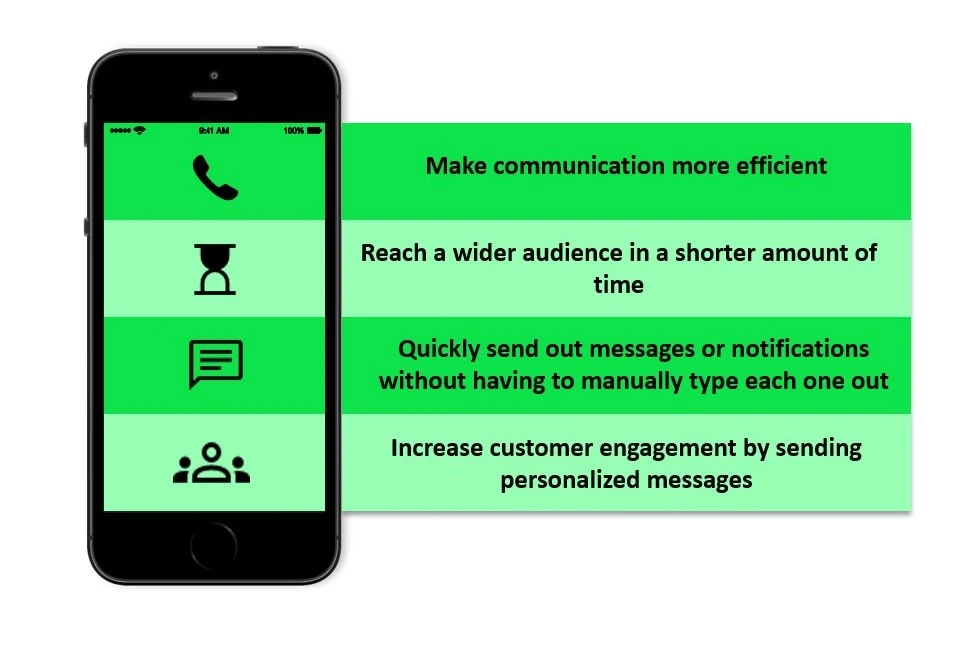 WhatsApp marketing automation tool is essential for businesses these days. 
 Automation helps streamline processes and make communication more efficient.

 

 Automation also allows businesses to reach a wider audience in a shorter amount of time.

 

With automation, business on WhatsApp can quickly send out messages or notifications without having to manually type each one out. This saves time and money, allowing them to focus on other aspects of their operations.

 

Automation also allows businesses to increase customer engagement by sending personalized messages via WhatsApp to individual customers or groups of customers.

 
Therefore, WhatsApp automation is a great way for businesses to stay connected with their customers and help them build relationships that will last for years. 
WhatsApp Business can be downloaded for free on your phone, while WhatsApp Business API can be achieved with the help of a business solution provider while you can get your hands on WhatsApp chatbots with the help of chatbot companies like Kevit.io.  
How to automate WhatsApp Messages??  
Main character energy everyone cause this is the most important part of WhatsApp Automation. Here, we'll discuss both the cases of automation capabilities: WhatsApp Business and WhatsApp Business API.
1. Automate with WhatsApp Business  
WhatsApp Business is ideally beneficial for small to medium scale industries to do Automation with WhatsApp Business mainly consists of scheduling messages and greeting as well as away messages. Quicker replies are now possible which makes sure that the customer feels your presence and feels heard.
Greeting Messages

– Greeting messages are basically welcoming messages whenever a customer opens your chat window. This allows you to start the conversation on a friendly note. This is surely going to help you retain customers in the long run.


Away Messages

– Away messages are triggered when customers want to communicate in non-working hours. These messages let them know when the services will be available back and the working hours of the company. This is quite an indirect way to answer the customer when they are waiting for a response. 

 
2. Automate with WhatsApp Business API
Have you heard about the BOGO (Buy One Get One) offer? WhatsApp Business API is the same. Enjoy automation quotient along with advanced services that do not avail on the Business App.  
WhatsApp Business API allows responding to customer queries even in non-office hours. But instead of away messages, now you can automate whole conversations and flows and instantly solve their queries. Human-like replies with spontaneity are the boon of WhatsApp Business API and are more than enough to win customer's love with WhatsApp. Now answer all queries, no matter the number of times it's repeated with the same flow, and reduce query time. 
Another noteworthy feature to talk about WhatsApp Business API is to talk about automating the whole sales process. All Ecommerce companies, pay attention! WhatsApp automation can literally automate your whole sales process from providing sales options to customers to confirming and helping them track their order, everything human intervention-free. This is like having a 24x7x365 sales person for your brand but in reality, it's only a chatbot.  
FAQs on WhatsApp Business Automation
Let's look after some FAQs which can be juggling in your mind. 
1. How does WhatsApp Business Automation work?
WhatsApp Business Automation works by connecting to your WhatsApp account and sending messages automatically. This can be done through the use of a bot, or by connecting your WhatsApp business account to a CRM system. Kevit.io is ready to help you with your WhatsApp chatbot automation.
2. How can I use WhatsApp Automation?
WhatsApp Business Automation can be used to send automatic replies to customers, or to send WhatsApp template messages at a scheduled time.
3. What are the benefits of WhatsApp Business Automation?
WhatsApp Business Automation can save businesses time by automating their WhatsApp messages. This can free up staff to focus on other tasks, or to provide a better customer service. So, what are you waiting for start using WhatsApp Business platform to send automated messages on WhatsApp. 
To Sum Up: 
It's crucial to understand that accessing the WhatsApp Business API is the best course of action if you're ready to build a WhatsApp automated message. The majority of the use cases can only be configured using the WhatsApp API integration. You must do this by working with automation platforms like Kevit.io who will assist you in signing up. The robust capabilities and automation features of Kevit.io will enable you to manage tasks more effectively, win over new clients, and boost customer engagement.  
A good customer moment is waiting for you with WhatsApp Automation and at Kevit.io we are waiting for you with our automation services. Why not check these services at Kevit.io or mail us at coffee@kevit.io.
Get on before the train is overloaded! 
Automating business processes with Kevit.io is now just a click away!