Transforming Travel with Chatbots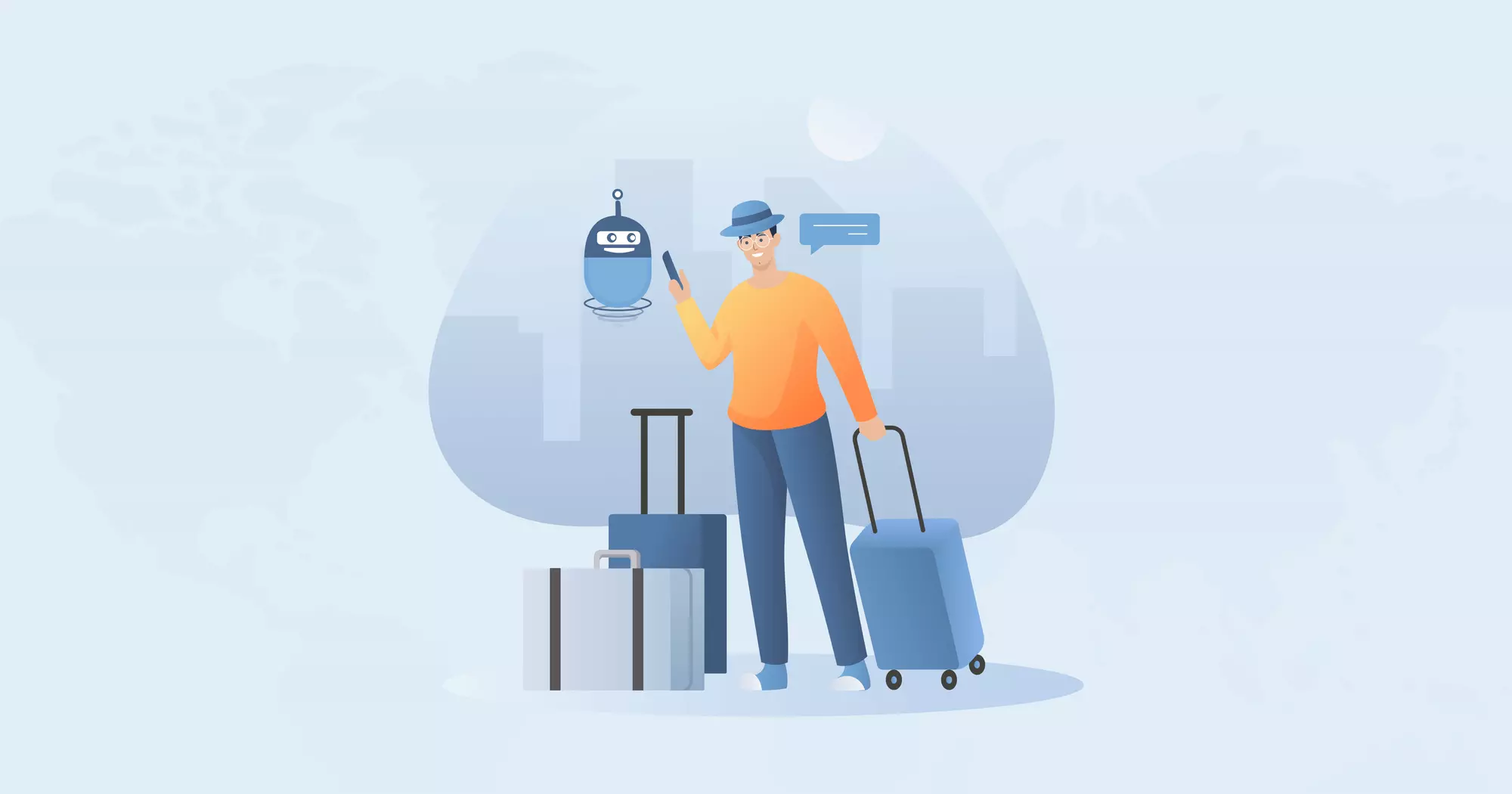 November 12, 2020

Priyanka Shah
In the last few years, we have seen that a massive amount of industries have moved online, and this holds equally true for travel agencies. The travel industry has already made this paradigm shift to providing online booking solutions for their customers.
The question is – what comes next?
The answer is very simple, with the growing popularity of conversational AI for businesses, chatbots are the next viable solution for attracting today's user. While travel is traditional, it's customers today have completely changed. The millennials that form the major market of the target audience for these agencies have already proven to prefer communications through chatbots.
Apart from this chatbots pack a large amount of potential for the travel industry and their customers alike. According to Expedia, travelers visit 38 sites on an average while planning a trip, chatbots can exponentially reduce this tiresome search experience with their analytical and predictive tools.
Benefits of Travel Chatbots:
To cater to today's digitally adept customer it is paramount to make this technological advancement in your services. There are various benefits of implementing a chatbot for travel –  
Round the clock customer service – 
Chatbots, unlike their human counterparts, can address your customer enquiries much more efficiently and 24*7. Whether its holidays or odd hours in the night, chatbots are available 24*7 and provide immediate user response while answering all customers at once. This quality is particularly helpful in the travel industry where customers expect immediate resolution to their queries.
Personalization and engagement – 
The chatbots are not just robotic pieces of software anymore. With underlying technologies like NLP, they can now understand vague user queries and make sense out of it to provide a specialised response to each user while remembering their previous conversations. They reinforce the idea of a "personal" assistant by making user-specific suggestions boosting their engagement. An immersive experience can lead the users to transform from interested leads to customers of your service.
Chatbots are a rich source of customer information from their preferences to their feedback. They continuously track your customers and their experience to generate a repository of valuable information that you can use to leverage your marketing strategies. Your bot can provide personalised promotional messages and offers to your user in order to generate more revenue options.
Apart from the automation and personalisation that chatbots provide they are one of the most cost-effective solutions for your business. From generating market research to employing an army of executives that answer user queries, chatbots eliminate these requirements. They provide a high return on your investment and save multiple costs that you would otherwise incur. Especially in an industry that highly depends on customer experience, it is time to be innovative and remain ahead of your competition.
Features of travel chatbots:
For a clearer idea, here is a list of some features and use cases that your travel chatbot could employ
1. Customer Support –
Your chatbot can respond to all the user queries and also be trained with your agency-specific details and FAQ's. It can immediately respond to a large number of enquiries and even generate query tickets. These bots can easily handover a request to a human executive in case of complicated issues. It ensures a seamless customer service.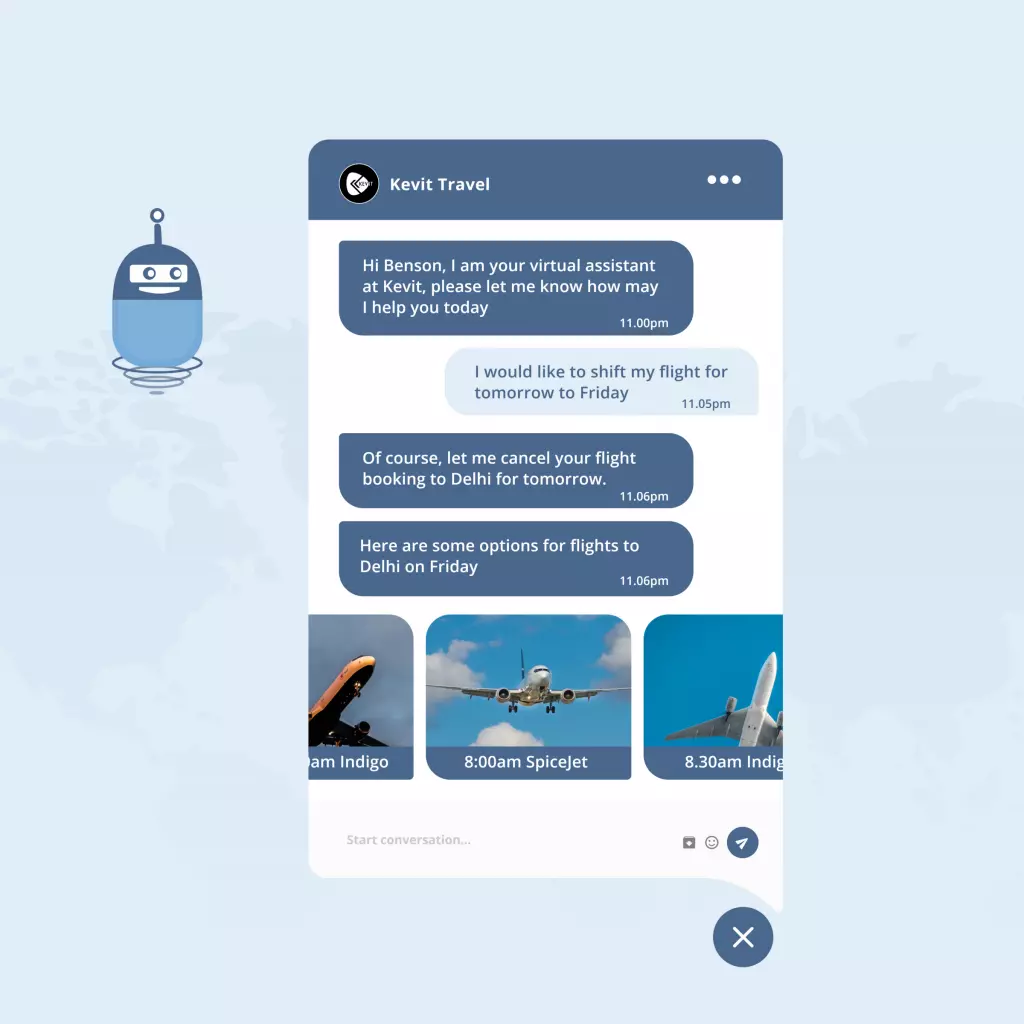 2. On-tour guide –
Once the user has booked a trip with your agency your bot can provide personalised suggestions according to user like the best bar in town or what route to take to a popular public attraction and much more. It enhances your customer's travel experience ensuring they return to you for their next trip.
3. Promotional Agent –
Even after or before a traveller books a trip with your agency you can tailor advertisements according to their likes for maximum lead generation. Chatbots are not limited to a single channel so you can leverage the large user base that different channels like Facebook Messenger provide.
4. Handle Bookings and Reservations –  
Your bot can do more than just answer user queries, it can handle bookings and reservations for your client through an intuitive conversation without the hassle of multiple website visits for booking. It could be a one-stop solution for all kinds of bookings for your user.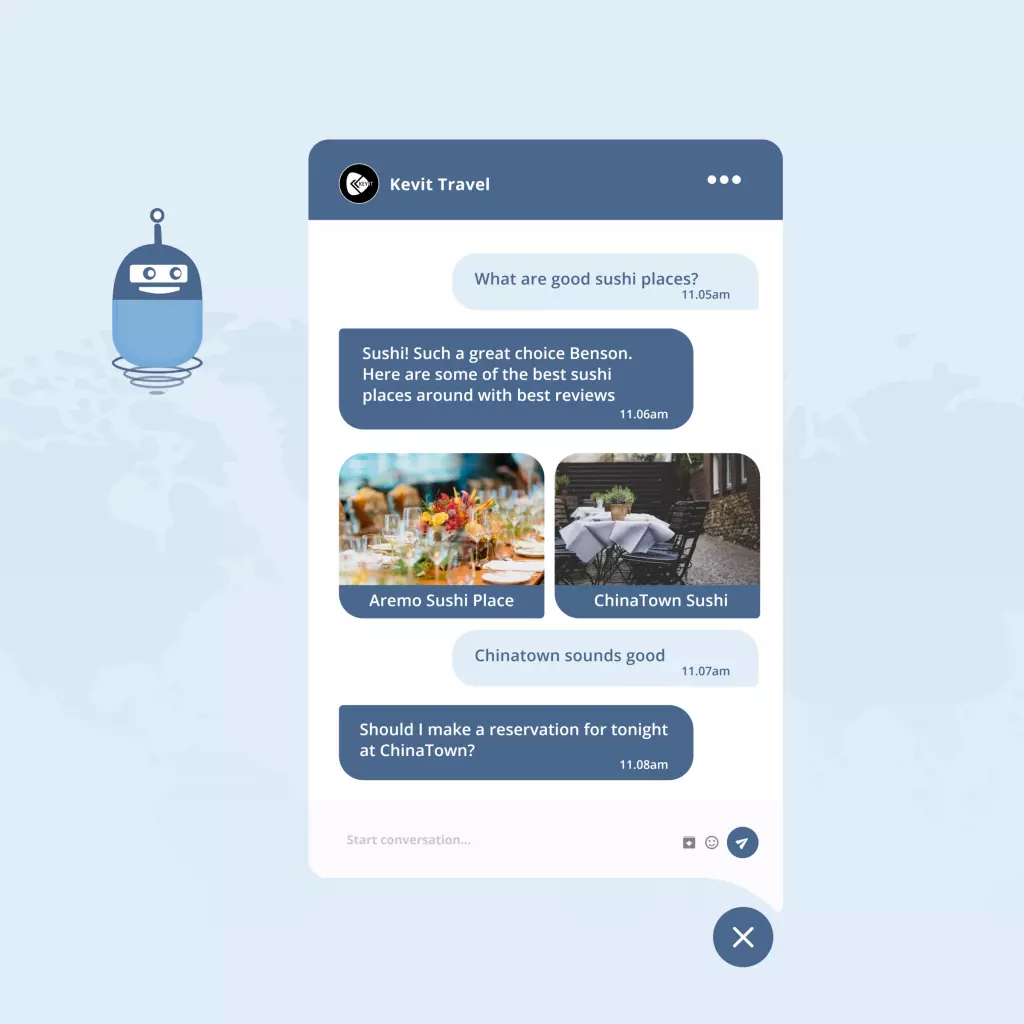 Kevit.io's Travel chatbot stands out from the crowd to be the best multiplatform and multilingual chatbot with easy integration to your web entity and smart training sessions. This ensures a high satisfactory level in travel enthusiasts who are planning their holidays. Know more about travel chatbots at Kevit.io and mail us at coffee@kevit.io for the same!  
Happy and Safe Travelling!😊 
Automating business processes with Kevit.io is now just a click away!