What is Voicebot and Why Your Business Might Want One?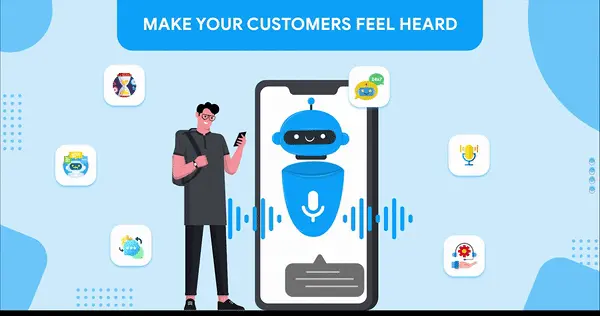 October 21, 2021

Priyanka Shah
Today's consumers don't want to interact with a company to resolve simple issues like changing their personal account information or cancelling an order. They favour utilizing automated self-service options such as mobile applications or business chatbot setups. However, they now demand the convenience of having someone respond to their questions via voice commands, which voicebot provide.  
As the provider of one of the most sophisticated voice bot solutions available on the market, we want to shed some light on voicebots, which are quickly becoming popular in the business world.  
What is Voicebot? 
Hey Siri, book an appointment with Kevit Technologies today.  
This fine technology that is the combined result of artificial intelligence (AI) and natural language understanding (NLU) with vocal communication skills is called Voice Bot. Voicebot is Conversational AI chatbot that can interact with users via voice commands. AI bots use Artificial Intelligence to process the query and provide an appropriate response. Conversational IVR (Interactive Voice Response) is a technology used by voicebots to respond to user queries in natural language. NLP (Natural Language Processing) enables the AI bots can understand complex queries and generate meaningful responses for them. Voicebots offer an interactive voice experience which is much more intuitive than traditional IVR systems. AI voicebot is capable of understanding complex conversations, providing accurate answers, and performing actions based on the user's requests in real-time. They can also be customized according to a specific industry or purpose, making them suitable for various scenarios such as customer service, healthcare, education, etc. This progress in automation clearly states that it's the end of an era- we are bypassing screens now and everything's as touch-free as possible. And these voice assistants are the living or maybe the speaking proof of it. 
Here are Some Advantages that shows Voice Bots Supremacy: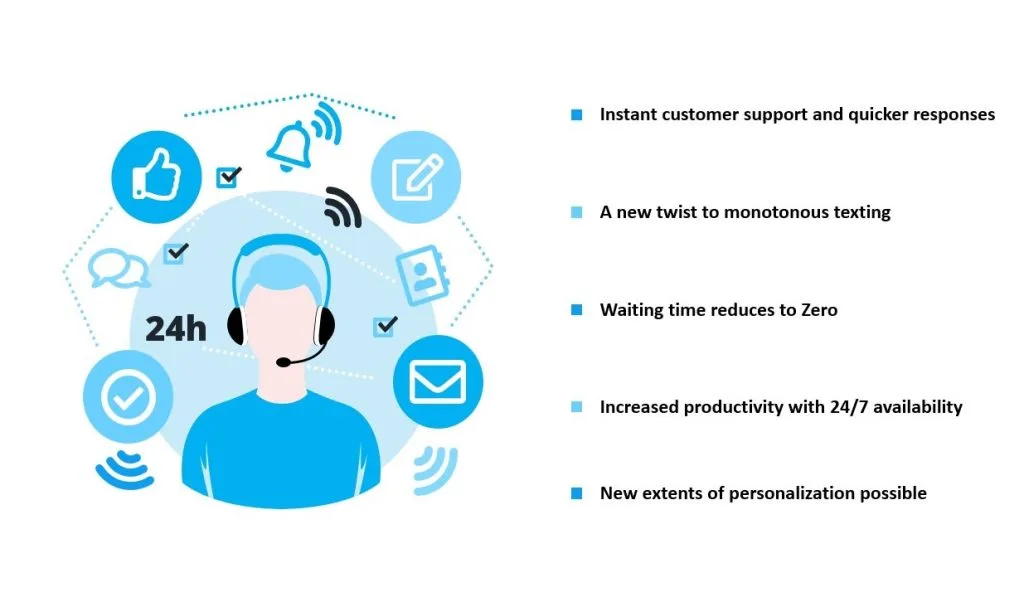 1. Instant customer support and quicker responses  
Slow customer services have been never been welcomed and will never ever be. Long waiting hours instantly makes customer ignored leading to customer dissatisfaction. But thanks to voice bots now, instant and quicker replies are right there to serve customers and actually hear them and solve their queries. Reduction in lead time to offer solutions improves overall customer service and now they can discuss their queries any time of the day.  
2. A new twist to monotonous texting  
Imagine this- your brand sends a funny reply to your customer to keep the conversation light hearted and interactive. But there might be a chance that the customer misinterprets the message and is rather provoked by it. Definitely, this sounds like a nightmare that we all would like to avoid and which in fact is possible. Using AI-powered voice bots instead of chatbots can lower this risk as well as enhance the conversation because now users have to talk instead of typing and can fully express themselves. Multimodal virtual voice bots too can be put to use that supports both chats and voice- Apple's Siri is the example of a multimodal voice bot.  
3. Waiting time reduces to Zero  
Voice bots have got the memo of not making customers wait and they are efficiently working on that! Automating general queries on Google Assistant or Alexa can help save a lot of time while transferring any complex query to live agents available.  
4. Increased productivity with 24/7 availability  
Your customers can be anywhere and in any time zone and yet can get their queries resolved with the 24/7 availability feature of voice bots. And in case users want to communicate with an agent then voice bots can take in their details and can convey to the agents when available.  
5. New extents of personalization possible
Charm your customers with personalized responses and recommendations that match their needs. When a voice bot communicates with a customer, it understands their requirements and usage and then looks for suggestions accordingly. Also, keeping in touch with individual customers with personalized responses can turn it into a delightful experience but it makes the customers feel appreciated.  
Use Cases: Where are voicebots used?
Self-service is a process in which customers use resources to solve their own problems. They are given the autonomy to seek clarification at their own convenience and the satisfaction of resolving their problems independently. In the end, this benefits brands because self-service removes repetitive tickets, saves agents' time, and improves customer support effectiveness. Voicebot is a good self-service tool because it allows users to access self-service whenever they need it and provides accurate answers to frequently asked questions. 
Intelligent routing, uses technology to match users with the appropriate agent, enabling prompt resolution of their queries. The issue of the user's call being transferred from one department to another, which results in poor CX, is resolved. Did you know that 68% of customers find it annoying when their calls are transferred between departments? Intelligent routing is a feature of voicebots powered by AI that considers a variety of factors before assigning a call to an agent, including their department, language ability, and skill set.
Giving users the appropriate options will make it simple to automate tasks like scheduling meetings and making appointments. The tasks also consume a significant portion of the agent's bandwidth. For seamless customer engagement, sectors like healthcare and insurance use this. As an illustration, if a patient wants to make a follow-up appointment with a doctor, the voicebot can look up the doctor's schedule and the patient's past to find the best options and make suggestions in line with them. Alternatively, customers can schedule visits for vehicle inspections if they have insurance. 
Customers can receive real-time updates about their orders, applications, appointments, etc. from voice bots. These calls inform customers and take away their need to speak with an agent immediately (indirectly lightening the load on call centres). These outbound calls could be regarding the status of an order, impending events, special deals, trigger-based communication, etc. Businesses can improve retention rates and keep customers interested by disseminating this information. 
To gain insights into how your users feel about your product or service, it is critical to collect customer feedback or customer satisfaction (CSAT) scores. By using this knowledge, you can match your objectives to those of your customers. Customers, however, detest completing forms. Voicebots can be useful in situations like this. Voice bots can use NLP to collect responses to closed-ended questions from customers while conversing with them using natural speech, making the task simple and straightforward for all parties.  
How does voicebot works?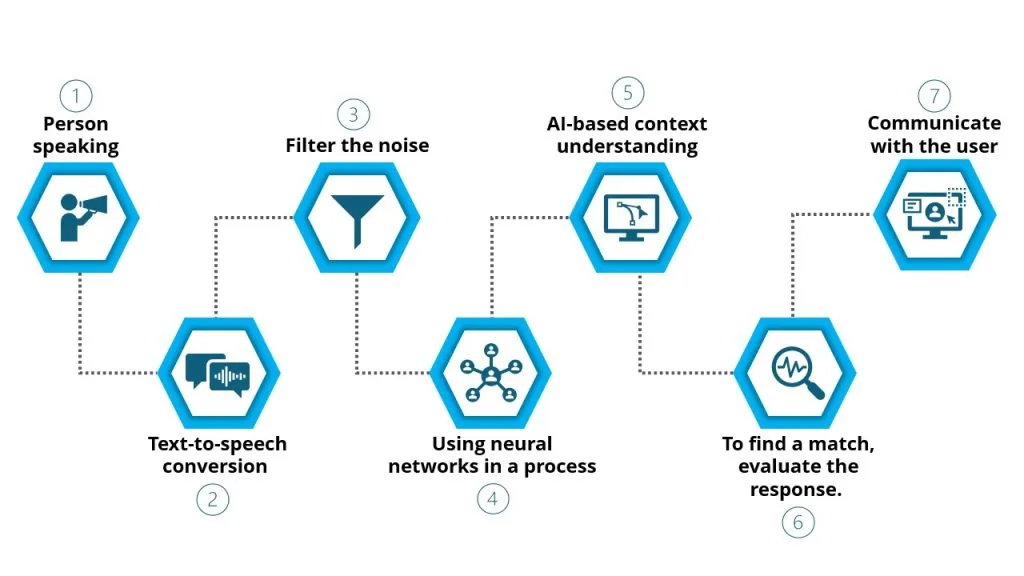 1. Transform speech to text.
2. Switch to neural processing to comprehend intent.  
3. Align intention with a resource that is accessible.  
4. If the availability matches the intent, convert the text to speech. 
5. If intent could not be determined, transfer to an agent. 
Features to consider: 
1. Voice bot should be able to listen, understand and respond once the user is done. Interrupting them while they share their query will sound disturbing and eventually have a negative impact.  
2. A bot should be trained to quickly recognize speech so as to instantly resolve queries and facilitate better customer service.  
3. The voice bot should put continuous efforts in knowing it's users so as to make the conversations as personal as possible and turning in relevant suggestions is just added on to this outstanding feature.  
4. Voice bot no doubt works like an institution itself but it supported with a live agents' team works magic as there is no point of complaint and even if the bot is not able to answer any query, the agent can handle the situation.  
To Sum Up: 
Voice can be named the most natural mode of communication. It's fast, intuitive but mainly it has a human touch. Let all these help your business in lead generation and acing the customer support game. If you're looking for similar services then contact our experts or mail us at coffee@kevit.io and know more about voice bots at Kevit.io.
Automating business processes with Kevit.io is now just a click away!