All About WhatsApp Business API Account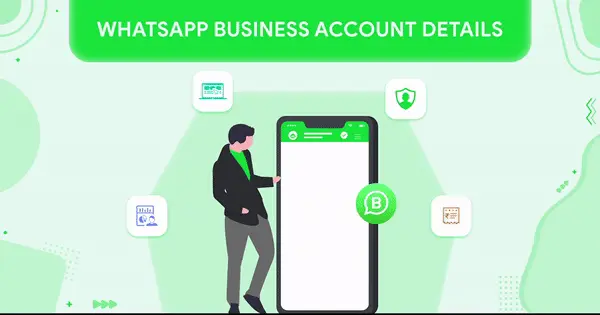 December 20, 2021

Priyanka Shah
Automate customer journey and provide customer support on most loved channel!!
WhatsApp is the king of messaging apps- for a reason. No doubt the enormous digit of 2 billion users from 180 countries helped it gain popularity but the main reason that customers resisted switching to other apps is customer convenience. WhatsApp introduced features like audio and video calls, media, documents, contacts and location shareability and payments to make itself a one-stop solution for its customers by replacing all other apps needed for virtual interactions. 
What Businesses need to learn is to invest in customer convenience for customer loyalty and retention. Now is an evolved customer base, which will not tolerate slow and thoughtless customer services. Not only with products or services but with end-user processes and how businesses carry out transactions, businesses should prioritize convenience by reaching out and making the process enjoyable for customers instead of forcing them to do it. 
While customers are comparing online businesses with something like chatting with family and friends, thus expecting the same ease to connect with businesses. And hence, businesses need to trust WhatsApp with open arms. WhatsApp has extended its services to small-scale businesses by launching WhatsApp Business and WhatsApp Business API for medium-large enterprises in 2018.  
Let's learn more about WhatsApp Business API by further reading this blog.
What is the WhatsApp Business API? 
The WhatsApp Business API is a powerful tool for businesses to manage relationships with their customers. With the WhatsApp Business API, businesses can leverage an array of features such as automated welcome messages, order confirmations, delivery notifications, and more. Companies are also able to use the API in order to gain insights into customer behaviour and engagement trends. Additionally, businesses can use the API to provide quick and personalized responses to customers' queries and complaints. All in all, the WhatsApp Business API provides companies with a reliable platform for increasing customer engagement and expanding their reach.
Key Features of WhatsApp Business API 
Some Key features which can help you to boost your sales on WhatsApp:
Automate conversations with WhatsApp Business API and setup large volumes of immediate responses to repetitive customer queries. 

 
WhatsApp Business API allows responding to customer queries even in non-office hours. 

 
Generate and qualify high value leads and drive product consideration. 

 
 Customers can now place orders, locate stores, schedule appointments, request returns and refunds, cancel orders, and more. 

 
Use of NLP to understand human language and improve human-machine communication. 

 
Seamlessly handle conversations between human brand advisors and automations. 

 
Strengthen your backend systems with customer database and CRM. 

 
Verified Business profile to gain customer trust. 

 
Notify customers with custom notification on WhatsApp.

 
Live Chat option made available with multiple agents. 

 
Automate processes like additional purchases, repeating previous orders, using coupons and offers, retrieving receipts, etc. 

 
Integration with A.I Chatbot.




 
Features of the WhatsApp Business Account: 
1) Business Profile:
Just like a personal profile, you can set a profile for your business which will showcase the company name, business description for customers to know about your business, business email, business category and max 2 website links related with your business. 
2) Operating hours:
Showcase your Business working or opening hours and location(s), so that customers know about your whereabouts and no longer have to face queries related to the same as customers can get all the details from your profile. 
3) Greeting Messages:
You can automate welcome messages to greet a new customer and when they first interact with your business on WhatsApp – this is a good opportunity to talk more about your business, what services or products you, guide them to get demos and specific queries.
4) Quick Replies
:
Businesses come across a lot of common queries every day from a lot of customers. Answering the same standard questions again and again needs a lot of time and it can be overwhelming to type the same replies individually for each customer. But with WhatsApp Business, you can set quick replies and template answers to respond to questions related to your products, services, prices, returns, and more. 
5) Away Messages:
Away messages are triggered when customers want to communicate in non-working hours. These messages let them know when the services will be available back and the working hours of the company. This is quite an indirect way to answer the customer when they are waiting for a response. 
6) Statistics:
Keep a track of all the business stats like how messages are sent, delivered, received and how many are read out of all the sent messages to help improve your conversational strategy. 
7) Labels:
Success requires organizational skills so that everything falls into a flow. Businesses can organize their users or contacts to categorize them with labels for easier access. This way, all the data stays grouped and organized so that it can be accessed easily.
There are buttons available to add a label to a new contact. This can be directly done from the client's chat window. Also new labels can be added for new categories from the client's chat page again. Option "NEW LABEL" can be selected for the same. You can create up to 20 labels with different colours for identification.
WhatsApp API vs WhatsApp Business App– What are the evident differences? 
Mainly, WhatsApp Business app, is designed for small businesses, where WhatsApp Business API acts as a business solution provider as it enables companies of all sizes to create automated customer interactions and scale their business operations. Here, are the major differences listed between WhatsApp business app and WhatsApp Business API: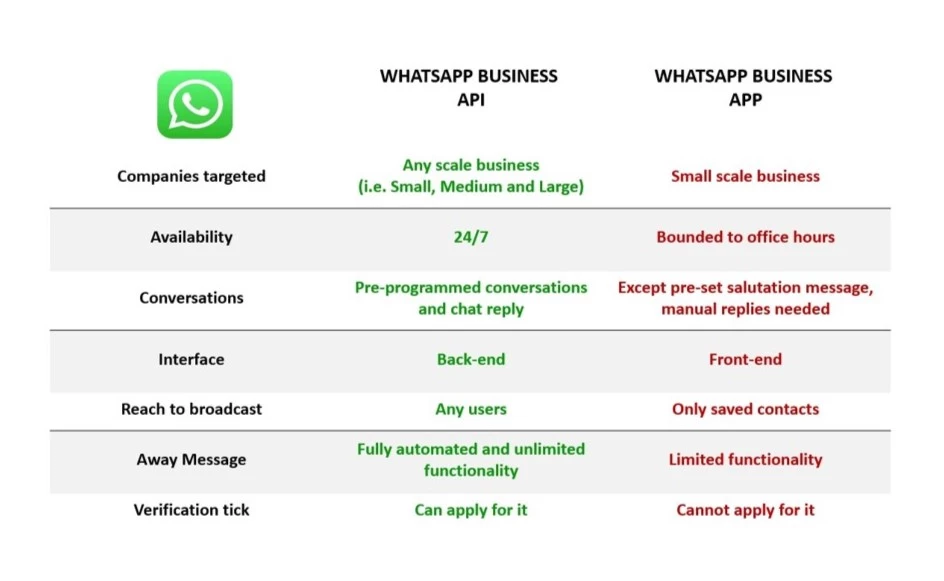 Who can use WhatsApp Business API? 
META (owner of WhatsApp) has set up some eligibility criteria to use WhatsApp Business API. 
1) Area of Business:
As we all know that to create chatbot and its integration is lengthy and difficult process. So, generally Medium to Large scale business sizes are approved by WhatsApp, and for that reasons WhatsApp Business API is known as "WHATSAPP ENTERPRISE". 
2) Types of Industry/Business:
WhatsApp's strict Commerce Policy prohibits independent software vendors, gaming and gambling businesses, adult content and entertainment industries, supplements, and any other medical drugs from using WhatsApp Business API.
Moreover, other industries like E-commerce, Hospitality, Travel, Education can opt certain specific benefits provided by WhatsApp Business API. 
How to get WhatsApp Business API? 
You can acquire WhatsApp Business API in few easy steps: 
You need to create Facebook Business Account and Facebook Business Manager Account by clicking on business settings to create business profile.
Once that's done, visit the WhatsApp Business website and register your company using company name to create a WhatsApp Business. 
After setting up the WhatsApp business profile, you will receive a verification code on registered mobile number of your account for business verification. You'll also be able to specify what use cases you want the API to serve, such as customer service or marketing.
You are ready to go, and you can start using their services right away. With this powerful tool in hand, businesses can easily connect with customers around the world using their preferred messaging platform.
To Conclude:
WhatsApp 's user-friendly design, easy functionality and reliability has made it suitable for both- personal and business purposes. Above discussed WhatsApp account features are an add on to help you leverage WhatsApp Business for your brand. Engage customers anytime, anywhere on their preferred platform with Kevit.io have a 1-on-1 communication with them. Click on Kevit.io and mail us at coffee@kevit.io to know more WhatsApp Business and its Automation.
Automating business processes with Kevit.io is now just a click away!