WhatsApp Catalog: Drive Better Sales with WhatsApp API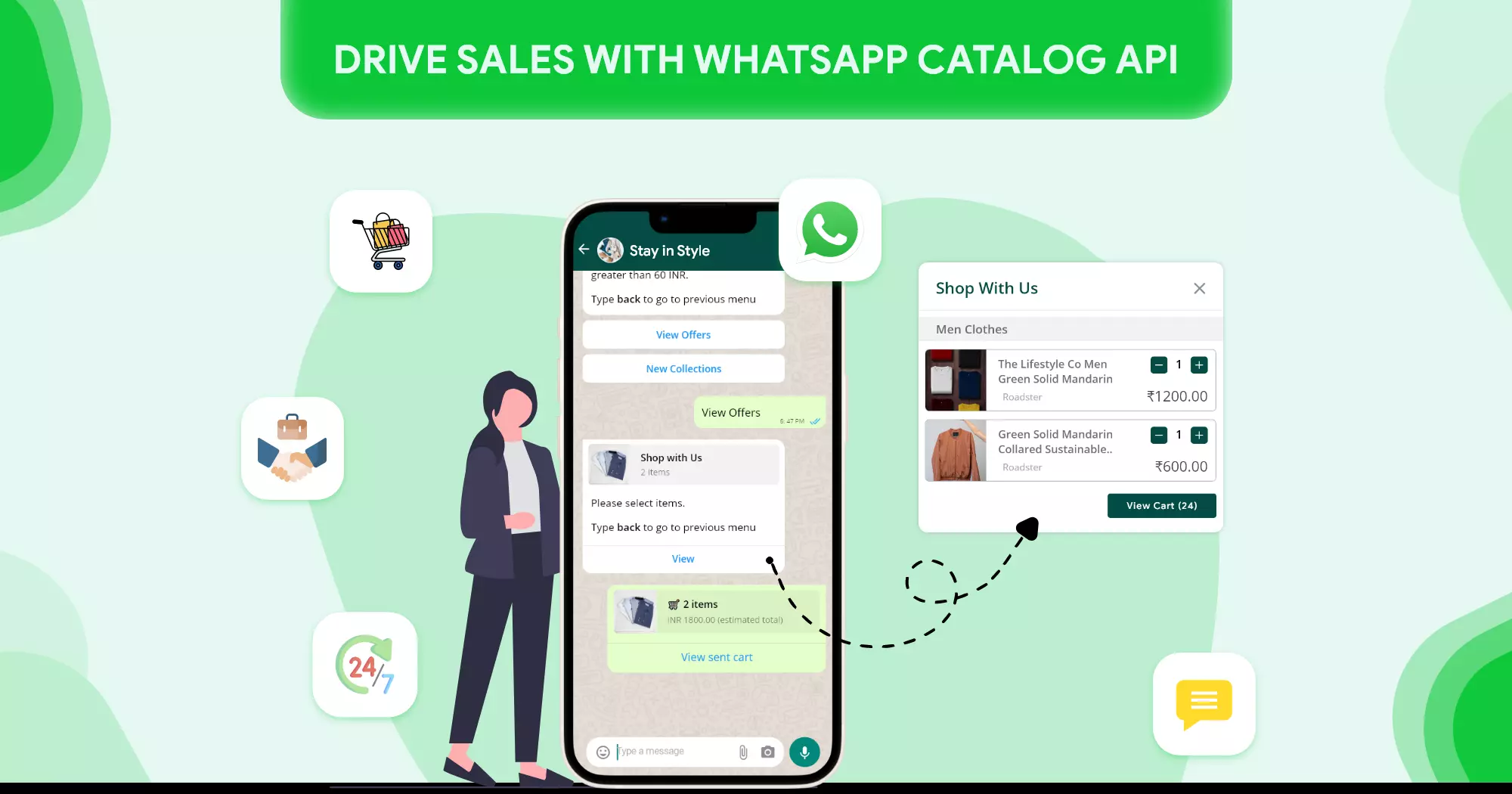 November 25, 2022

Priyanka Shah
What is WhatsApp Business Catalog? 
With WhatsApp Business, you can have a business presence on WhatsApp, communicate more efficiently with your customers, and ultimately grow your business. One of the key features of WhatsApp Business is the product catalog.
With the product catalog, businesses can showcase their products with images, descriptions, and even price information. This way, customers can browse through your product catalog and get an idea of what you offer without having to leave WhatsApp. Plus, the product catalog feature is available right within WhatsApp, so there's no need to download another app or website.
To get started, simply create a new storefront on WhatsApp Business and add your product images and information. Once your storefront is set up, customers will be able to view your product catalog right within WhatsApp.
So How is WhatsApp Catalog API different? 
The previous WhatsApp business catalog was meant to be available to WhatsApp Business users only, and the catalog on WhatsApp served the purpose of discovery and sharing only. Users can only view and share the catalog items, and on the account of liking them, no further actions can be taken on WhatsApp. Customers had to switch the window to go the business's website or app to make a purchase. This resulted in large drop-offs and business owners losing large money.
But businesses no more need to bear this loss with the latest WhatsApp Business API Catalog. Now businesses can link their Business Account on WhatsApp and their Catalog. The Catalog allows two types of messages – Single Product and Multi-Product Messages to be sent to customers. These interactive messages consist of necessary product details which can be viewed, shared and added to cart by customers on WhatsApp. This feature enables customers to experience a complete circle of commerce inside a WhatsApp chat, resulting in happy and satisfied shoppers.  
How to Create a Catalog using WhatsApp?  
Creates a business catalog on the Commerce Manager.
Assign the Catalog to the WhatsApp Business Account. Note that only one Catalog is allowed per WABA.
Business then can send single or multiple product messages to customers with the help of Catalog API. 
Start receiving responses from customers via Webhooks. 
Note: If the WABA is Indian (+91 phone number), the business's e-commerce compliance is necessary – How to comply with the laws for selling online in India on WhatsApp.
Once the Catalog is set, customers can browse through the products or services offered in the WhatsApp shopping catalog and add them to the cart without leaving the chat. Hence setting a catalog in WhatsApp can help businesses showcase their offerings in a visually pleasing way than before. 
This conversational approach for businesses to share their products can help  
Reduce Cart Abandonment
Increase Business Conversions and
Drive Shopper Engagement
All the business needs to do is share catalog when customers message business asking about product details or queries. This whole process can be automated with the help of a WhatsApp chatbot. WhatsApp bots along with this new feature can do wonders for brands and help close sales on a single messaging platform! 
How does WhatsApp Business API Catalog work? 
This is where the magic lies. Businesses have the option of including 2 types of interactive messages to share products when chatting with their customers:  
1. Single Product Messages:
Messages with the details of a single product from the business' entire Catalog / inventory. The product is displayed in the Product Detail Page (PDP) format.
2. Multi-Product Messages:
These messages can contain upto 30 items from the business' Catalog. 
It is important to note that Single Product Messages and Multi-Product Messages can only be sent in an existing conversation. Unlike templates, businesses cannot use catalogs as notifications.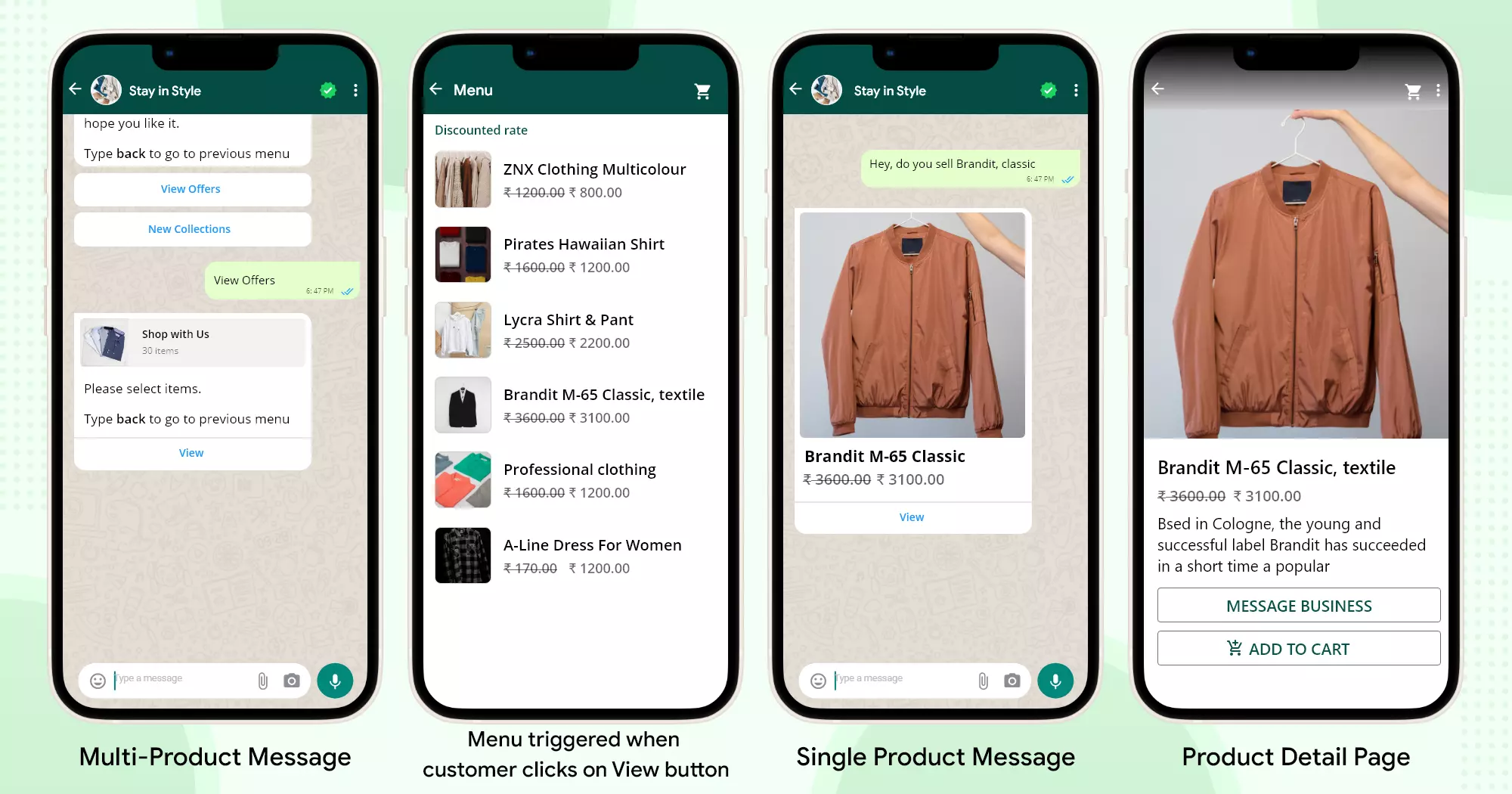 If the customer opens the chat on multiple devices with the same WhatsApp account, the WhatsApp Catalog's Multi-Product and Single Product Messages will be still synced between devices. But, the shopping cart will be local to each specific device. Once a customer receives these product messages they can interact with them in two ways:  
Forward it to another user.

Reopen within the same conversation.
How will the Catalog feature benefit your brand? 
The Catalog feature is beneficial to your brand because it allows customers to view all of your products in one place. This makes it easy for customers to find what they are looking for, and also makes it easy for them to compare products. Additionally, the Catalog feature allows you to showcase your products in a professional and organized manner. This can help to build trust with potential customers and improve your brand image.
 
The WhatsApp product catalog with multi and single product messages make it so easy and efficient for users to select products from a personalized subset, rather than going through the full inventory. Here are the perks of WhatsApp's new Catalog feature:
 
Better Customer Experience

 
Combining this hit feature that WhatsApp hosts with a chatbot to help customers get exactly what they are looking for.
 
Drive Business Conversions 

 
Sharing products on WhatsApp will help drive conversations, orders, and revenue. Businesses can expect an average of 7% conversion of Multi-Product Messages that were sent to business carts.
 
Save time from pre-approvals with these Catalogs that WhatsApp provides. Interactive messages are generated in real-time and will always reflect the latest item details.
Start selling more via WhatsApp Business API and Catalogs 
WhatsApp Business API and Catalogs are a great way to sell more products and services. With WhatsApp Business API, businesses can send messages to customers at scale, and with Catalogs, businesses can showcase their products and services to that large customer base in a visually appealing way. By using both WhatsApp Business API and Catalogs, businesses can reach more customers and sell their products.
 
This feature is also available to be used as part of live chat flows without any hassles. WhatsApp Catalog allows small businesses to serve their customers on a platform they use to chat and talk with their friends and family with the products they want. The online market cannot get better than this!  
Brands need to take leverage of this feature to deliver personalized experiences and accelerate their sales on this messaging app. If you too are looking for ways to share and increase the reach of your products, then now's the time. Increase conversations and conversions with WhatsApp and Kevit.io. Book a demo here.
Automating business processes with Kevit.io is now just a click away!