Why WhatsApp Chatbot Should be the Future of your Business?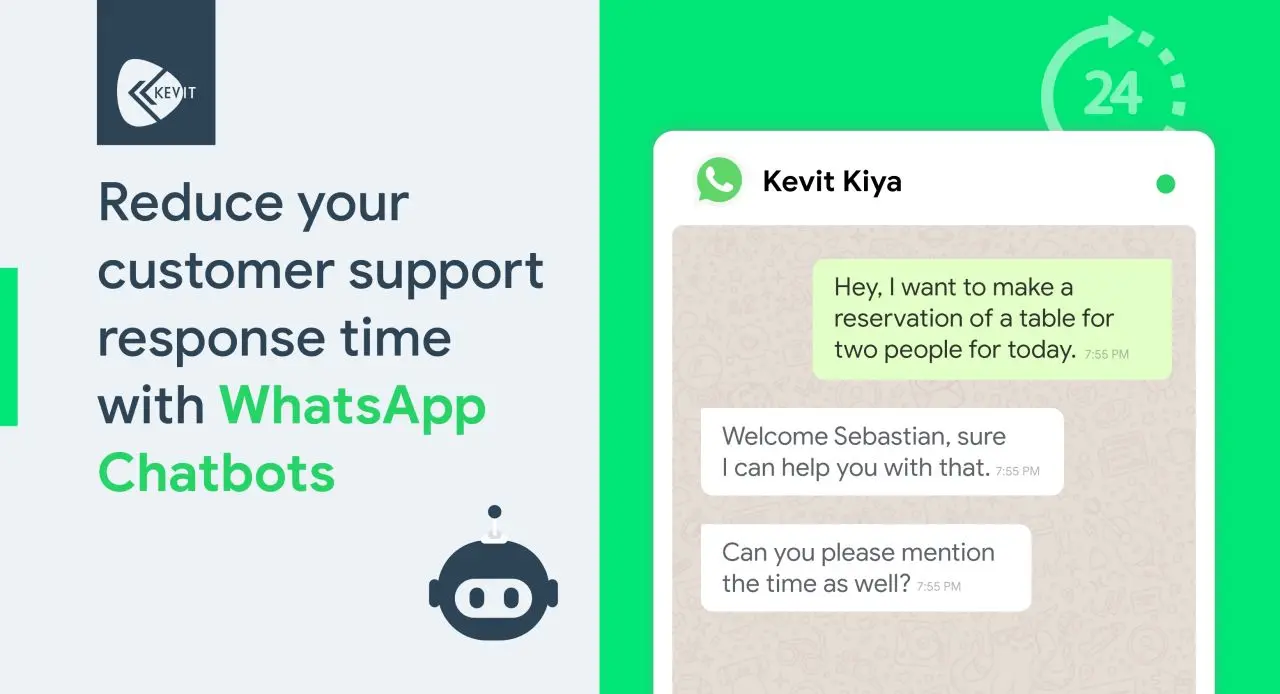 September 16, 2021

Priyanka Shah
Let us guess you just replied to someone via WhatsApp and now you're reading this!! Are we right? But WhatsApp has secured a tight place in our everyday life and we are not complaining. Chat-based platforms have become a necessity for day-to-day conversations whether it be with friends, family, or colleagues. Why do we opt for this? Firstly, it comes from the comfort of our smartphones and the pace with which messages get delivered excites us. The sudden rise in the use of social media can explain the growth in demand for real-time answers for questions, concerns or problems from users. In the same manner, customers expect to be in contact with businesses with the same convenience and speed – through swift and seamless exchange of messages and no long calls. And when it comes to messaging, no one can be in the saddle other than WhatsApp chatbot.
"India is important…. We want all their smartphone users to be on WhatsApp. If that number is a billion, then it's a billion"– JAN KOUM co-founder of WhatsApp. 
When 1 out of 5 WhatsApp user is from India, India is clearly a huge market and strategic centre for WhatsApp and this opens doors for WhatsApp automation and opportunities for the same. This article targets this and more about WhatsApp Business Chatbot.  
What is WhatsApp Chatbot? 
A WhatsApp Chatbot is a bot that interacts with customers on the WhatsApp platform, using the WhatsApp Business API. It is designed to automate customer support and other common tasks. With a WhatsApp Chatbot, businesses can send notifications and messages to their customers through the official WhatsApp Business account. This automation allows companies to save time while providing personalized customer service without human intervention. By using the Bot technology, businesses can access more features like automated customer support, delivering timely information, taking orders, and providing help. Through these features, businesses grows and can provide better customer service and enhance customer experience. In addition, businesses can also use this technology to gain insights into customers' preferences and behaviours in order to create better strategies for their business. The WhatsApp Chatbot is an effective tool for businesses looking to automate their processes without sacrificing quality of service or forgetting about customer support. 
Why to own Build Your WhatsApp Bot?  
Large firms target customer service and better engagement and for that being able to assist their customers at every step becomes a must. A user-friendly environment will drive your customers to take the actions that lead them towards the sales route. Along with that, it brings trust and loyalty. Leverage these engagement opportunities with the help of your WhatsApp Bot. Personalize your customer's experience using Conversational UX and customize the script that your chatbot is going to follow and in general all type of replies to any human queries. Plus, WhatsApp has proved to be a very safe and secure environment for communication because of its encryption feature.  
What are the benefits of using WhatsApp Chatbot to automate your business? 
A WhatsApp chatbot for business is a great way to boost customer experience and improve customer service. With a bot, you can build a WhatsApp bot that can quickly answer common questions from customers, forward WhatsApp messages to the right support staff, provide product information and more. This can help save time and resources as well as rise in lead generation for your business as it eliminates the need for customers to wait on hold or contact multiple people for answers.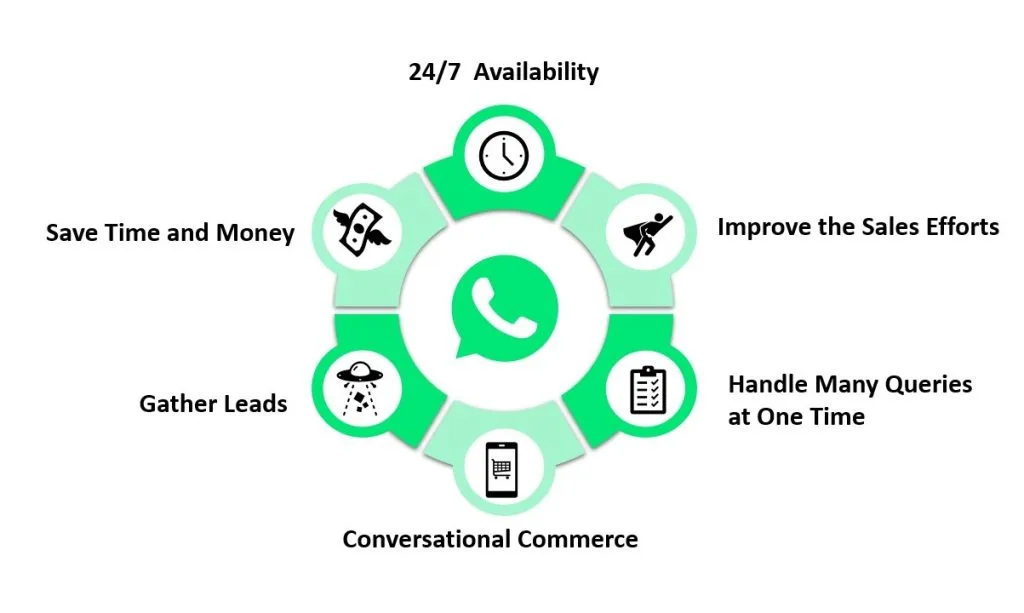 24*7 Availability:

Whether in working hours or non-working hours, AI chatbots make sure that no customer is left unattended, and their queries are answered all day, every day. This allows brands to share a constant support experience.
Engaging and multilingual content:

Any content that is personalized and meets the user's requirements will always sound engaging. Smart media like audios, images, videos, reply buttons and list messages too can make your content enthralling. Also, AI chatbots are smart enough to adapt to multiple languages and hence customers can expect responses in their favoured languages.
                      Average Resolution
Reduce:  Average Handling Time
                     Operational Costs with AI Chatbots.
Commerce is Conversational:

Experience better customer service which is both cost and time Effective and gather feedback to gain customer loyalty with these smart chatbots. 
How to get WhatsApp Chatbots for your firm? 
A game plan is what you need to ease this process of development of WhatsApp Bot. This plan consists of the needs of the company and a direction that the bot has to follow. Whether it's a Facebook Messenger Bot or a WhatsApp Bot, the process is quite similar and simpler but you know where WhatsApp Bot wins? It offers more flexibility in customization and hence a more personalized experience for the users. Some best and necessary practices to develop a WhatsApp Bot:  
This becomes the foremost step in the process of WhatsApp chatbot building. Before you launch a WhatsApp bot, you need to apply for this paid-service program called WhatsApp Business API, launched by Facebook. At the moment, WhatsApp Business APIs are only for medium and large enterprises. This procedure is for verifying businesses through WhatsApp number and other details that consist of huge customer base. 
You want to make sure that your WhatsApp Chatbot will solve the doubts that your customers are gonna have. So, it becomes necessary to come up with chatbot template answers that your bot will give when you're developing your WhatsApp chatbot. Also, the situation of your bot not able to answer a query can't be ignored and for that your Chatbot platform should be prepared and trained over the usage period.  
Chatbot Maker Platform and a Database: 

 
 A chatbot-making platform, such as Kevit.io, can help you to save time with creating your WhatsApp Chatbot so you won't have to do it from scratch. And for the same, you will need a database to store all the credentials and info shared over the WhatsApp chat. End-to-end encryption maintained ensures security and so it's easy to share any type of data with WhatsApp Chatbot. When you use a chatbot application, you can get a preview or mock-up of your application before finalizing the full version.  
Test Your WhatsApp Chatbot:  
Test your WhatsApp Bot to make sure it's working all fine by test-running queries and requests that you know your customers are going to have. Have real users to test. For the same, you can ask your colleagues or have surveys done and find any errors (if there) and fix them and test it again for functionality. This cycle is repeated until there are no errors left. This helps to produce a high-quality product and improve your customer numbers.  
Why Kevit.io is the best WhatsApp Business Solution provider? 
Kevit.io is the best WhatsApp Business Solution provider due to its comprehensive set of features and robust integration capabilities. Their platform enables businesses to efficiently use WhatsApp Business for customer experience management, with a range of powerful automated workflows. This includes the ability to easily create conversational bots that are tailored to specific customer needs, and also the ability to integrate with existing CRM systems and other third-party applications. With Kevit.io's solution, businesses can provide their customers with a personalized, seamless experience across all channels. All in all, Kevit.io provides an excellent solution for businesses looking to get the most out of WhatsApp Business. 
With platform like Kevit.io is all ready to help you all along this process of WhatsApp Chatbot. Check out our services and Book your demo or mail us at coffee@kevit.io.
Automating business processes with Kevit.io is now just a click away!