WhatsApp Cloud API: All that you need to know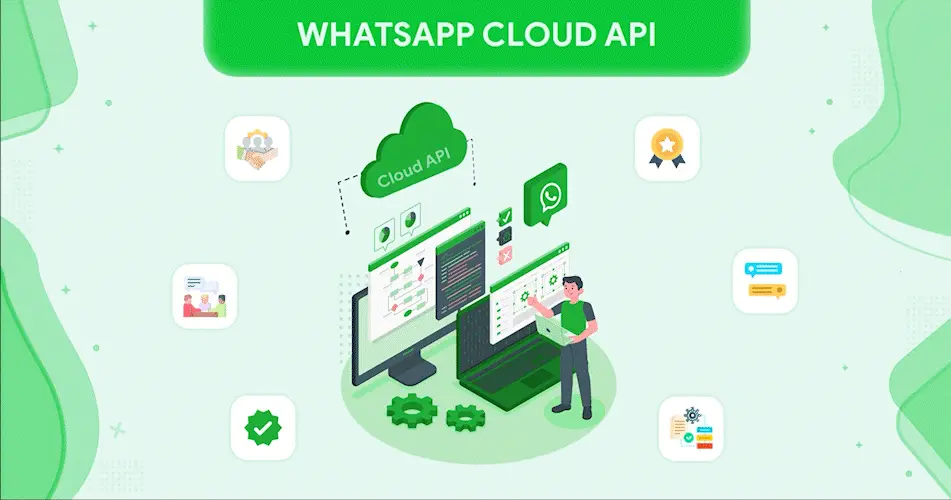 July 29, 2022

Priyanka Shah
"The best business experiences meet people where they are". As rightly said by Mark Zuckerburg at Meta's first Conversation event on with the introduction of WhatsApp Cloud API on May 18, 2022. WhatsApp Business API is now available to businesses of all sizes. Now even small businesses can take leverage of Business API software to scale customer support and enhance their customer experiences.
Up till the announcement of WhatsApp Cloud API, businesses weren't allowed direct access to WhatsApp Business API. The previous onboarding process included contacting over hundreds of WhatsApp Business Solution Providers (BSP) to register and get approved by WhatsApp for WhatsApp API. But what brought the revolution in this market is WhatsApp Cloud API.
What is the WhatsApp Cloud API?
WhatsApp Cloud API allows businesses to send and receive messages using the cloud-hosted version of its WhatsApp Business API. With the new Cloud API hosted on Meta's services, WhatsApp Business users can implement WhatsApp Business API directly on their 'own servers'.
By offering free, secure and cloud-based hosting, businesses can scale their customer communication and reduce the go-live date from months to minutes. This Cloud API allows businesses to build directly on top of their regular WhatsApp and provides options to customize their user experience and improve the response speed.
Who should opt for WhatsApp Cloud API?
Like cloud service companies, Meta will now act as a hosting service. Meta will take responsibility for maintenance, computation, storage, network, and all the related costs that come with it. So, when it comes to who should opt for WhatsApp Cloud API, here is a list of the business types who will be most benefitted from it:
1. Small to Medium Businesses:
Small to Medium Businesses can now consider this as a golden period to get their hands on WhatsApp Business API. The WhatsApp Cloud API has opened doors to faster approval process, instant access to API to get latest updates in real-time and reduced costs. Meta has announced that the WhatsApp Cloud API setup charges are now totally free, which were earlier charged by Service Providers.
2. Businesses having a Development Partner:
Businesses already functioning with a development partner have nothing to lose. They only need their partner to integrate the cloud APIs with their platform to leverage the potential of WhatsApp Business messaging. With Kevit.io, businesses will be able to easily integrate Cloud API in no time and can use all the features of previous WhatsApp API.
3. In-House Social Media Marketing Team:
This Cloud API can be the new marketing tool to drive more users to the business inbox and increase engagement. In-House marketing teams can now count on Cloud APIs to start conversations with customers, scale through conversations and delight customers with a seamless experience.
What about WhatsApp Cloud API pricing?
Now businesses can directly get their business accounts verified by Facebook for FREE. This Cloud API makes it extremely easy for any business that wants to use WhatsApp programmatically to get started in just a few minutes. Developers and entrepreneurs can do it. Development teams at a large company can do it. Now there is no need to pay a fixed amount to the BSPs (Business Service Providers) to get access to Business API and unlock newer levels of customer support.
Should You Get WhatsApp Cloud API?
Just like WhatsApp on-premise API, you'd need a platform like Kevit.io to use Cloud WhatsApp API. Let's look at some benefits of WhatsApp Cloud API:
1. Quicker Go to Market:
Save yourself from the long waiting process of getting your business approved from WhatsApp Service Providers. WhatsApp Cloud API is essentially here to eliminate the middleman, so that you get direct access to the Business API messaging services. Applying for WhatsApp becomes faster and can make your business have a chance at better customer engagement and increase in sales, even if you start now.
2. Pay as You Go:
Earlier WhatsApp Service Providers charged a fixed amount for your business to get started with WhatsApp Business API, Meta has reduced all the setup charges to ZERO. This means that businesses of all sizes can now access API without paying a single dime. Now the businesses only pay per session.
3. Configure your Brand Needs:
You can either configure the Cloud APIs with your own systems or need a development partner like Kevit.io to integrate the cloud APIs with their platform to let you leverage the potential of WhatsApp Business messaging. With Kevit.io, businesses will be able to easily integrate Cloud API in no time and can use all the Business API features.
4. Personalized Bot Management System:
Instantly get going to leverage chatbot on Cloud API to automate support and sales for your business. Provide customer support with seamless multi-agent inbox to let multiple customer support executives manage thousands of customer queries.
What is the difference between WhatsApp Business API and WhatsApp Cloud API?
The major differentiating factors between on-Premise Business API & WhatsApp Cloud API's are:
1.Hosting:
In on-premises API, WhatsApp BSP undertook hosting charges for WhatsApp Business API while for WhatsApp Cloud API, Facebook will bear all charges for hosting & providing access.
2.Maintenance & Upgrade Costs:
Facebook will bear the maintenance costs for WhatsApp Cloud API while for on-premise WhatsApp API, BSPs had to roll out manual updates.
Setting up the WhatsApp Cloud API
It's really easy to create a WhatsApp Cloud API account:
Step1: Facebook Developer Account
Login to Facebook for Developers and register as meta developer. Click on "Create App" option. Here, the user needs to an app type. Select Business type to setup WhatsApp Cloud API.
Step2: Provide Basic Information about Business Account

Next, the user needs to fill up basic information about their business like, Display name and app contact email. One of the best things about Cloud API is that businesses now no longer need a verified Facebook Business account to set up work account, though it is recommended to get Facebook account verified on the side.
For now, select "No Business Manager Account selected" and click on "Create App".
After the successful setup, the user will land on the Meta dashboard. On the dashboard one can find the option to connect with WhatsApp. Click on "Set up".
Step4: WhatsApp Business API Terms and Conditions
Click on "Continue" to agree to Facebook Terms for WhatsApp Business and Meta Hosting Terms for Cloud API.
Step5: Enable a WhatsApp number
Next, a unique Phone Number ID and WhatsApp Business Account ID will be provided to the user. The "From" number box showcases a test number which can be used to send free messages to test this account.
The "To" number box should consist of the number on which the user wants to enable the business account.
Step6: Verify WhatsApp Business account
The user will receive a verification code on their phone from Facebook Business. Enter this code to complete the verification process.
Step7: Send Messages over WhatsApp Cloud API
The user can send their first message over WhatsApp Cloud API to the test number to check whether the WhatsApp integration is successful or not. Upto 5 recipients can message this test number and the user can also send business-initiated messages like templates, after they are verified.
Some of the limitations of WhatsApp's Cloud API:
One significant drawback of the Cloud WhatsApp API is that it lacks a platform to fully utilize WhatsApp Business messaging. Either businesses need to integrate the Cloud APIs into their own systems or go through platforms like Kevit.io to integrate Cloud APIs.
Kevit.io provides easy integration of both – WhatsApp On-Premise and Cloud API so businesses can take leverage of various WhatsApp Business features to automate customer support and deliver delightful customer experiences.
Integrating WhatsApp Cloud API is now just a call away. Schedule a call with us to know more Cloud API and how it can help to drive greater customer experiences.
We would love to talk with you.
Automating business processes with Kevit.io is now just a click away!