WhatsApp Ecommerce: New Market For Your Business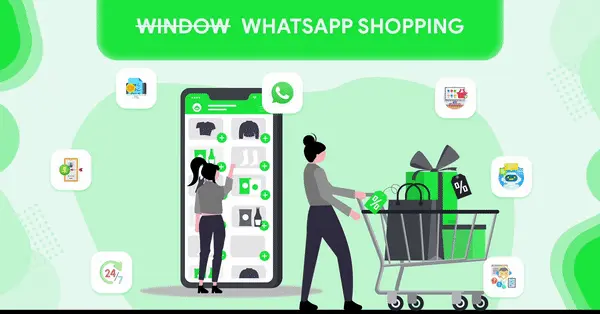 December 13, 2021

Priyanka Shah
Get your Ecommerce Store on WhatsApp and turn your visitors into Recurring buyers now!!
If there's any industry that has seen rocket ship-like growth from the time of its outset, it's the Ecommerce industry with $4.23 trillion worldwide sales in 2020 and global sales expected to total $4.92 trillion worldwide in 2021. These stats are enough to show that despite the downturn faced by the global market in last one year, Ecommerce business did not stop and never will.
The potential of the e-commerce industry as online shopping has become one of the most popular internet activities worldwide. And hence it only makes sense to be where your customers are. One such concurrent messaging app and social media that all can think of is WhatsApp!
Used by more than 2 billion users monthly, WhatsApp can be declared as the largest messaging app and quite a money-spinning platform with its wide reach and easy messaging features. This all scream for an intersection of WhatsApp Ecommerce and AI enabled Chatbots for higher conversation rates, along with WhatsApp Chatbot advantages.
Why WhatsApp for eCommerce? 
When 68% of WhatsApp users find WhatsApp Ecommerce as the best way to reach a brand, we know that all the good stuff promised by WhatsApp automation is legit. Other good numbers suggest 99% open rates and boosting response rates.
68% of WhatsApp users agreed it was the best way to reach a business because of the ease of accessibility, asynchronous communication and instantaneous responses. WhatsApp has a 70% open rate, 2x of what emails have. Enterprises like Renault saw a 163% direct increase in customer engagement, while Shopclues.com saw a 57% increase in new orders placed just by communicating on WhatsApp. The amount spent on WhatsApp calls per day is a whopping 2 billion minutes per day.
WhatsApp Ecommerce Chatbot Use-cases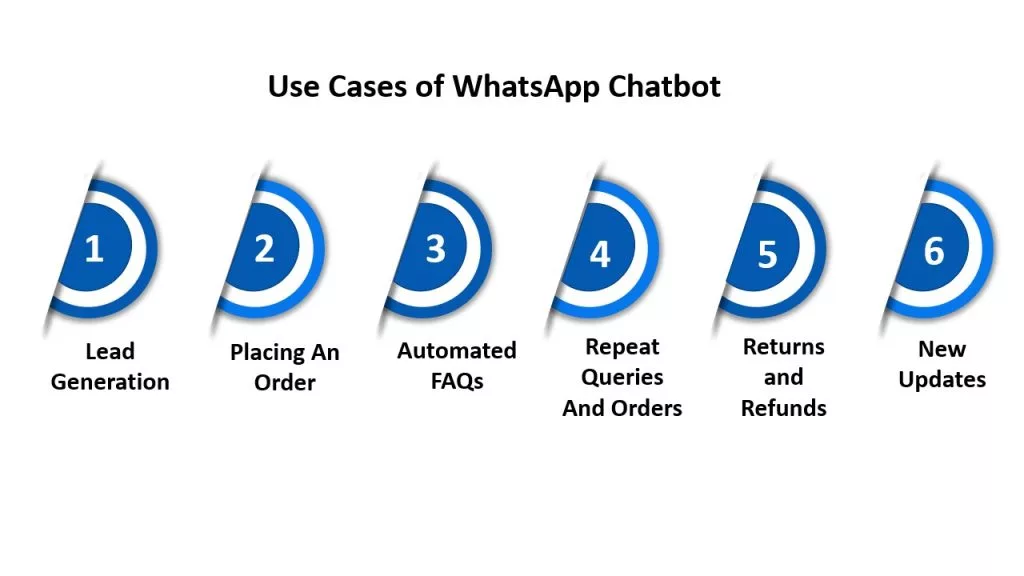 Lead Generation
Being an important part for any business, leads now can be easily generated with the help of quicker and interactive responses. WhatsApp Automation is itself designed to carry out such functions and instilling the same for your ecommerce business will pave way for your success story.
Placing an Order
Simplify the process of ordering with the help of WhatsApp Ecommerce bots by creating a single-channel experience from a lead generated to a regular customer. Out of all the procedures, placing orders is what drives revenue, and if your business can provide the same to its customers from the comfort of their phone, then your brand is a big hit already.
Automated FAQs
Chatbots can handle frequently asked questions in huge volumes, be it related to the products, their sizes, colours, payments, payment methods, tracking order, refunds, discounts and coupons, and more. This saves time and customers can expect instant replies which increases customer retention and conversation rates. Ensure high-class user experience throughout the customer journey.
Repeat Queries and Orders
For any business, retention of a customer is very important, mainly for 2 reasons. Firstly, to earn customer loyalty. Consistency in good services is going to make your customers believe that your business sticks to its words. Secondly, it will cost 7 times more to acquire a new customer than to repeat services to a regular one.
So, first aim is to retain a customer with smoother purchase experiences and after purchase services and then repeat their orders with the help of a WhatsApp chatbot. Recreate your customers previous purchases, their previous food orders with ecommerce bots.
Returns and Refunds
Returns and refunds are problems shared by both, customers and business owners. Returns have been one of the top 7 problems faced by (r)e-tailers and businesses, while 25% online orders are returned by customers for various reasons. Bad return and refund experiences often ruins a company's reputation and its relationship with its customers.
So, WhatsApp ecommerce chatbots can help users with this trickiest process of ecommerce and can provide reasons for refunds which the customers can select to further help the company work and remove any loopholes that stop them.
New Updates 
WhatsApp Ecommerce chatbots can help notify customers about new products, offers and discount so that they don't miss out and stay updated. This new era of internet is all about following the trends and these chatbots can help your customers know it all, at the right time.
Pros of Having WhatsApp Chatbot for Ecommerce Business: 
"Any sufficiently advanced technology is indistinguishable from magic". Here, are some benefits of advanced technology WhatsApp Chatbot in Ecommerce: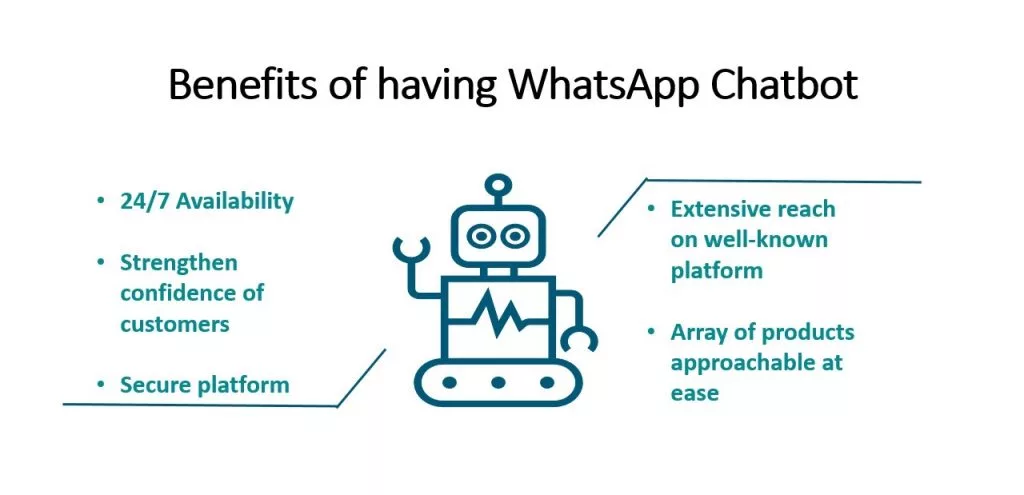 The problem with the unmanned channels brands is that they use human intervention which never comes quickly enough. An email thread needs hours to rope the right department in. However, WhatsApp chatbot allows for real-time conversations with quick replies to the customers' queries.
Also, one of the major benefit can be its availability that is 24/7 which means customer's query can be resolved anytime when they ask, and they not need to wait to receive notification for their answers.
Foremost aim of all business is to gain customer's trust and their satisfaction. A WhatsApp chatbot also provides businesses with an easy way to collect customer feedback and improve their services. Furthermore, it enables businesses to automate processes and provide customers with personalized shopping experiences.
 
Customers are more likely to purchase from that company again if they enjoy hurdle-free support. WhatsApp also allows to create a WhatsApp click-to-chat link and direct your users to WhatsApp number. It also ensures that your users know how and where to reach you in times of need. Your products are easy to reach, and your services are convenient to avail.
 
Extensive reach on world's most popular messaging app: 
More than 2 billion users monthly use WhatsApp, making it the largest messaging app and a very money-spinning platform with its wide reach and easy messaging features. This all scream for an intersection of WhatsApp Ecommerce and AI enabled Chatbots for higher conversation rates, along with WhatsApp Chatbot advantages.
 
Array of products approachable at ease: 
WhatsApp is turning into the hub of online shopping. While eCommerce allowed users to shop online, WhatsApp Chatbot for Ecommerce is an upgrade to the user experience. For illustration, the newly launched single and multiple product messages, allow you to offer a product or display a catalogue of 30 products that are relevant to the user's needs. Moreover, with entry points planted at specific digital locations, you can drive users to your WhatsApp shop, converse and sell meaningfully, and offer post-purchase support – all on the same chat window! Overall, WhatsApp chatbot offers a wealth of advantages for ecommerce businesses looking to improve their customer service offerings. 
To Sum Up:
In current time Business growth is purely based on how your online entity endorses the potential customer laned on your website. Kevit.io's chatbots are designed to serve your visitor's query and guide them to have a successful transaction. E-commerce is the new way of shopping and world is drifting on this for their day-to-day buying's, assisting them 24X7 has become the primary concern of every e-commerce business. You can relax while our chatbot will take care of every crucial part of building a great customer experience. Know more about WhatsApp chatbots at Kevit.io and mail us at coffee@kevit.io.
Automating business processes with Kevit.io is now just a click away!