WhatsApp API Verified Account- A Way to Earn Customer Loyalty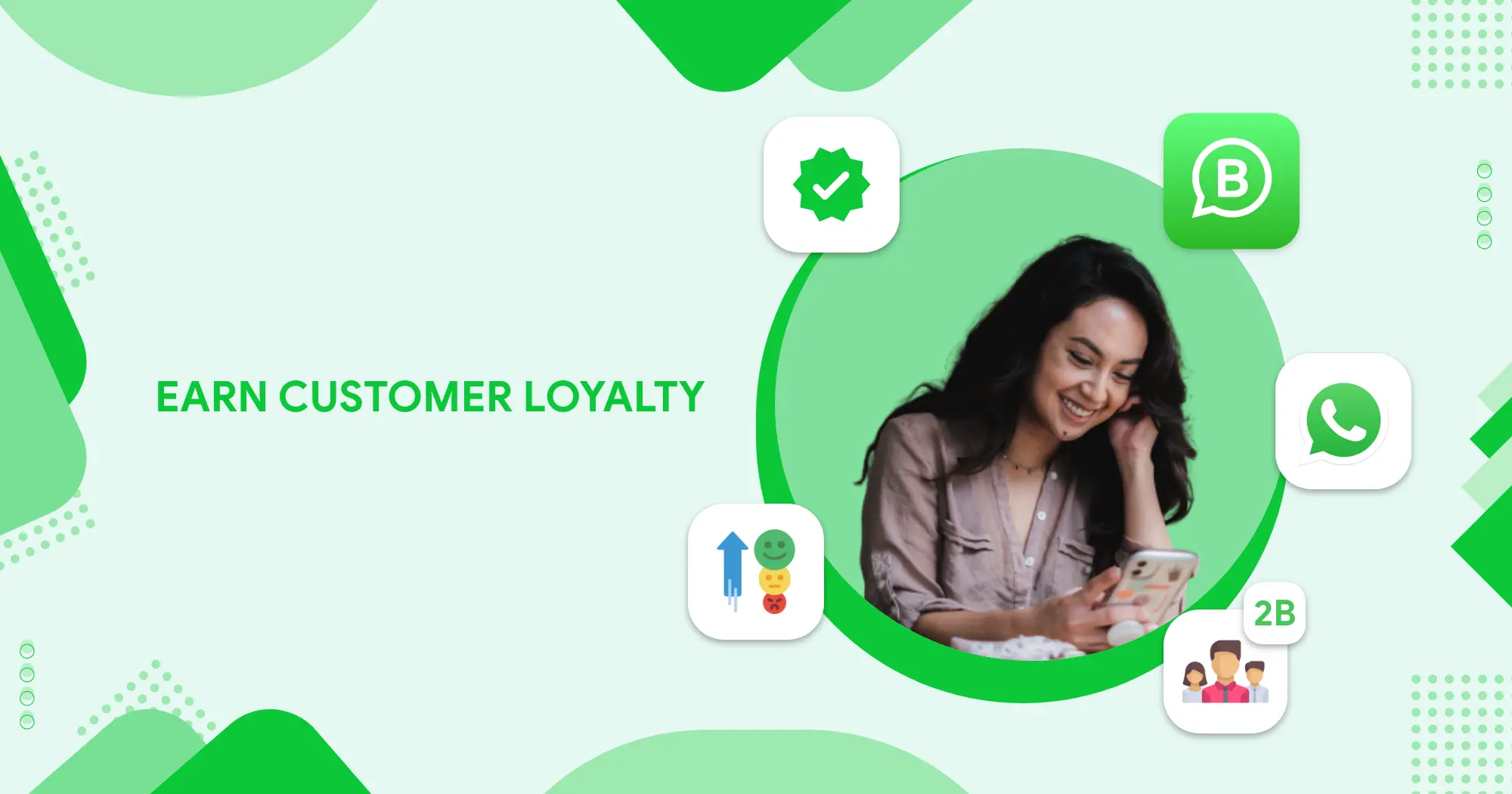 October 8, 2021

Priyanka Shah
We can bet that every new or progressing business company has been advised to try its hands on WhatsApp Business API and definitely that's not a wrong track to follow. Talking about ourselves, we can never ever get tired of talking about WhatsApp and WhatsApp Business API and why should we when WhatsApp commerce has opened doors for businesses all over the world to carry out transactions and services to its 2 billion+ active users. But our most favourite part of WhatsApp Business API has to be with boosting your brand engagement, driving valuable experiences, and uplifting business conversations.
But when so many businesses are functioning on a single platform, there are some factors that the customers are naturally going to question, and that happens to be the authenticity of the transactions taking place. It is a human tendency to question something that involves money and especially when that transaction is taking place online and has higher chances of risks. This in turn becomes the responsibility of the company to gain its customer's confidence and to make sure that its customers trust it enough to keep the relation for real long. And to achieve this, there are some factors that you can work with to maintain people's faith in your firm and the work it does. These factors include:  
Verified Business API Account 

 

WhatsApp Business Logo

Improved Customer Support 

 
Verified WhatsApp Business API Account 
Yes, you heard it right! Just like celebrities being verified on Instagram and having that blue tick next to their name, your brand name can be verified too on WhatsApp with a GREEN verified tick next to its name. Quite a celebrity experience in itself!!! When your account is verified, people know that it's an authentic chat window and now they can carry out transactions worry-free from internet thefts.  
You need to verify your business account on WhatsApp only if it's registered on WhatsApp Business API. The benefit of a business solution provider can achieve this.
What is a WhatsApp Green Tick Verification Badge? 
The WhatsApp green tick is a badge that verifies that a WhatsApp business API account has been verified by WhatsApp. The green tick is a badge of verification which signals to users that the business account is genuine and reliable. To get green tick verification, businesses must use WhatsApp Business API account to provide their business name, phone number and other details to be get verified by WhatsApp. Once the WhatsApp business verification process is successful, they will receive the green tick.
This badge will appear on their business profile so business is notable to customers clearly that it has been 'Verified by WhatsApp'. Receiving the green tick also demonstrates to customers that they are dealing with a legitimate business, making them feel more secure in trusting them with their data and transactions. As such, businesses are encouraged to apply for WhatsApp API and get a verified green badge next to your account profile as soon as possible for their official accounts. 
What's the difference? Verified WhatsApp Business API Account vs WhatsApp Business Account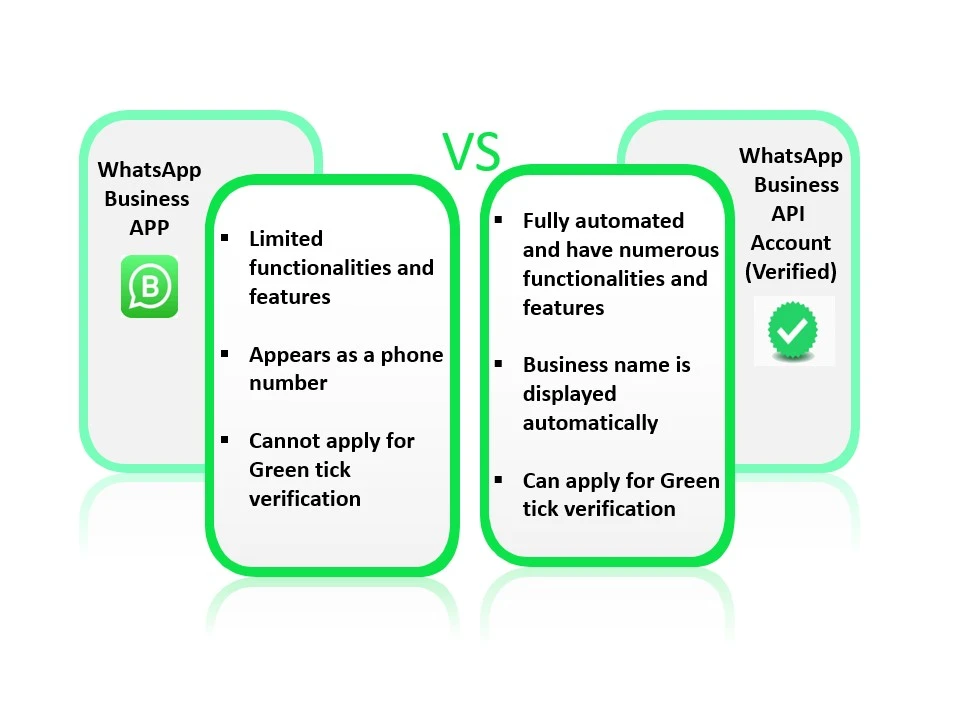 *It's not necessary that all API accounts can get green tick. Afterward, you must apply and follow the guidelines of Meta to get approved.
Verified Business API Accounts are certified on WhatsApp and are identified with a green tick verified badge. This badge serves as an assurance of authenticity to customers, showing them that your business is legitimate. API accounts offer features such as the ability to provide customer service through the app, automated messages and quick replies, allowing businesses to respond quicker to customer inquiries. In contrast, business app accounts don't have the same verification badge and lack the same features that come with an WhatsApp API features. They can still be used for marketing or advertising purposes, but without the verification of WhatsApp customers may be less likely to trust your business. The green tick badge associated with an WhatsApp Business API account is a sign of trustworthiness and indicates that your business has been verified by WhatsApp and is legitimate. 
WhatsApp Green Tick Benefits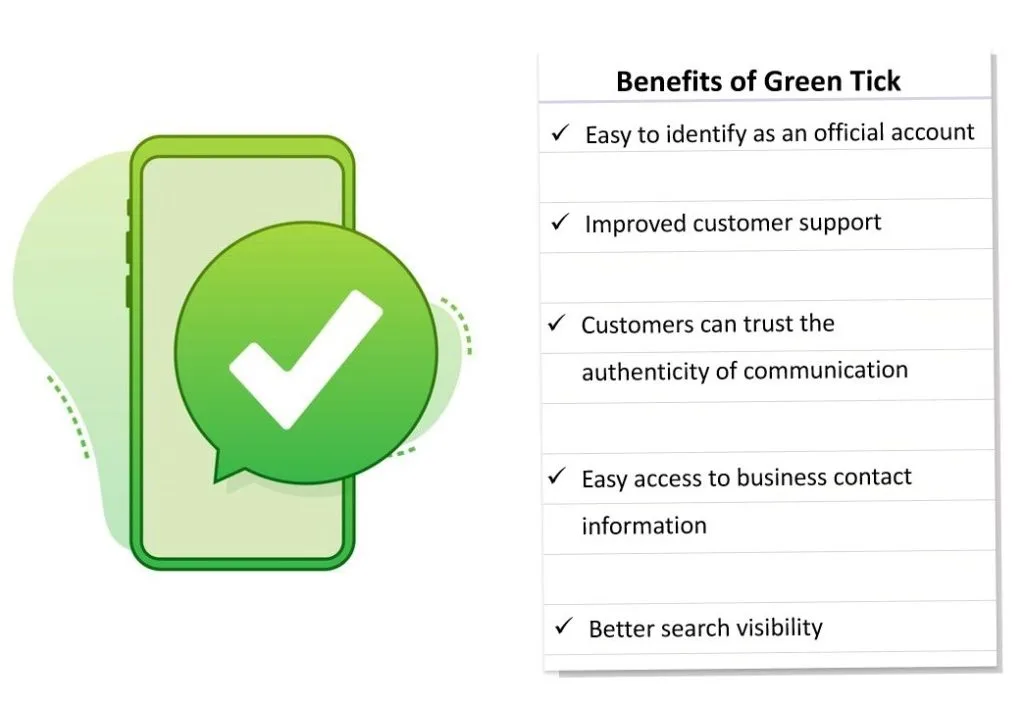 The WhatsApp Green Tick is a great benefit for businesses that use the WhatsApp Business API account. 
This green tick badge makes it easier for customers to identify an verified business when they search through their contacts list or send a message.

It also allows customers to more easily access the business contact information, as well as its business name, with just one glance at the green badge.

With the green tick, customers can quickly and easily find out who they are dealing with and what kind of services or products they are offering without searching too hard.

WhatsApp Green Tick ensures that customers can trust the authenticity of the communication they receive from a verified WhatsApp Business API account, making it easier for them to confidently purchase goods or services from a verified account.

 
How do your WhatsApp Business API Account can get verified green tick badge? 
Verifying a WhatsApp Business API account is an important step to building credibility with your customers and increasing trust. To get API accounts verified on WhatsApp, you will;
Create a Facebook Business Account and API. You can do this by accessing the Facebook Business Manager ID page, creating a business manager account, then setting up the API on the same page.

 

Once these steps are completed, you can use the API to access your WhatsApp Business API Account and start the verification process. To get verified, you will need to provide proof of ownership of your business or organization such as a valid business license or tax ID number.

 

After submitting all necessary documentation, you will receive an email or text notification that you have been verified and WhatsApp will verify your account and give it the

Verified Green Tick

in

1-2 business days. By verifying your WhatsApp Business API account, you can ensure that customers know they are dealing with your legitimate business and not some scammer.

 
WhatsApp Business Logo
What if we tell you that now you can install your brand logo in place of the profile picture, next to your brand's name?? From the marketing point of view, this step will bring craze leads to the brand. This is because having the WhatsApp business logo or your brand's logo helps to take people on board and now, they know that this company or business is legitimate. WhatsApp Business Logo feature is only available in WhatsApp Business API. That is, companies subscribed to Business API can enjoy this service of WhatsApp Business Logo.
Improved Customer Service
What's better than good customer service? Customer service never stops! Continuous efforts from your side to provide better customer support will show how much you value your customers and they will feel cared for. It's a human tendency to trust something/someone that takes constant effort for them. The same thing is with our customers and continued customer support aids in earning their loyalty and be their confidant. 
To Sum Up:  
Your customers are on WhatsApp, not just to stay in touch with their favourite people, but also with their favourite brands. So now it's on your part to give them reasons to trust you and your brand. One more way to achieve that is with Kevit.io. Here, we take customer service very seriously especially when customer loyalty is our middle name. Book your demo now and to know more, mail us at coffee@kevit.io. 
Automating business processes with Kevit.io is now just a click away!