6 Useful Characteristics of Chatbot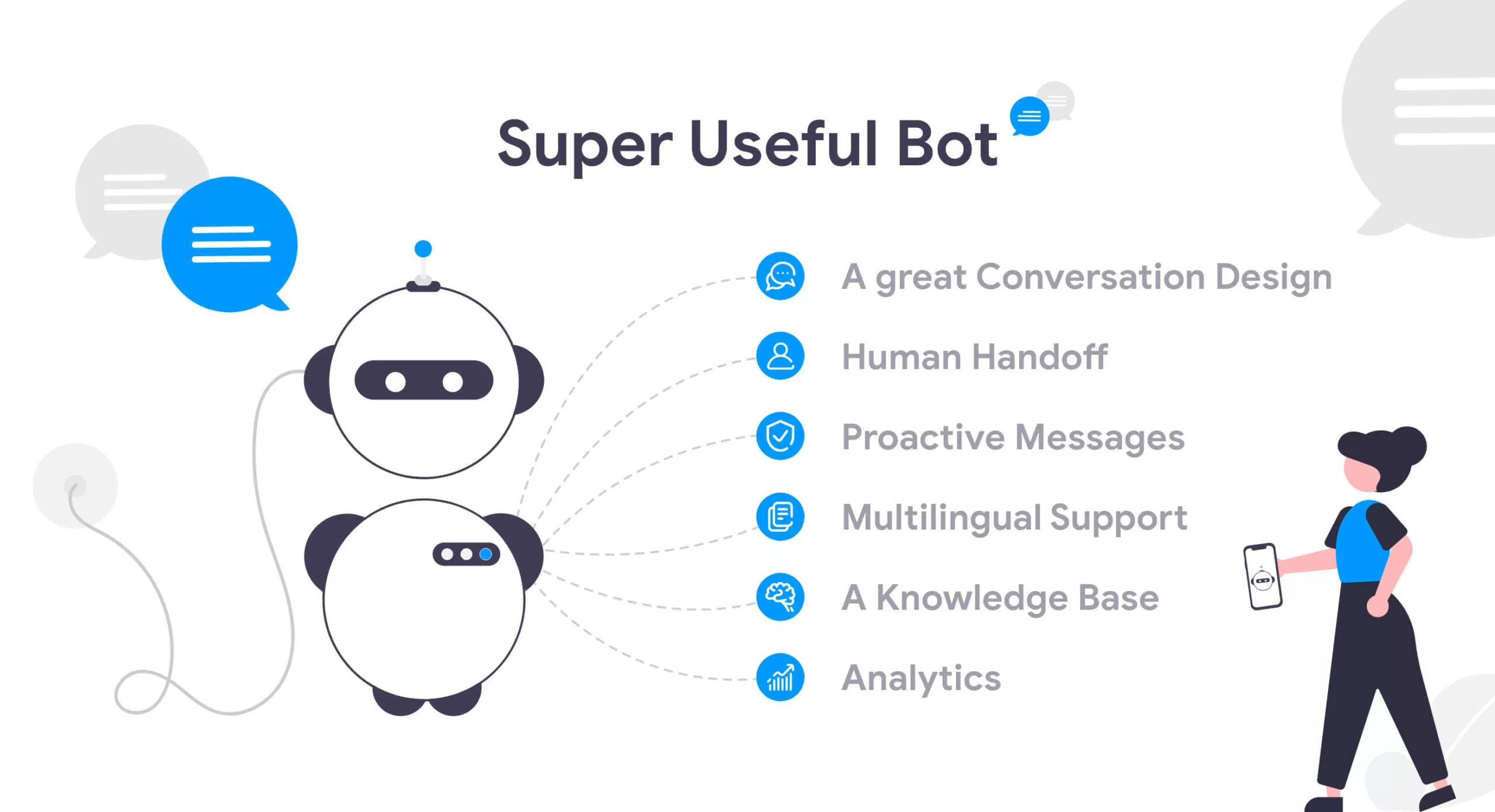 November 12, 2020

Priyanka Shah
Situation of market is changing globally due to this pandemic. Businesses are looking forward to new technology support for better work efficiency and serving their customers. According to one report, more than 55% businesses agreed that managing customer these days is the biggest challenge. Sticking with traditional marketing techniques is less effective and more expensive. The pandemic situation is leading us towards digitalization. People are getting diverted towards messaging apps not only for personal communication. But also, they prefer using brands to whom they can message. Businesses are also optimistic about these popular messaging apps to get connected with their customers, engage them and boost business processes.
Talking about latest technologies, AI is giving a huge endowment to the industries. From automating operations to giving personalized touch to promotions, branding and offering, AI is making B2B and C2B communication smarter. With AI evolution, tools like Chatbots are gaining popularity. Chatbots gives you 2X time higher CTR over traditional marketing and help you get qualified leads, booking appointments, selling your products, and more without any skill or technical knowledge.
Characteristics of  Chatbot:
1. A great Conversation Design
A good conversational design is one of the most important aspect in making chatbots. A good conversation design must help users to find what they need and help businesses achieve their desired goals. It should also include rich media support like cards, carousals, Images, videos, audio etc. An effective conversation design also includes smart delay, buttons, quick replies and so much more.
A good conversation design gives you freedom to gain deep customer insights.
2. Human Handoff
No doubts, chatbots are smart enough to handle a complete conversation with users but in the case of emergency, urgency or more complex problem, a chatbot must have a capability of smart handover to the human agent so you never miss the lead and give you chance to deliver the best customer service.
When a chatbot handovers the conversation, it already has the past conversation. A chatbot must transfer the brief of this conversation to agent, from which the agent can get the idea about this customer and where he is with his needs.
3. Proactive Messages
Send automated proactive messages to the users to for sending newsletters, promotions, deals, offers, reminders, order status and a lot more. You can connect with huge number of audiences at the same time with these proactive messages.
You can use these automated messages for various purposes with using various filters and conditions, so your customers never miss any update!
4. Multilingual Support
This one of the most beneficial things when you want access to the global market. A smart AI chatbot can have multilingual support so your user can choose the language and can comfortably solve their issues.
By this characteristic you can deliver an excellent customer service without any language barrier.
5. A Knowledge Base
Knowledge base is the most important element to make the bot smarter with time. If your chatbot has a knowledgebase then it can remind the unanswered queries, frequently asked questions and you can train your bot with this knowledge base. So that a bot can handle repetitive tasks and FAQs and you don't have to worry about the rest.
With knowledge base you can make your chatbot learn from the past experiences and make sure that the same error never repeats again.
6. Analytics
Getting valuable insights of your customers and their behavior with your brand from chatbot is one of the signs that your bot is smart and effective. This data will help you out with your upcoming marketing strategies so that you can win more hearts!
Maintaining various tags/flags a chatbot can give you deep insight about customer's interest and your performance.
I hope this article can help you understand chatbot more. If you have other tricks or things to consider improving a chatbot, please let us know! If you're curious, you can have a look at different chatbot examples for various industries on our website, or want to have your own bot? We're ready to lead you into the future of business development. Get in touch with us at coffee@kevit.io or visiting us on Kevit.io. will help you learn more about how you can incorporate this technology into your company.
Automating business processes with Kevit.io is now just a click away!