Recruitment Chatbot on WhatsApp: Smart Way to Hire in 2023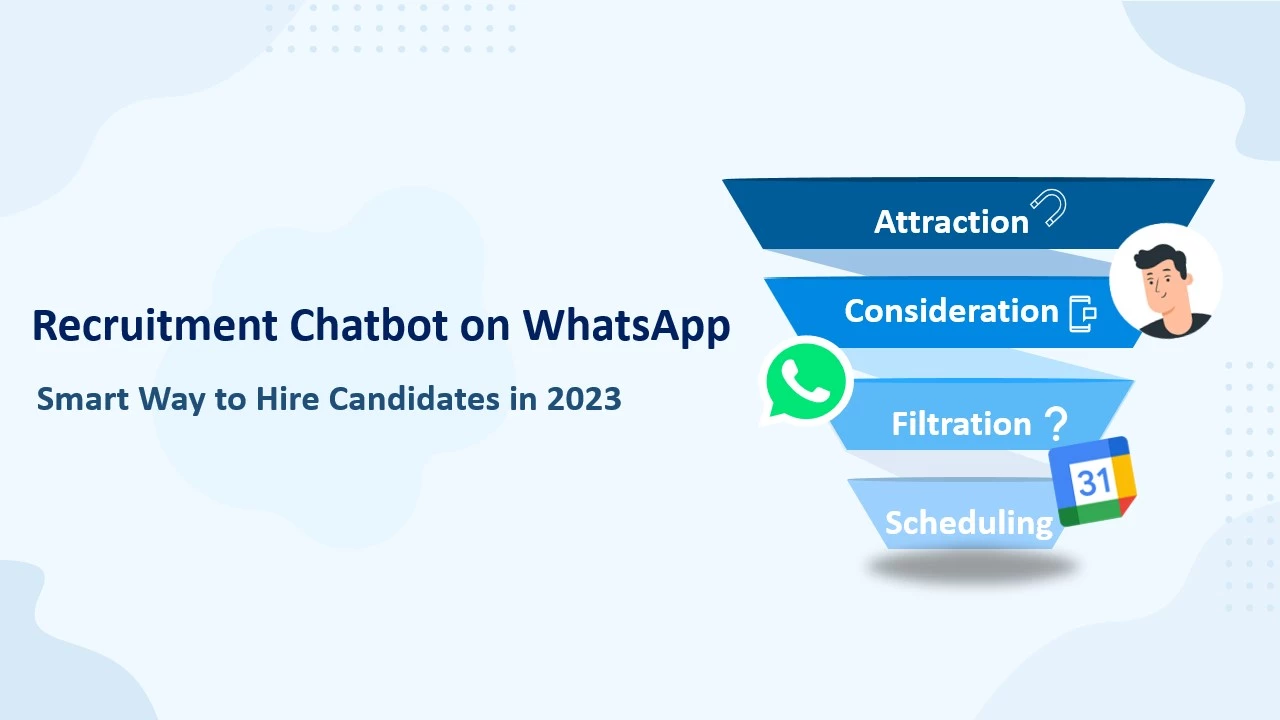 March 22, 2023

Chirag Sanghvi
A company's most valuable asset is its workforce. Finding the perfect skill set for a given job role is difficult, though. Finding the right employee requires perseverance and dedication. It makes sense to take into account a manual hiring process when hiring one employee at a time. However, the procedure becomes tiresome when it comes to mass hiring. 
AI-driven recruitment chatbots that can hold a conversation are revolutionizing the hiring process. You can reach out to more candidates and improve onboarding for recruits when you switch to AI-automated hiring processes. 
What is a Recruitment Chatbot? 
A Recruitment Chatbot is a type of artificial intelligence (AI) assistant used to automate the recruitment process. These chatbots are programmed to assist recruiters by responding to messages, collecting data from applicants, and interview scheduling. They can also provide guidance on the application process and answer common questions from applicants. By taking on these tasks, a recruitment chatbot can free up time for talent acquisition teams and streamline the recruitment process. Recruitment chatbots are becoming increasingly popular within organizations looking for an efficient and cost-effective way to manage their recruitment needs.
An assistant chatbot can act as an extra pair of hands for recruiters, allowing them to focus more of their energy on finding the best candidates for the job instead of managing administrative tasks. Ultimately, a recruitment chatbot can make the entire recruitment process smoother and more efficient for both the recruiter and applicant. 
The Necessity of a Chatbot for Recruitment 
Chatbots are computer programs designed to interact with users in order to provide information, respond to questions, and perform other tasks online.  
Recruitment bots are essential to resolve these pain points faced by businesses: 
1. Manual Interview Scheduling:
Manually scheduling interviews can result into never-ending communication and making it super difficult to coordinate everyone's calendar space. 
2. Heavily Time Consuming: 
Hiring managers and recruiters must go through multiple steps, such as posting job ads, screening resumes, conducting interviews, and performing background checks. These activities consume a significant amount of time, which can be frustrating for both recruiters and candidates. 
 3. Ensuring Questionable Customer Experience: 
Candidates are more likely to leave the application process if they have a negative candidate experience in any given step of the process. 
 4. Instantly catch out candidate's interest: 
It is very challenging to compile a list of the best candidates due to the large pool of applicants. As a result, recruiters fail to collect insightful and useful data and fail to catch out candidate's interest. 
 5. Enormous Cost Utilized: 
Businesses need to spend huge amount of cost while doing recruitment process such as advertising and online job board costs, salaries of extra team members involved in the recruitment process, and this can hold businesses back for development. 
In particular, an AI recruitment chatbot uses technology to interact with job candidates and support the hiring process. It can help with tasks like pre-screening candidates, responding to frequently asked questions, scheduling interviews and can also be integrated into your business' website or career site. A recruitment chatbot's objective is to automate and streamline the hiring process, making it more convenient for job seekers and cost-effective for the employer.  
The Best Use Cases of Chatbots in Recruiting Process 
The recruiting process is being revolutionized by conversational AI-driven recruitment chatbots. You can reach out to more candidates and improve onboarding for recruits when you switch to hiring processes that are automated with AI.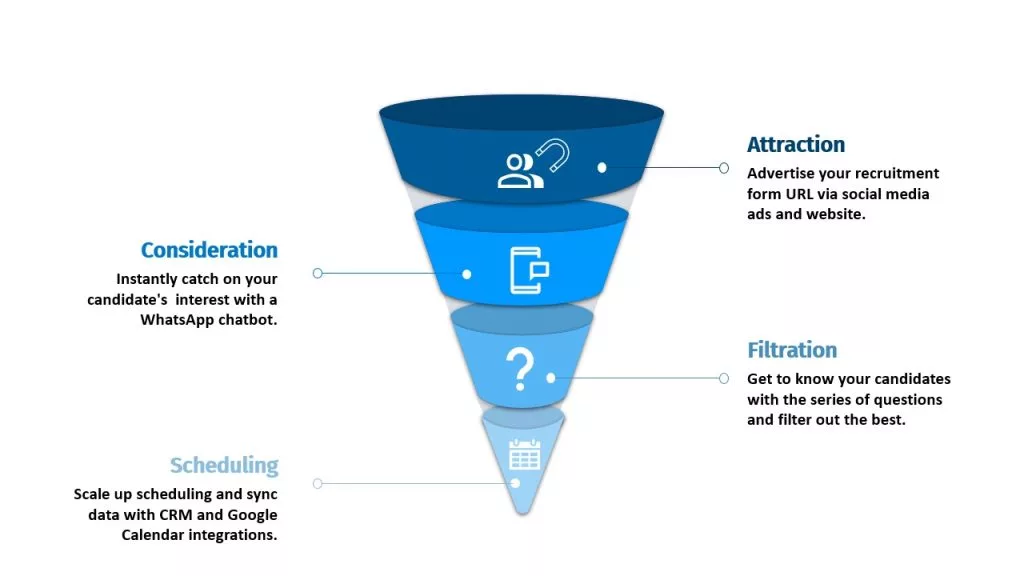 1. Attraction:
To attract the users is the first identical step and for that you should use a recruitment form. Moreover, this form URL should be advertised via Ads on social media channels and websites. As a result, candidates can be informed about available job openings in a particular organization. Candidates can have access to chatbots around-the-clock, this enables them to submit applications or ask basic questions whenever they want. This may increase the number of candidates and speed up the hiring process.
2. Consideration:
After attracting the candidates, this form will redirect them on WhatsApp we can instantly catch on to the interests of candidates. As a result, less candidates will need to be reviewed by human recruiters, saving time and money.
3. Filtration:
After redirecting your candidates on WhatsApp, we can get to know more about candidates with the help of a series of questions. AI recruitment chatbots can use machine learning and natural language processing to pre-screen candidates and determine which ones are most likely to be a good fit for the position. 
4. Scheduling:
By automating the procedure and making it more convenient for the business and the job applicants, recruiting chatbot can assist with scheduling interviews. Depending on the candidate's and the hiring team's availability, chatbots can schedule interviews automatically. This process is done by syncing data with CRM and Google Calendar integrations. As a result, scheduled interview time is automatically added to the calendar of the recruiting team. 
The Advantages of Integrating a Recruitment Chatbot into your Business Operations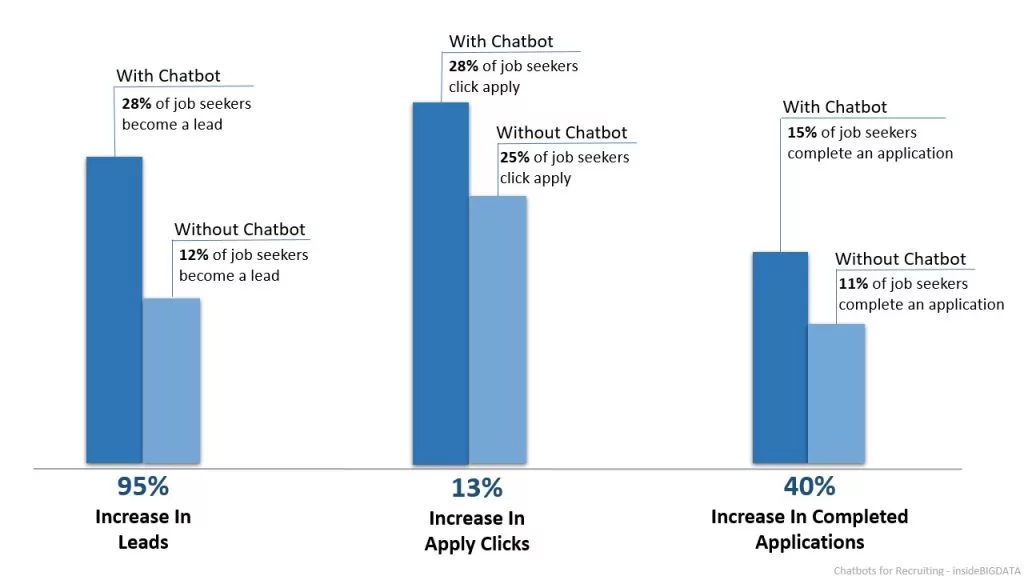 Specifically for the following reasons, businesses should think about implementing chatbots for recruitment:  
Using a recruitment chatbot can lower hiring costs in several ways. 
1. Automating repetitive tasks:
Chatbots can take care of repetitive tasks like scheduling interviews, responding to frequent queries, and gathering candidate information. This may allow HR professionals to concentrate on work that is more challenging like benchmarking salaries, training and development. 
 2. Pre-screening Candidates:
AI HR chatbots can use techniques to pre-screen candidates and determine which ones are most likely to be a good fit for the position. Thus, time and resources can be saved by lowering the number of applicants that human recruiters must evaluate. 
 3. Available round-the-clock: 
Candidates may have access to chatbots around-the-clock, enabling them to submit applications or ask questions whenever they like. This may increase the number of applicants and speed up the hiring process. 
 4. Cost-efficient:
By employing a recruitment chatbot, companies can automate their recruitment process, eliminating the need for humans to perform mundane tasks such as screening CVs and scheduling interviews. This saves a great amount of time, effort and money which would otherwise have been spent on recruiting staff. 
 5. Minimizing the requirement for recruitment agents:
The initial screening and pre-interview process can be managed by chatbots, which will lessen the need for recruitment agencies and help employers save a lot of money on hiring costs. 
Moreover, HR chatbots can help cut costs while also increasing the effectiveness of the hiring process and the candidate experience. 
For a recruitment bot, Kevit.io is your best option.
Kevit.io's HR chatbot can help in attracting, consideration, filtration and scheduling which are essential for hiring process with integrating CRM and Google Calendar. Additionally, the whole process of automating hiring on one of the most engaging platform WhatsApp.  
The AI recruitment chatbot can determine the question's intent, a matching algorithm to compare it to a list of predefined questions, and a response algorithm to determine the best course of action. Additionally, it employs ML to take lessons from previous interactions and enhance its capacity to comprehend and respond to fresh inquiries.  
To Sum Up 
The is the decade of automation. Automation is currently being implemented into several business operations. The recruitment space is also ready to accept this transformation. And those who adopt it more quickly will reap its benefits more quickly. Therefore, a WhatsApp chatbot automation is the ideal solution for businesses looking to address their hiring and HR challenges. Kevit.io is ready with chatbot automation for your recruitment process on WhatsApp. You can contact us where you can get in touch with our experts to learn more or to have a WhatsApp chatbot built for your HR team. Also, check out our services and Book your demo or mail us at coffee@kevit.io. 
Automating business processes with Kevit.io is now just a click away!