How to leverage Chatbots for Lead Generation to Conversions?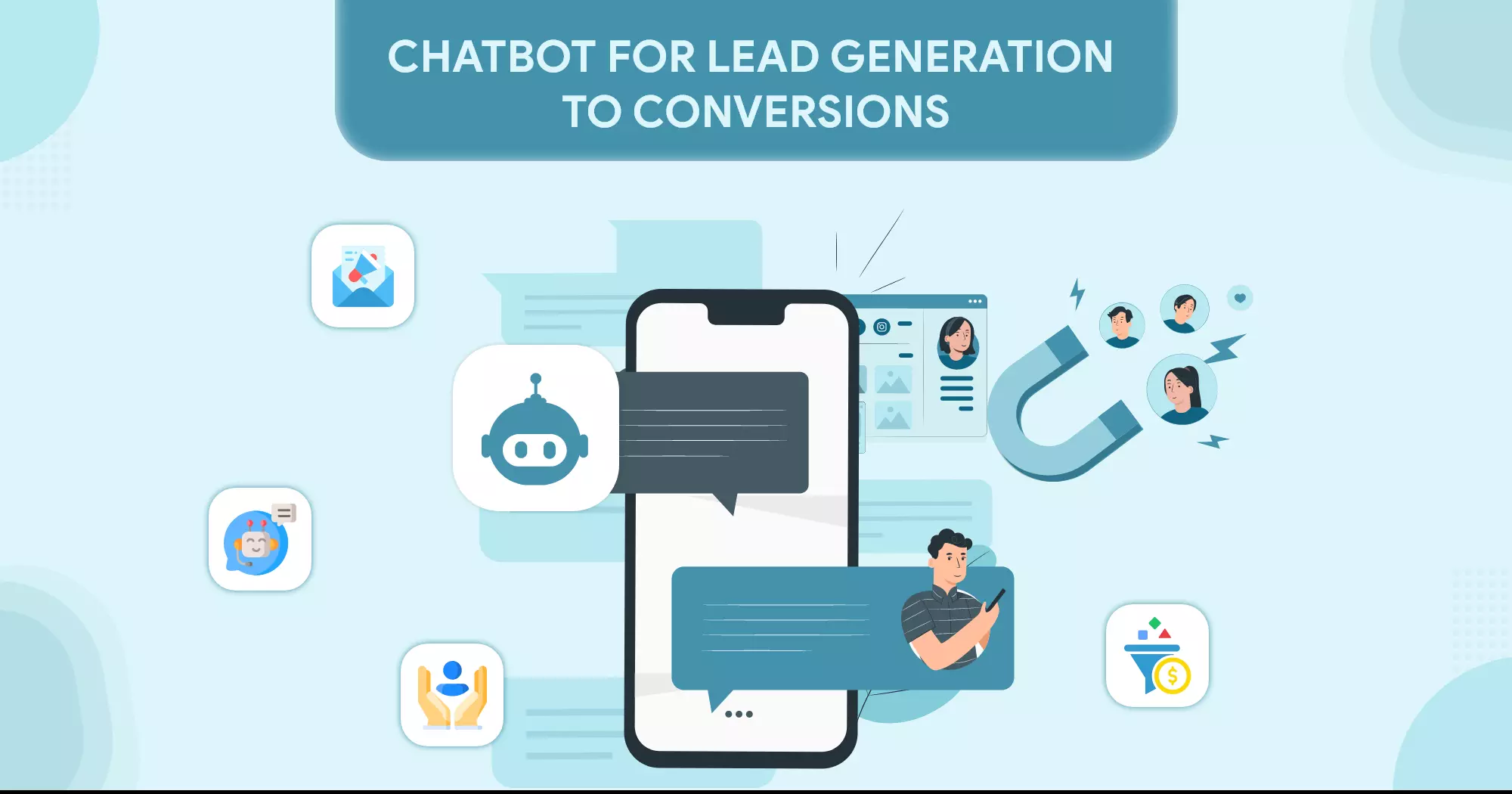 January 20, 2023

Chirag Sanghvi
Any business's main objective is to increase customer acquisition and deal closing. Because your business expands as you reach more consumers. Implementing sales and marketing automation like chatbots for lead generation to conversions into your company is one of the most efficient ways to make it happen. Despite being used by 66% of businesses, automation is ineffective because it lacks optimization and a sufficient tech stack.
Build a system that seamlessly connects every step of the sales process, from inquiry capture to conversion, in order to overcome this difficulty.
This entails adding a conversational AI to your website to collect incoming inquiries and utilizing CRM software to nurture quality leads and increase conversions. Learn how to use chatbots for lead nurturing and conversions as well as the role of CRM software in achieving marketing and sales objectives by using this essential guide. Let's first talk about the fundamentals, though.
What are Chatbots for Lead Generation and Conversions?
To simply put it, A program created to simulate human interactions online is known as a chatbot. When browsing a website, have you ever had a question but weren't bothered to look up the answers in the FAQs or get in touch with someone? A chatbot, however, can reduce some of that annoyance by merely providing you with a prompt response to your query.
By interacting with your prospects and customers, chatbot can help you reach your business objectives with advancements in NLP technology. Throughout the customer journey, they aid in delivering a superior customer experience. AI Chatbot help you improve customer experience and your CSAT and NPS scores as well as scale your revenue by offering personalized buying advice before a purchase and high-quality customer service after one.
A CRM, or customer relationship management software, on the other hand, aids in managing and nurturing leads, sending automated engagement emails, tracking them, and automatically updating data about their activity so that your salespeople can focus on closing deals and save time by updating lead information.
How can nurturing and customer acquisition be strengthened by chatbots and CRMs?
Combining sophisticated with NLP chatbots and CRM solutions creates an effective tech stack for customer acquisition. As follows:
1. Nurturing Leads:
Lead nurturing means using content as a tool to involve clients. However, relevance is the key to effective lead nurturing, and chatbots can be useful.
You can get specific information about website visitors businesses, such as the type of business they are in, how many employees they have, and other things, as well as their contact information and queries, through your chatbot. With the chatbots help, you can nurture prospects by giving them the appropriate information at the right point in their purchasing process.
Your CRM can receive this data and produce a structured list based on different attributes. After that, you can use CRM to send pertinent campaigns to particular segments.
2. Building Personalized Email Campaigns:
One of the most well-liked lead generation strategy, keeping in touch with current customers, and raising customer lifetime value is email marketing. Sending offers, new products and services information, and other things will help generate and nurture them.
Email marketing initiatives can occasionally outperform those on social media. For example, 4.3 billion people use email, compared to the pitiful 50 million people who use LinkedIn or the one billion plus users of Instagram.
The fact that email marketing campaigns can generate a return of almost $40 for every dollar invested is another factor in their popularity. Thus, each email campaign has a nearly 4,000% return on investment!
Businesses use marketing automation tools daily to send email campaigns because they provide such high ROI. While email responses have decreased by 30%, this is a record low for open conversion rates for generic email campaigns. You can gather leads and customer data depends on whether your emails are opened or not. In order to personalize email campaigns, your CRM can then use that data. You can get the user's name from the chatbot and type "Hi user's name>" as an example, rather than just typing "Hey there" or "Dear Sir."
3. Directing potential clients down the sales funnel:
A sales funnel with chatbots shows the path a lead takes to become a customer. The stages of a typical sales funnel are as follows: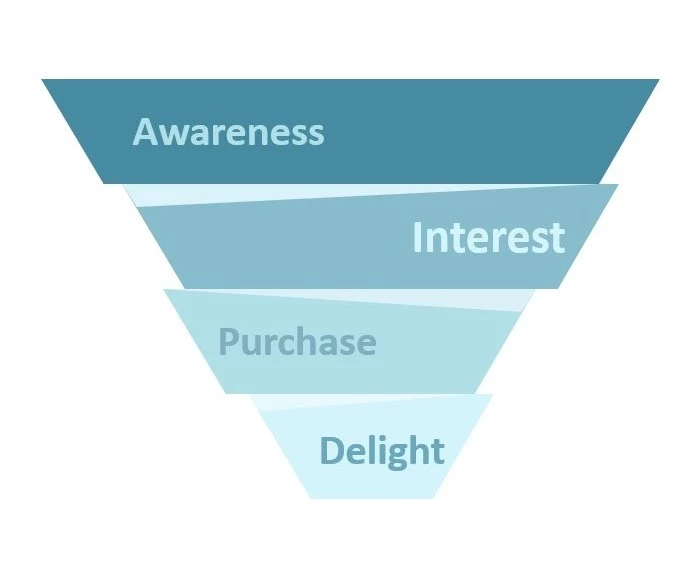 Awareness– When a potential customer becomes aware of your brand
Interest– When people express interest in your product
Purchase– When they choose to purchase your product or service
Delight– When a customer is delighted with your good or service and willing to return to you for future purchases.
Your chatbot can assist your sales representatives in guiding leads through the sales funnel. This is how: You can use a chatbot to provide case studies, testimonials, or how-to videos about your product when a customer lands on your website (awareness phase).
4. Offering prompt assistance:
Before completing the checkout process, a customer might occasionally just need to be aware of a few things. They might postpone their decision to buy if they don't receive those answers. In some cases, they might even decide against purchasing that item. There are two benefits of using a chatbot:
One benefit is that it can immediately respond to all common questions about orders and products, such as those regarding shipping, dispatch times, return/refund policies, etc., and encourage users to finish the buying process.
Two, a buyer can connect to a live chat agent if they require specific information that the chatbot is unable to provide. Through your CRM, you can distribute leads to the expert in cases where the questions are complex.
When it comes to offering immediate assistance, chatbots can significantly lessen reliance on your live chat agents and sales representatives to improve customer experience.
In what ways do chatbots help to minimize reliance on human resources?
Chatbots are an incredible tool to minimize reliance on human resources. A lead generation chatbots can segment customers and show them the right offers based on their data. By using conversational lead generation chatbot, businesses can significantly reduce the number of customer support staff needed to deal with live chats and provide assistance.
Imagine taking a peek into the day-to-day activities of a salesperson or customer service representative. In that case, you'll discover that they're typically engaged in follow-up tasks, conversations with potential clients, or at the very least, selling the good or service to interested parties.
Any new task or inquiry they receive is added to the pipeline, or, to put it simply, their to-do list. Therefore, even if they tried, they might not be able to respond to the new question the right away.
Because it can answer a large number of questions at once. Of course, sales reps can be given the inquiries that require their attention, but consider how much less work they'll have to do now. Due to receiving what they wanted, your customers are also pleased. Actually, chatbots can reduce operational expenses by almost 30%. Furthermore, more advanced chatbots have NLP capabilities that can decipher a variety of text strings to comprehend the prospect's inquiries.
Some chatbot can also offer speech-to-text and vernacular functionality. One human agent cannot perform the range of tasks that chatbots are capable of. As a result, chatbots in a sense both lessen and improve reliance on human resources. Therefore, chatbots can be used for lead nurturing and conversions in this way.
To Sum Up
CRMs help your business's backend operations while chatbots handle customer interactions and automate responses.
Collaboration between chatbots and CRMs can be crucial for lead nurturing and conversions. When a new user interacts with your chatbot, you can automatically create a new lead field in your CRM. Likewise, you can update an existing customer's new activity whenever a user searches for something using your chatbot.
The data gathered by the chatbot can be transferred to your CRM, which can automatically categorize your customers and record their names, contact details, and areas of interest. When you send your subsequent campaign, this will automatically update your target audience.
Kevit.io offers pre-built integration for quality lead generation bots, interaction recording, and other CRM features. For more information on who we are and this integration, functioning at Kevit.io and mail us for the same at coffee@kevit.io.
Automating business processes with Kevit.io is now just a click away!