WhatsApp Business API Features for Businesses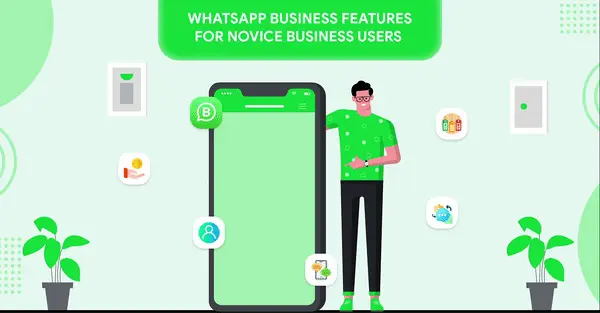 October 1, 2021

Priyanka Shah
Did we hear it right?? You're a newbie for WhatsApp Business and still looking for a track for you to follow? If you're feeling lost, then hold up cause we got your back, and this article is the right place to be to understand WhatsApp Business and its all-noteworthy features. 
Before diving into WhatsApp Business API features, let's know a little bit of history to understand how rolled up to the WhatsApp Business. Facebook introduced WhatsApp Business App in 2018 for small businesses and WhatsApp Business API for medium-large enterprises. With active 2 billion users, WhatsApp is now a blooming platform for companies and you are leaving back serious money on the table if you're not unleashing the true potential of WhatsApp Business.  
What is WhatsApp Business API?
 The WhatsApp Business API is a powerful tool designed to help small businesses use WhatsApp as an effective communication channel. It is the official WhatsApp API, allowing businesses to build custom software solutions or integrations with their existing systems to communicate with customers via WhatsApp messages. This solution enables them to automate, sort and respond quickly to common inquiries, providing customers with fast and personalized service. Furthermore, it allows businesses to create unique customer experiences and provide more in-depth support for their business needs. The WhatsApp Cloud API also helps businesses manage their conversations from one central WhatsApp account. With this cloud API, companies can monitor conversations from all users of their app who are connected via WhatsApp for Business. It is a great tool for businesses looking to improve their customer experience and engage effectively with customers via WhatsApp.
Since this step is done for you, we can now jump on to the impressive WhatsApp API features.  
Features of WhatsApp Business API 
Features like broadcast, multi-login, and chat automation, which are crucial in business communication, are all included in the WhatsApp Business API. 
1) Have your own business profile:
This is one of our favourite WhatsApp Business features!! Having your own business profile is to have your own identity and to be honest a lil proud moment for any brand to have their own profile and that too on such a busy platform. Having your own profile can help provide your customers with information like contact information, email address, office address, working hours, and a lot more. Also verifying your WhatsApp account earns you a "Verified" badge next to your brand's name.  
2) Now answer with automated messages:
There's literally no limit to automatic messages when it comes to WhatsApp Business. Now Greet your customers, welcome a new one, and introduce your brand to a new potential client. Along with these, you can now set Away Messages for customers who try to contact your brand after working hours. This all takes place without delays, waiting time and of course automated.
3) Label contacts:
Success requires organizational skills so that everything falls into a flow. Businesses can organize their users or contacts so as to categorize them with labels for easier access. This way, all the data stays grouped and organized so that it can be accessed easily.  
There are buttons available to add a label to a new contact. This can be directly done from the client's chat window. Also new labels can be added for new categories from the client's chat page again. Option "NEW LABEL" can be selected for the same.  
4) Stay updated with message stats:
WhatsApp Business allows you to check your message statics like how many messages got delivered, read and replied back. It provides with a Statistics button which shows all the analysis done and helps you update your conversational strategy.  
5) Reply buttons and List messages:
Reply buttons and list messages account for the most recent WhatsApp Business Features to be added in June 2021. This feature can be called one of customer's favourite and the bias is quite justifiable. Reply buttons allow your users to select an option out of the max three options available by selecting/tapping the preferred option instead of manually typing it. And list messages have quite similar functionality to reply buttons with the exception of having the limit of 10 options. These features make interaction with your business way much easier for the customers and in a flow.  
6) Payment with WhatsApp? Now possible:
"Making payments simple can bring more businesses into the digital economy, opening up new opportunities for growth," said WhatsApp on their blog.  
Yes, it's true. You can now pay using WhatsApp and would not have to link any other outer platform for the same. Instant payment is now as simple as sending a message. It's that quick and seamless. This feature comes handy not only for purchasing products but also to help your people in case of remote times. Users need to have a bank account and a debit card to use this payment method which is secured using strong sets of security principles and will ask for security pins whenever a transaction has to take place.  
Components of WhatsApp API business account
The WhatsApp Business API consists of the following two main parts: 
1. WhatsApp Business Profile 
2. Contact Number 
Business Profile in the WhatsApp for Business API 

 
Customers can learn more about your company by viewing your WhatsApp Business Profile. Updates to a company's cover photo, description, address, email, and website can improve their business profiles. The cover photo, description (about the services), business address, email, and website can all be easily updated by businesses to optimize their business profiles.  
Phone Number in the WhatsApp Business API 

 
Your WhatsApp Business API account needs to be connected to a phone number. Due to the fact that OTP verification requires SMS, the phone number associated with the WhatsApp Business API must be capable of receiving calls or SMS. Kevit.io recommends using a phone number that isn't already associated with a WhatsApp Messaging or WhatsApp Business account. The ability to migrate phone numbers from the App to the API exists. 
How to get WhatsApp Business API account? 
You can acquire WhatsApp Business API in few easy steps:  
A WhatsApp Business Solution Provider provides you with infrastructure and tools to help your business scale using WhatsApp Business API solution. 
You need to create Facebook Business Account and Facebook Business Manager Account by clicking on business settings to create business profile. 
Once your Facebook business verification is done, you can create a WhatsApp Business by going to the WhatsApp Business website and registering your business with your business name. Then, you'll be able to get WhatsApp API account, once approved by WhatsApp and that will allow you to build custom applications and tools for your business. 
After setting up the WhatsApp business profile, you will receive a verification code on registered WhatsApp number of your account for business verification. You'll also be able to specify what use cases you want the API to serve, such as customer service or marketing.
You are ready to go, and you can start using their services right away. With this powerful tool in hand, businesses can easily connect with customers around the world using their preferred messaging platform.
To Sum Up:
After all this, you're ready for prime time in WhatsApp Business and all the WhatsApp Business features. Getting a grip on these features will definitely add up to your advantage and we would be more than happy to play our part in this. Check our WhatsApp expertise at Kevit.io or mail us at coffee@kevit.io. 
Happy WhatsApping!😊
Automating business processes with Kevit.io is now just a click away!